Taking bus 29 from Tampines interchange to Netheravon road, there is a restaurant and bar called The Coastal Settlement, or TCS in short, which is housed in a one storey building in Changi. Surrounded by a large space of greenery, The Coastal Settlement creates a relax and "get close to nature" outdoor dining experiences for their customers.
Like Dong Po Colonial Cafe, The Coastal Settlement sets a nostalgic indoor mood for their customers by displaying many vintage and antique items in their glass cabinets and on the wall shelvings. With those crystal chandelier lightings and huge glass windows, it makes the whole restaurant and bar beautiful and lively.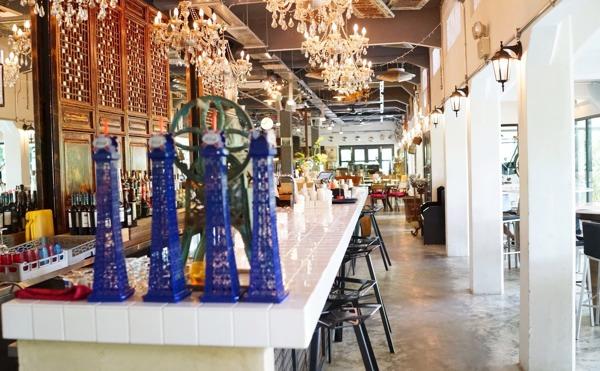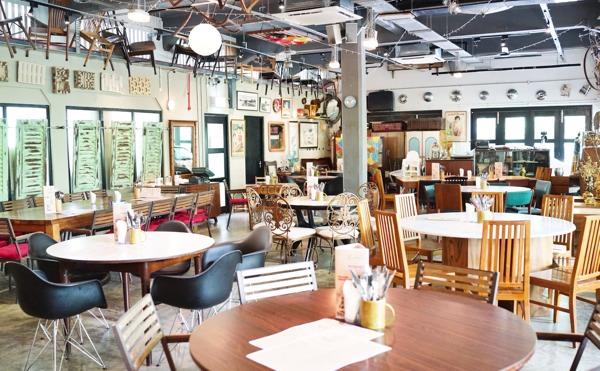 Heading for our family brunch, The Coastal Settlement's brunch hours begins from 10:30am to 4:00pm, with the last food order at 3:30pm. On their brunch menu, TCS offers finger foods and salads in their starters menu, mains with eggs, thin crust pizzas, desserts, kids meals and various choices of beverages such as juices and alcoholic drinks.
Starting with the starters on my table was the Apple Waldof with Turkey. Pricing at $15, my bowl of fresh fiber starter was surprisingly refreshing with the fresh slices of green apples, grapes, dices of celery and caramelize walnuts. Yoghurt was used as the salad dressing, giving the salad a sweeter taste.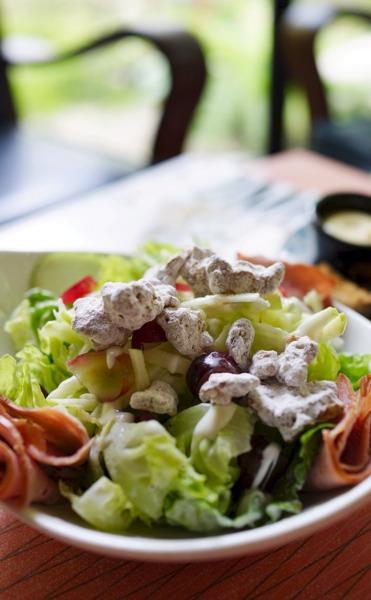 I have to agree that the fried portobello fries is The Coastal Settlement's all time customers' favourite. Crispy on the outside and juicy in the inside, dipping each panko portobello fries into the truffle mayo enhanced the taste and kept me going on having them. The price of the portobello fries is $15.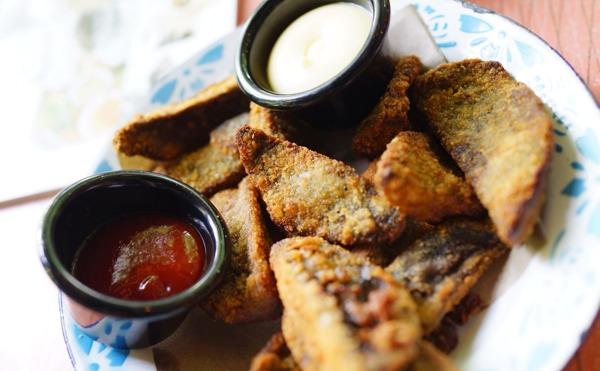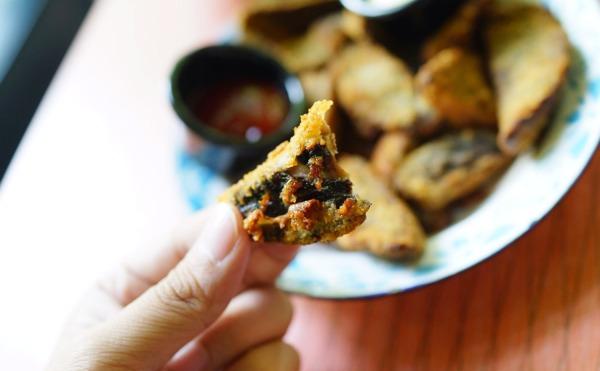 Served using a mashed tin, these straight cut truffle fries are drizzled with white truffle oil and served hot together with truffle mayo and chili dipping sauce. The price of these truffle fries is $15.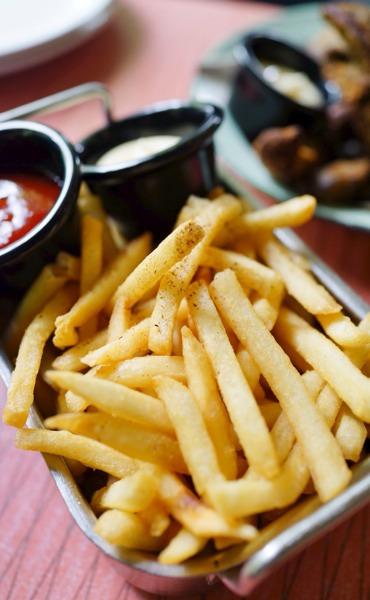 Here comes my hot cup of macchiato, which is priced at $5. The coffee aroma and taste was very rich, but have a slight acidic taste. To enjoy my macchiato, I prefer to go without sugar.
The Settlement's Big Breakfast, priced at $24, was quite a huge serving. On the plate were the runny scrambled eggs, creamed mushrooms, maple glazed streaky bacon, baked beans and artisan bread. The slices of bacon tasted a lot like our Chinese Bak Kwa, or pork jerky, and the bread spread tasted a lot like red dates. What a great tasty breakfast main for our brunch!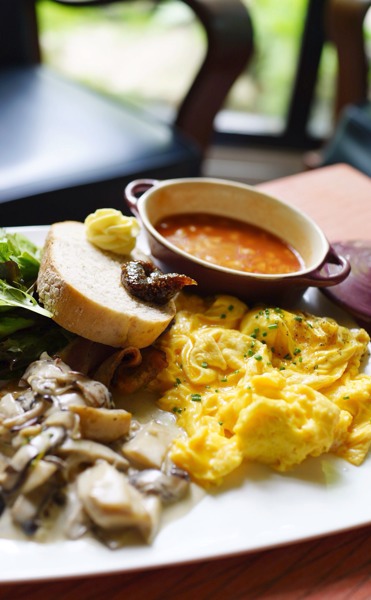 If you can't figure out which choice of pizza you will like to have, then you can try The Coastal Settlement's Half & Half thin crust pizzas. You can get to choose 2 out of 5 different pizza flavours, which are Pepperoni, Margherita, Garlic Prawns, Five Cheese and Wagyu Beef & Mushrooms. For my order, I have one half on Five Cheese and the other half on the Wagyu Beef & Mushrooms. A balance of cheesy treat and savoury treat. The Half & Half Pizza cost $25 and whole pizza is priced at $21 to $23.
The Coastal Settlements served a wide range of desserts for those sweet tooth cravers. The Blackforest In A Jar, which I have ordered, is packed with layers of chocolate brownies, whipped cream, dehydrated nuts, Maraschino cherries, French vanilla bean ice cream and finally, the cherry sauce. There was a mixture of taste in this delightful sugar rush dessert. The price for the Blackforest In A Jar is $14.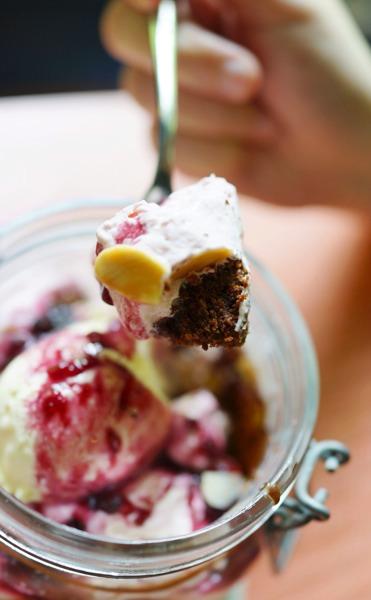 The Coastal Settlement at Changi is a great place for comfort food and large gatherings. With many vintage decorations displayed as it's restaurant theme, it makes the dining experience memorable for everyone. Outside TCS, there is a small carpark with limited parking space. For people who are economical, you will be glad to know that there is a bus stop located just outside the restaurant. After a meal at The Coastal Settlement, you can take bus 29 to get to Changi Beach for a leisure walk.
Here is my boy posing on a Vespa motorcycle in The Coastal Settlement and thanks for reading my blog.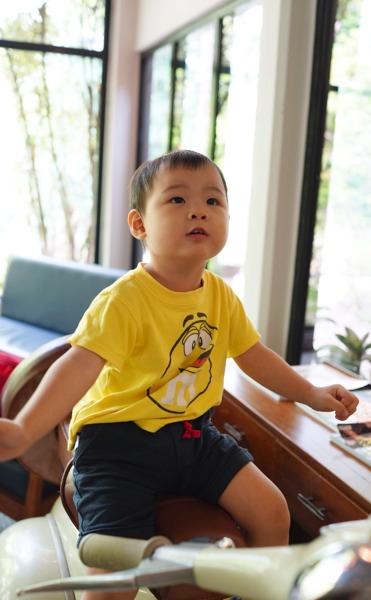 Address of my visit
The Coastal Settlement
200 Netheravon Rd
Singapore 508529
Opening Hours
Tuesday to Sunday: 10:30am to 9:45pm
Monday : Closed
Telephone: (65) 6475 0200
Website: http://www.thecoastalsettlement.com