Let's say you can have a good hearty family breakfast with excellent cups of coffee and tea, facing directly at a slow running river and watch the boats sailing by. Isn't this a fantastic dining spot to enjoy life at a slower pace? I bet it is. This time round, I am bringing my family to Toby's Estate Coffee Singapore at Rodyk Street, which is located right beside the Singapore River and facing the Riverview Hotel. Toby's Estate is a renowned coffee brand in Australia and has set up their cafe and roastery outlet in Singapore's Robertson Quay back in October 2011.
Like many cafes in Singapore, Toby's Estate also serves All Day Breakfast in their menu with selection of light meals such as Toast It Up ($5), where customers can have Brioche, Sourdough or Croissant to go along with jam or vegemite. For people with a larger appetite, they can have the Toby's Breakfast ($25), which claims to be their "crowd favorite" and Eggs Regal ($21.90), another highly recommended breakfast meal which is plate up with poached eggs, brioche and hollandaise sauce. The Toby's Estate's lunch time starts from 12pm to 5pm which it's menu consists of Toby's Pulled Pork Burger ($26.90), The Tobias Burger ($28), Shroom Chook Pizza ($18), Dual Fries ($14) and Portobello Crunch ($14).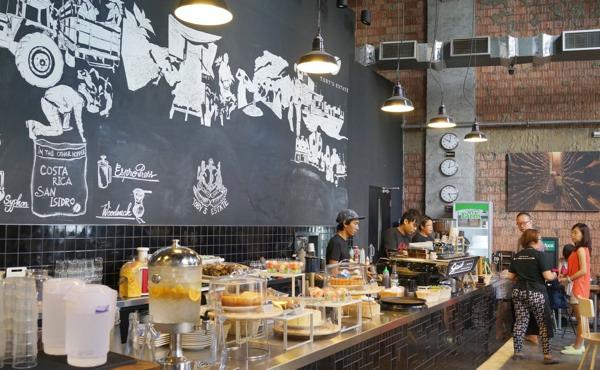 Browsing through their beverage menu, the Toby's Estate's coffee and tea are categorised into two different ways of brewing, namely the Fast Bar and Slow Bar. In their Fast Bar, they serve espresso such as Macchiato ($4), Cafe Latte ($5) and Masala Chai ($6), while their Slow Bar includes various coffee brewing methods such as Siphon ($8), Chemex ($6) and V60 ($6). Different methods will affect the intensity of the coffee.
As Toby's Estate is popular for their Arabica coffee, I have ordered their Flat White ($5) to give it a try. On top of that, I have decided to have my favorite Chai Latte ($6), the Toby's Estate's way.
Beautiful was the word that struck in my head when I saw the two cups of hot caffeine on my table. I love the swirly latte art on my Chai Latte. The taste of the Flat White was smooth and silky. The Chai Latte really impressed me. The taste of this tea was very rich and sprinkling those sweeten cinnamon powder on top of the foamed milk made this Chai Latte taste much fuller, as it completes up the Chai experience.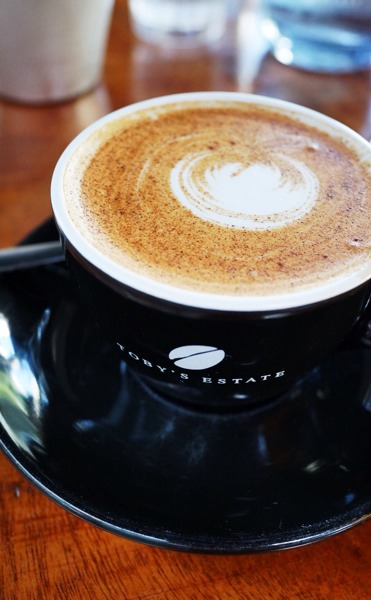 On my side of the table was the Toby's French Toast ($14.90). With the thick slices of Brioche topped with the espresso maple bacons and decorated with dices of fresh apples, raspberries and strawberries, followed by the drizzled of maple syrup, who can resist this sweet and savory main. The espresso maple bacons were pan-fried and tasted sweet, while the Brioche tasted buttery rich. The Toby's French Toast is probably the best French Toast I ever had.
On my wife side of the table was the Scrambled Egg On Toast ($8.50), which my wife opted for the Croissant. Other toast selections are Brioche and Sourdough. On top of that, my wife requested for the espresso maple bacon ($4.50). The best part of this All Day Breakfast main was the Croissant. This pastry was baked until crispy and flaky on the outside, while the inside remains buttery and soft.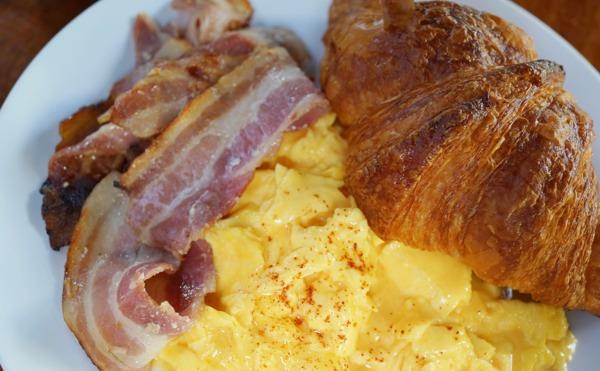 Both the servings for the Toby's French Toast and Scrambled Egg On Toast were large and tasted good. Moreover with the accompany of fantastic Flat White and spiced rich Chai Latte, Toby's Estate is serving quality good food and beverages to their patrons. Additionally, there is only GST charges in this cafe. No service charge at all, even though tipping is encourage.
If you love Toby's Estate roasted coffee beans, there is a merchandise corner where you can buy the Woolloomooloo Arabica coffee beans which is great for latte due to it's strong intensity. You can get the staffs to grind the coffee beans for you if you do not have a grinder back at home. Toby's Estate also sells the V60 coffee accessories for those who enjoy a slower brew of coffee.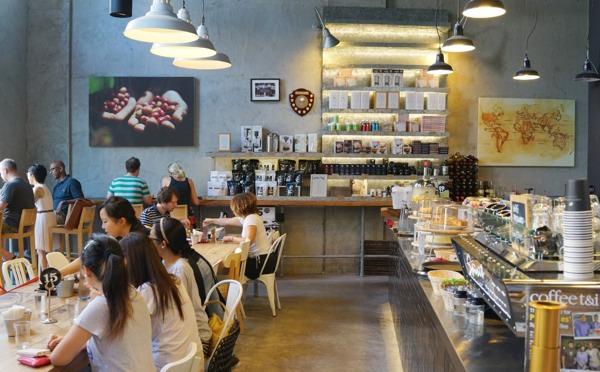 Address of my visit
Toby's Estate – Singapore Café and Roastery
8 Rodyk Street, 01-03/04
Singapore 238216
Opening Hours
Monday to Friday: 7:00am to 4:00pm
Saturday & Sunday: 8:00am to 4:00pm
Telephone: (65) 6636 7629
Website: http://www.tobysestate.com.sg