Situated next to the famous hawker center at Block 85 in Bedok North, my family and myself visited this neighborhood cafe called To-gather Cafe. Without hurting the diners wallet, To-gather Cafe at Bedok North aims to sell quality good food and drinks at an affordable price for everyone. On their food menu, they sells what most cafe serves to their customers such as sandwiches, pastas, coffee and cakes. So, without much thoughts, I decided to bring my family out on Sunday to have our lunch together in this place.
With the woody grains design on the exterior and interior of To-gather Cafe, it gives a rustic yet soothing dining ambiance. The indoor seating are air-conditioned, while the outdoor seating sheltered their customers from the hot sun and rain in Singapore. From the size of this cafe, it can accommodate probably up to 30 customers and it is great that they have sofa seats, which are comfortable for all children. To-gather Cafe even has a mini play room, which fits well for 3 children, with kitchen utensils for the children to play at one corner of the shop.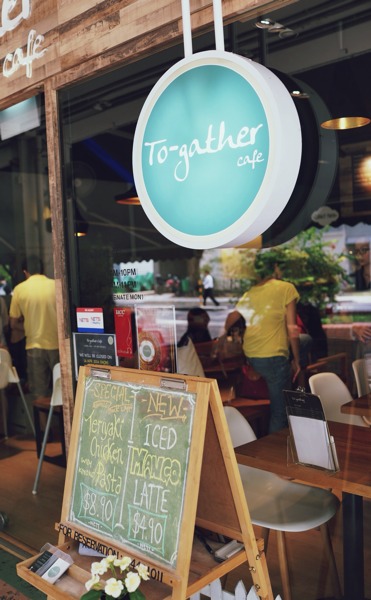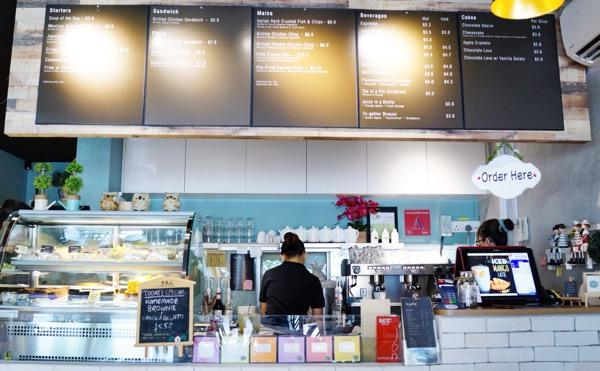 "Our special drink for today is Mango Latte," said one of the cafe staff. Hmmm … Mango Latte sounds tempting for us. So for our beverages, my wife and myself decided to order the Mango Latte ($4.90) and the To-gather Strawberry Breezer ($3.80).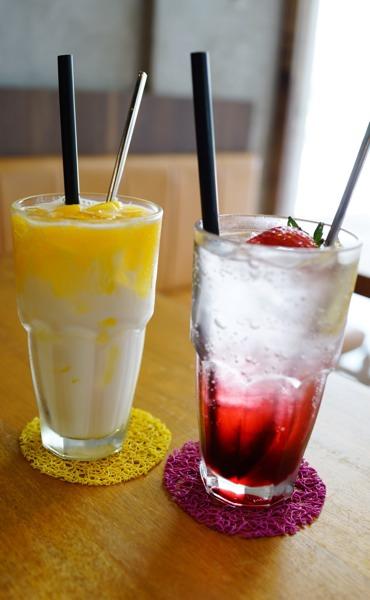 In fact, the Mango Latte has nothing to do with caffeinated latte. This iced cold drink is made up of fresh milk, mango syrup and then topped with chunky real mangoes. It felt like I am having a creamy mango ice-cream.
When I took my first sipped off the glass of To-gather Strawberry Breezer, it really breezed me up. When served on my table, the composition of this iced cold drink was strawberry syrup and sparkling soda. Stir them well with the straw and will turned this sparkling drink into a glass of strawberry soda.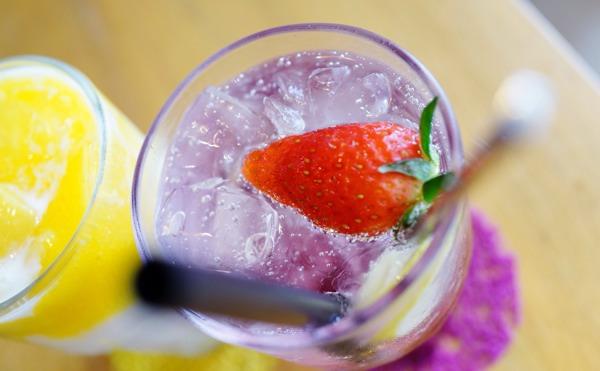 Italian herbs crusted fish and chips ($8.90) is one of To-gather Cafe's mains. The large fish fillet was deep-fried until golden brown and crispy, and taking the first bite, I would comment that the cook did a good job in making sure that the fried fish was dripped dry of oil before serving on the plate. Squeezing out the fresh lemon juice onto the fish and fries gives a zesty fresh taste.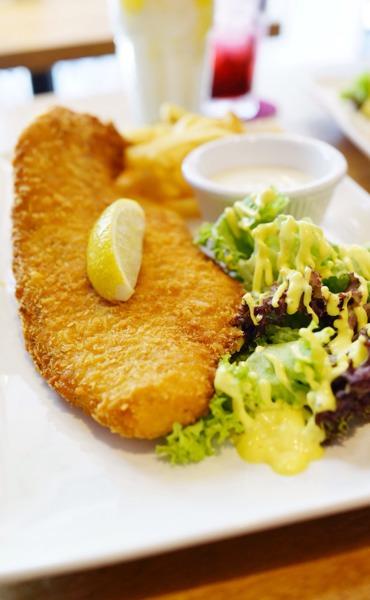 The next main was Pork Cordon Bleu ($10.90). After having this main, I understood why this main was so popular despite it's small portion of meat. The slices of ham and cheese were stuffed inside the pork loin meat, followed by deep frying the whole package until golden brown. The pork loin was not overdone and when served, it is hot inside, making the cheese flowed out when sliced apart. My first taste of the Pork Cordon Bleu was rich in flavor and the loin meat was really tender.
I guess my best bet for the sauce served together with the Pork Cordon Bleu was not mayonnaise or tartar sauce. That small dipping cup's sauce tasted like cream of mushroom. That's interesting.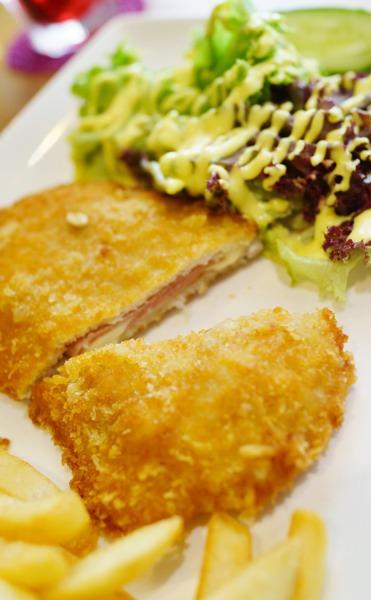 And now, finally for those who crave for sweet stuffs, I shall present to you To-gather Cafe's Chocolate Lava Cake ($3.80) and Oreo Cheesecake ($3.80). These cakes were simply delightful. The Chocolate Lava Cake was served warm and the first taste bite of this dense cake was cocoa, followed by the taste from the sweet chocolate sauce. Even though the chocolate sauce did not really flowed out viscously like molten lava, the taste of this chocolate cake was great.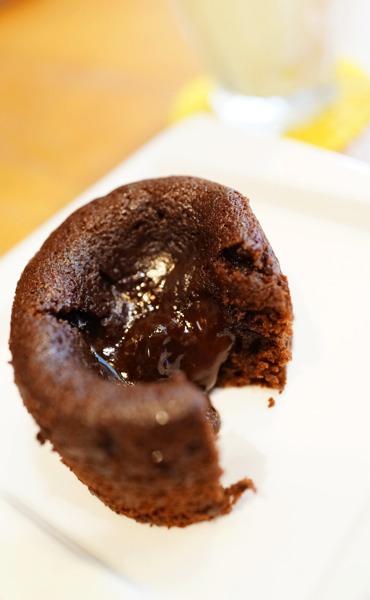 The Oreo Cheese cake was pretty good as cheese gives that saltish and creamy taste, while the crumbs of Oreo gives the nutty cocoa taste. Although it is not the best cheesecake I have eaten, at a price of $3.80, it is quite reasonable.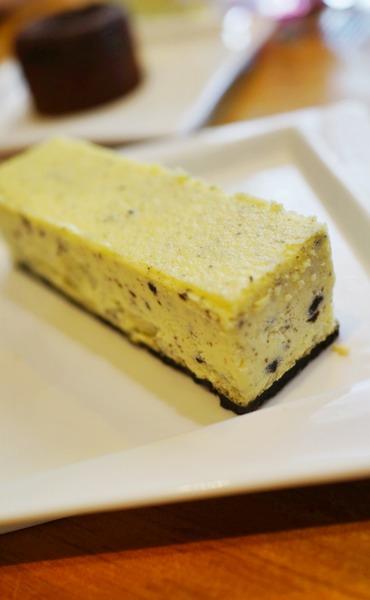 With a total spending of $35, my family have enjoyed a tasty and savory lunch in To-gather Cafe. Even though this time round I did not order any coffee, this cafe serves UCC coffee which I believe it should be good. No service charge and GST, this cafe is really making their food pricing attractive in the neighborhood of Bedok North, while serving cafe style menu. This is a great place to come back again.
Address of my visit
To-gather Cafe
84 Bedok North St 4 #01-27
Singapore
Opening Hours
Monday to Thursday: 11:00am to 10:00pm
Friday to Saturday: 11:00am to 11:00pm
Sunday: 11:00am to 10:00pm
Telephone: (65) 6445 1011
Website: http://www.togathercafe.com.sg