Good news to Super Nintendo fans who get their hands on this gaming console back in the 1990s. Installed with 21 classic video games, Super Nintendo Classic Edition is a pint-sized 16-bit gray-and-purple gaming console which will be selling on the September 29.
The Super Nintendo Classic Edition has the look of the 1990s housing. Compact in design, this console brings portability to everyone. The gaming system will include two wired controllers that suit the palm of your hand.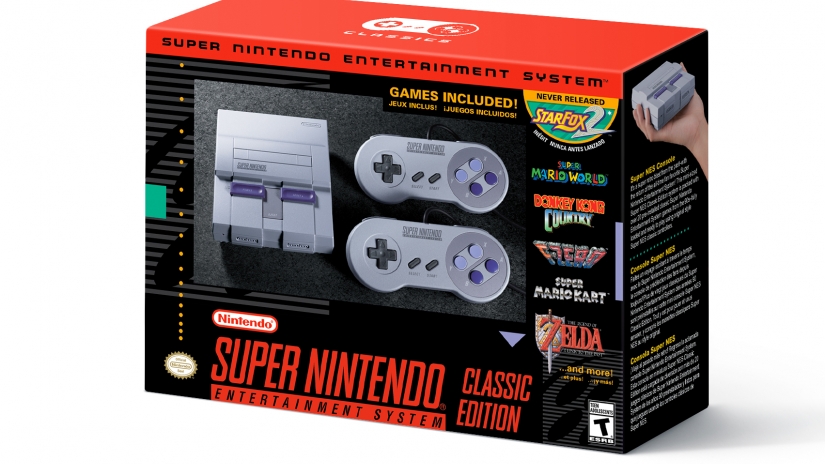 Packed in a small package, Nintendo states that this game console is designed to duplicate the original 1990's console. Right inside the box, there is a Super NES Classic Edition, an HDMI cable television, a USB charging cable with A/C adapter and 2 Super NES Classic Controllers. Time to get ready for Street Fighter!
Nintendo isn't the only company re-creating this nostalgic experience. Sega and Atari are also doing retro re-releases of their gaming consoles and games. However, I bet Nintendo will take the lead for retro.
The Super Nintendo Classic Edition will include the following 21 classic games:
Contra III: The Alien Wars™
Donkey Kong Country™
EarthBound™
Final Fantasy III
F-ZERO™
Kirby™ Super Star
Kirby's Dream Course™
The Legend of Zelda™: A Link to the Past™
Mega Man® X
Secret of Mana
Star Fox™
Star Fox™ 2
Street Fighter® II Turbo: Hyper Fighting
Super Castlevania IV™
Super Ghouls 'n Ghosts®
Super Mario Kart™
Super Mario RPG: Legend of the Seven Stars™
Super Mario World™
Super Metroid™
Super Punch-Out!! ™
Yoshi's Island™
Find out more about this gaming console here.
*Images are from Nintendo.com.