If you plan to fly to Taichung for the plucking of strawberries, you have got to plan your trip between the months of December to April. These are the best months for strawberry harvesting. As Miaoli County in Taichung is very popular for their strawberry plucking activities, during my trip in the month of February, most of the fruit farms had almost depleted out of strawberries. All that were left in the strawberry farms were either unripe or rotten fruit.
The taxi uncle, whom we have hired, had been asking the locals in Miaoli for strawberry farms that could possibly still have strawberries available for the plucking. With several people's recommendation, he brought us to a secluded farm located in Miaoli, which has plenty of strawberries and not overly crowded with people. This is a friendly family operated farm located in Dahu township called Xing Mei Fruit Farm (新美觀光果園). Located at the side of the road, Xing Mei Fruit Farm looks like an ordinary fruit stall, but the opposite is a strawberry farm, with beautiful greenery views and fresh cold air in the month of February.
Some quick tips: For other fruits harvesting in Miaoli, April to June will be the months for plums and peaches, August to October will be tomatoes, September to October will be persimmons and November to February will be oranges.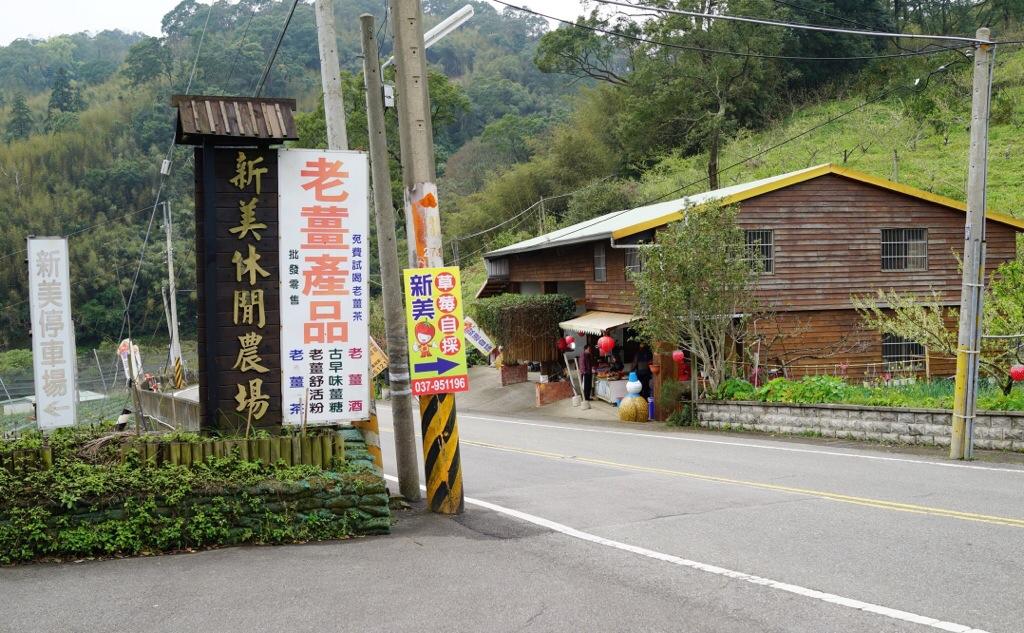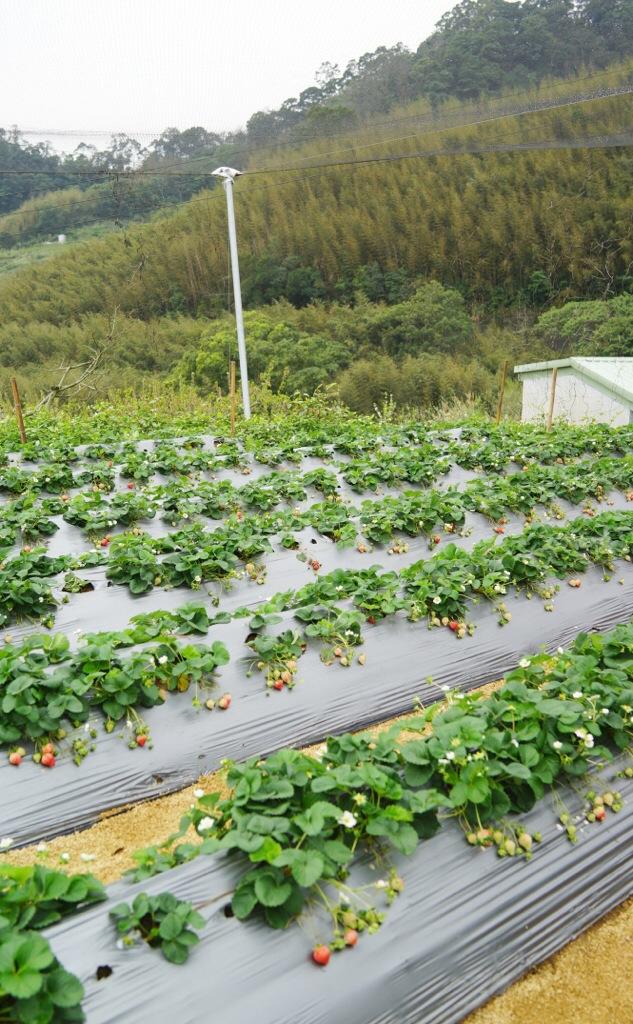 To start our activity of plucking the strawberries, the owner will pass an empty small basket and a pair of large scissors. It is very important for us to cut the stem off near to the fruit. Even though many of us live in urban cities and often wish to have a taste of fresh organic fruits, washing the strawberries before consumption is still compulsory due to hygiene purposes. Also, it is very important to avoid stepping on the strawberry plants, which might cause damage to them.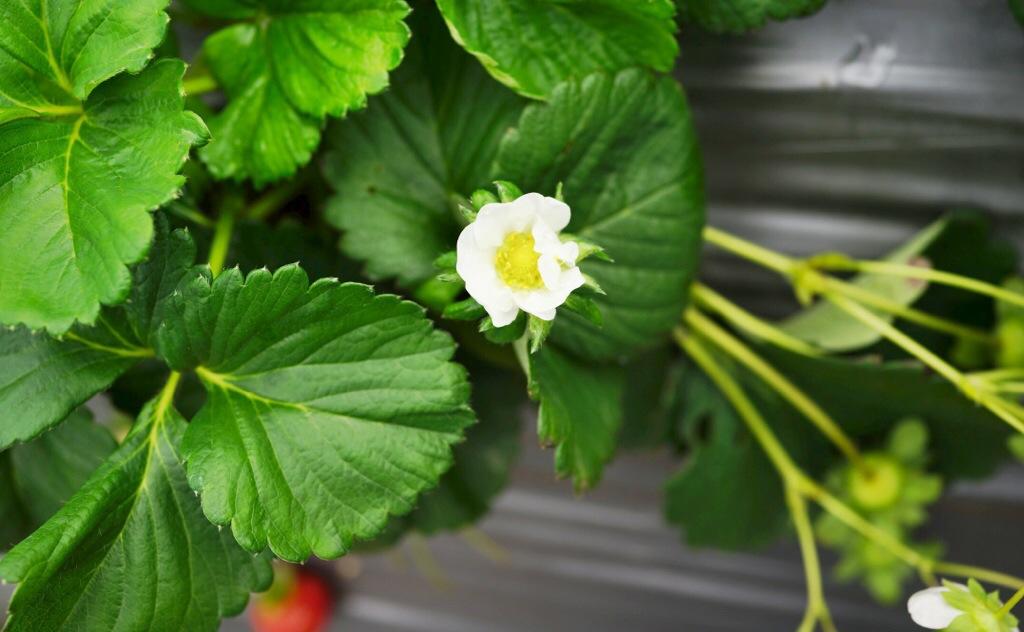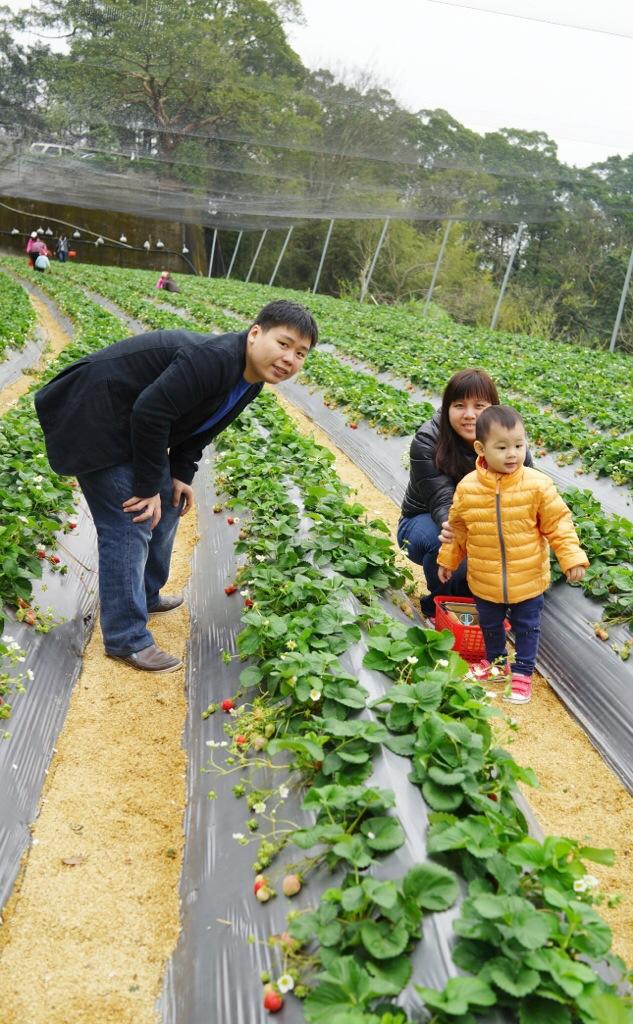 As there wasn't a lot of people visiting the Xing Mei Fruit Farm due to its location, there was an abundance of strawberries available for plucking and many of them were huge in size. This is an excellent place to avoid large crowds of people. You can pluck as many as you like and the price of the strawberries was charged at NT $250 ($10 SGD) for 500 grammes. Despite our small strawberry gatherings of 100 grammes, the owner gave us some strawberries for free and even invited us to have some fresh strawberries in their fruit store. That was very nice of them.
Strawberry plucking is a fantastic family activity to give our children a chance to visit a real strawberry farm and enjoy the taste of fresh crispy sweet strawberries. Kayden was very excited to see so many strawberries and he was so happy to get his first hands-on experience in harvesting them. He kept saying, "so many many strawberries!"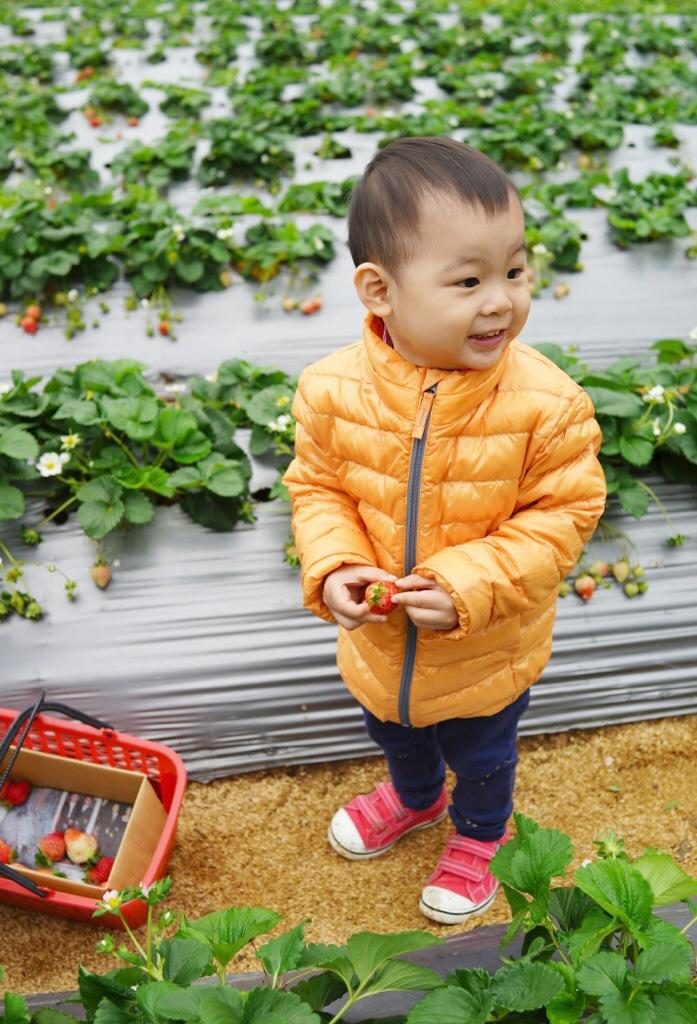 Address of my visit
Xing Mei Fruit Farm 新美觀光果園
364, Taiwan, Miaoli County, Dahu Township, 薑麻園8號
Telephone: 037-951196