There is this local Korean restaurant that sells tasty and spicy octopus Bibimbap. Locating at 84 Gyeonggi South Korea, this restaurant has live octopus tank outside the restaurant for diners and passerby to view them and the wooden exterior building design makes it obvious for diners to find the restaurant.
In the Korean culture, it is necessary for the visitors to remove their shoes and change to a clean pair of slippers before entering the house; while in the Korean restaurants, just remove your shoes will do. This is a small cosy restaurant, that holds about 8 tables, and every diners will sit on the floor to enjoy their meals. Actually, removing my shoes was an enjoyable and relax experience during dining. It feels like "I'm at home".
The wooden structure of the restaurant. There is a cartoon octopus logo at the left of the signage.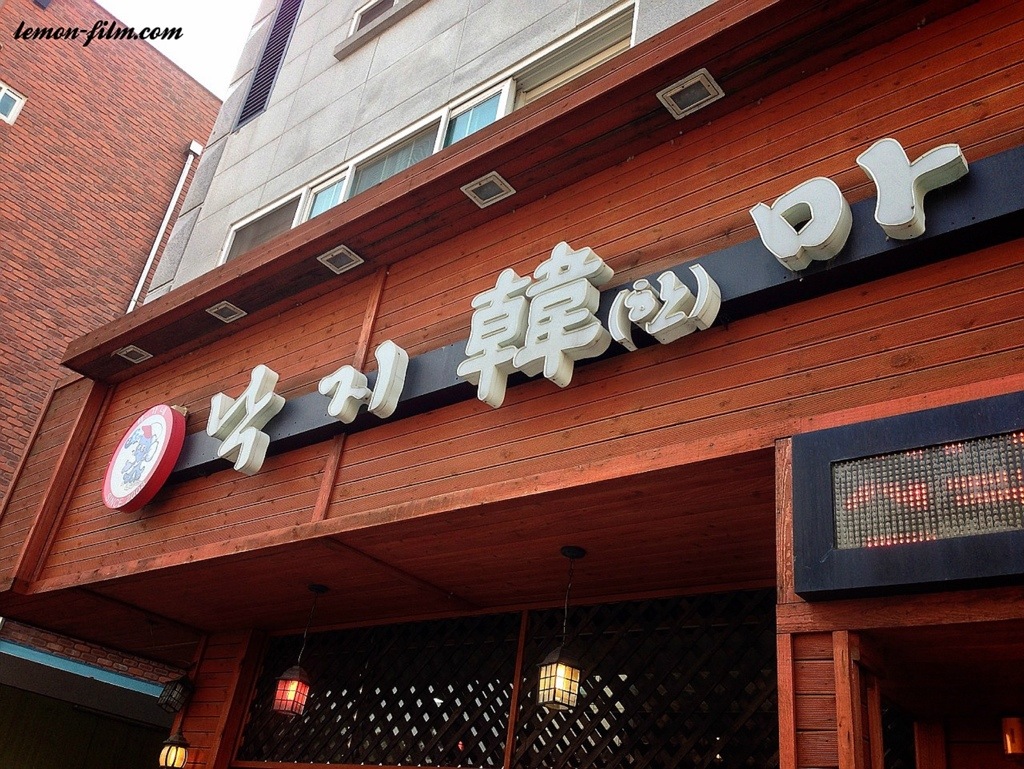 My first dish to start with was the seaweed soup. I can say I love and hate this dish. Why? I hate this soup because it is ice cold and it has a strong "fishy" and sour taste. Drinking cold soup during the winter season of only 1 degree celsius doesn't warm up my body. After eating the spicy octopus Bibimbap, the seaweed soup helps to cool down the spiciness in my mouth. The sourness of the soup also remove the spicy taste lingering on my tongue. Now, that is the reason why I love this soup.
This is the ice cold, fishy and sour seafood soup, which I love and hate it.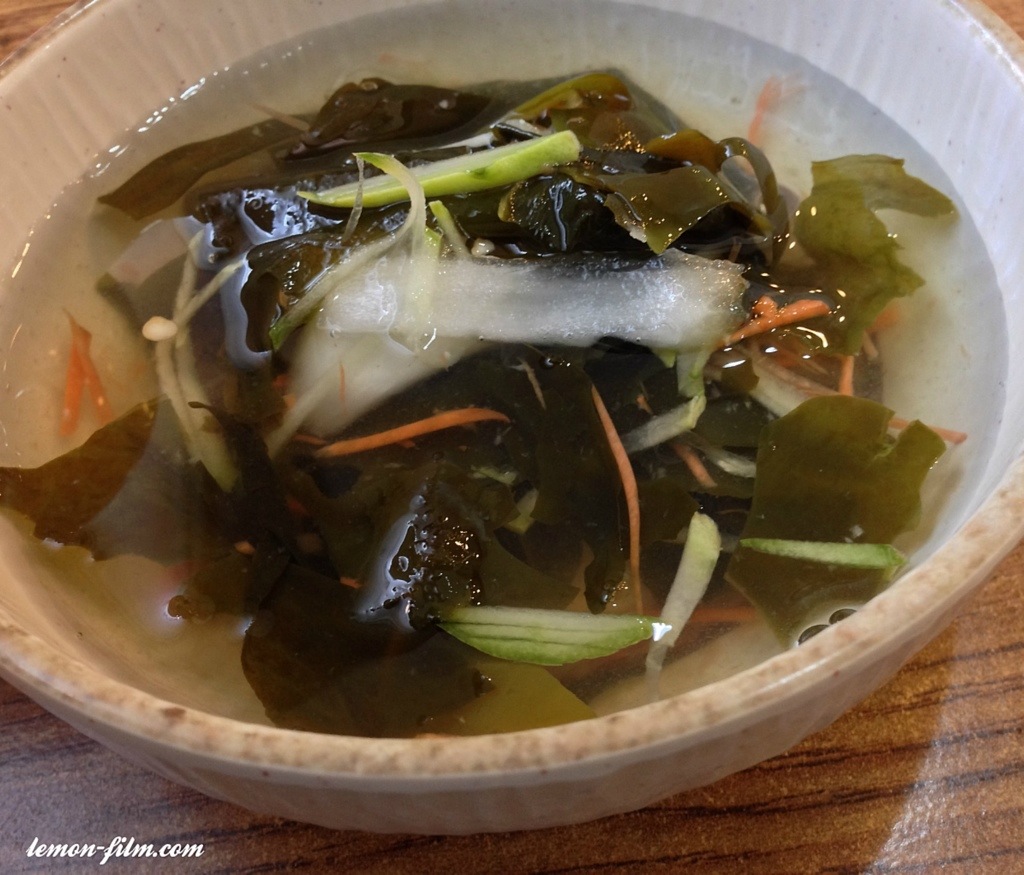 Here comes the Spicy Octopus …. It is very red!!!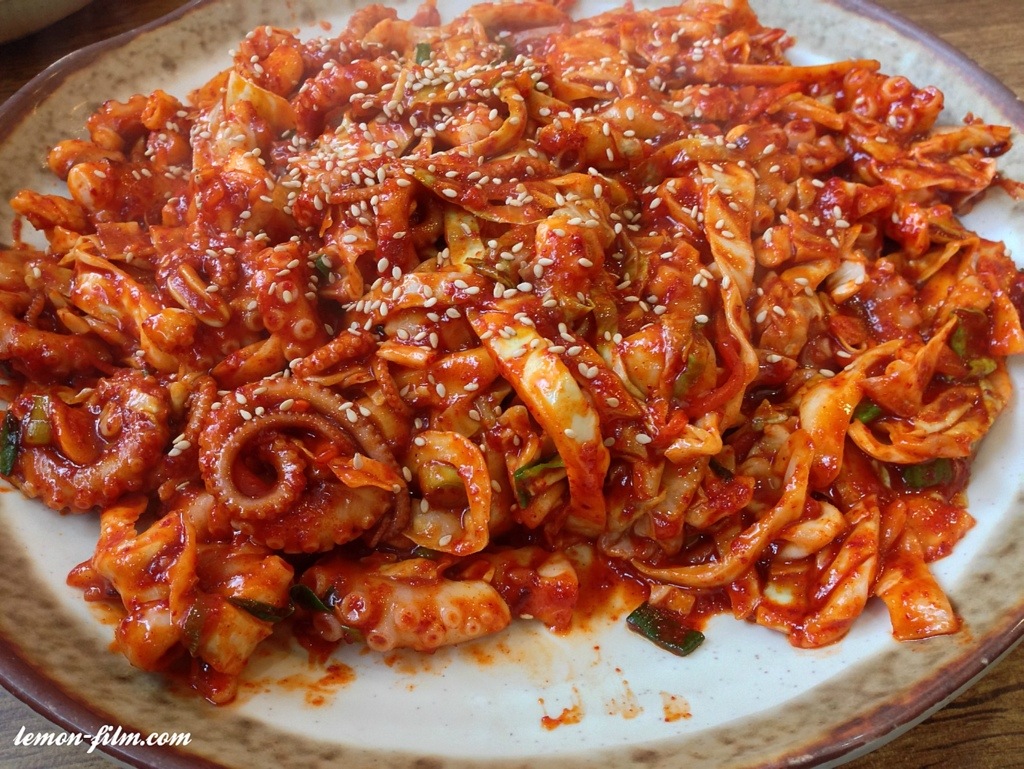 These are the ingredients to add to my Bibimbap. They are radish kim chi, dried slices of seaweed and big headed bean sprouts. That's my serving of fibers for my lunch.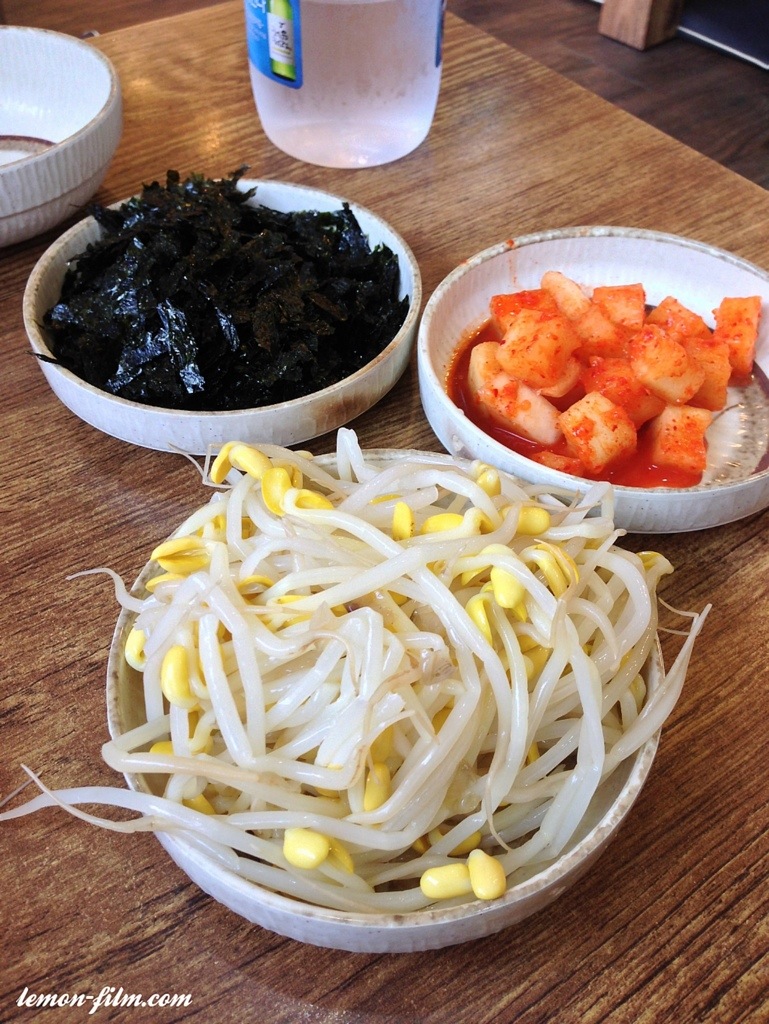 Put all the ingredients into the bowl of rice, except for the soup, and get ready to mix them well.

This is my first time eating Bibimbap. It always looks messy and not appealing in Korean shows and food posters, but after having my first Bibimbap, I realize that mixing food well with rice taste a lot better than just rice with dishes.
The spicy octopus is not as spicy as it looks. I would rate the spicy level 30% lower than our Singapore typical Nasi Lemak sambal chilli. I really loved the octopus because of it's freshness and chewiness. The radish kim chi is very crunchy and have a slightly sour taste. If the spicy octopus seems too hot for you, the cold seaweed soup will definitely put off some flame in your mouth. Now, never judge the food by it's appearance. I am giving a food rating of 9 out of 10.