I am a huge fan of breakfast grains like cereals, granolas and mueslis. With just fresh milk or yoghurt, these breakfast grains are really easy to prepare. Adding small chucks of fresh apples, fresh cuts of strawberries or dried nuts can enhance the flavor and include more vitamins into the breakfast bowl. Pour the fresh milk over the grains and you got a bowl of wholesome goodness. Besides, you don't need to have them for breakfast only. You can also enjoy them as quick snack during your food cravings.
In this post, I will be sharing with you Quaker's breakfast grains. We all know Quaker through their famous oats products. This year, Quaker has created a line of new food products for their customers. They are their Simply Granola and Real Medley Cereals series.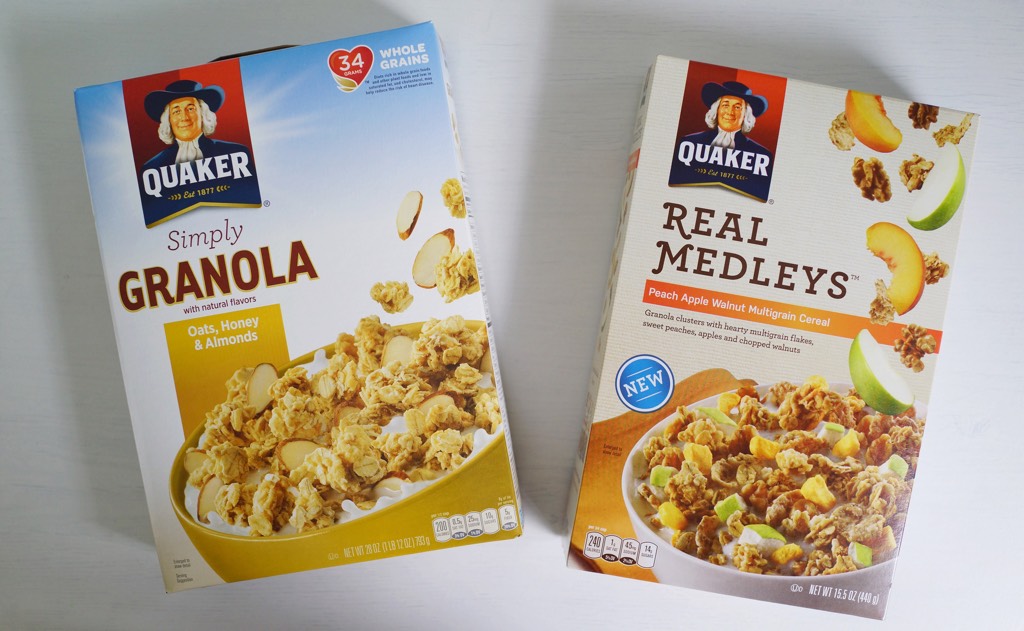 Quaker's Simply Granola is packed with small clusters of rolled oats, thin slices of almonds and with the great taste of honey. With every cluster crispy good, you can enjoy this breakfast granola even as a snack. For those who doesn't like coconut, you might consider skipping this flavor and try on other Quaker's Simply Granola series. The reason is because there is a slight distinct aftertaste of coconut. Comparing to my family's favorite Honey Oat granola brand, per 1/2 cup serving of Quaker's Simply Granola has a slightly lower of sugar level of 1g, lower calories by 60 and additional minerals such as Magnesium and Thiamin (also known as Vitamin B1).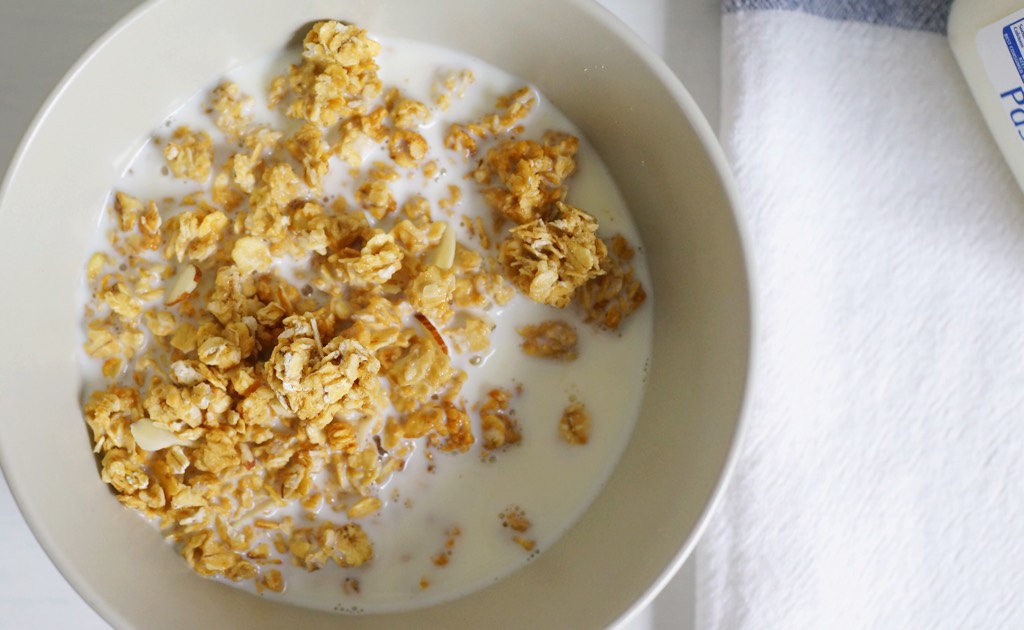 Pack together with rolled oats granola and corn flakes, Quaker has added dried chops of peaches, apples and walnuts into this new breakfast cereal called Peach Apple Walnut Multigrain Cereals. This breakfast cereal is categorized as Quaker's Real Medley series. Probably due to the addition of dried fruits, this breakfast cereal will taste much sweeter than the Quaker's Simply Granola.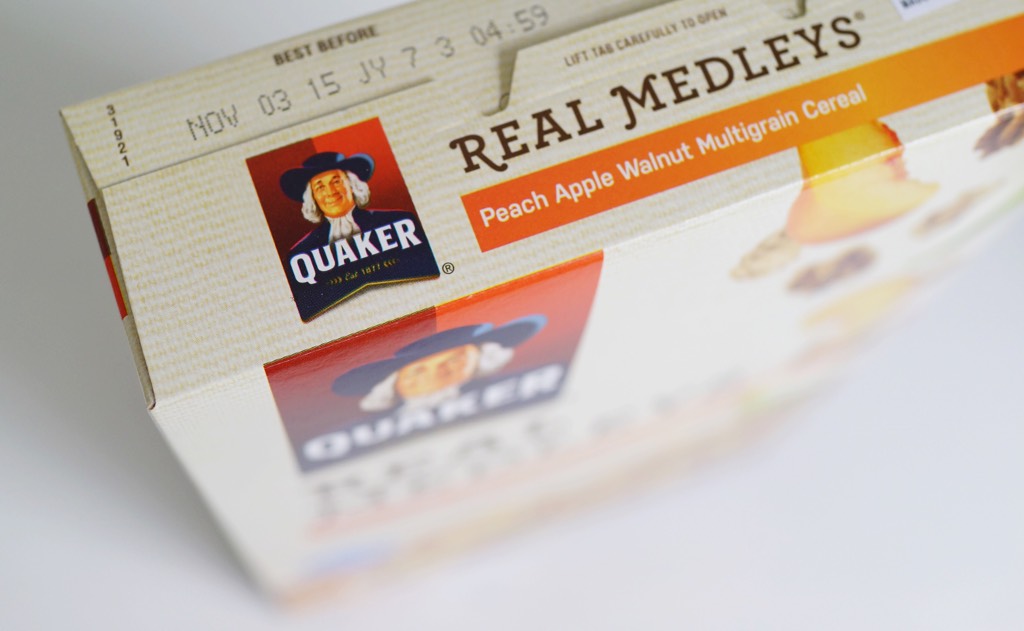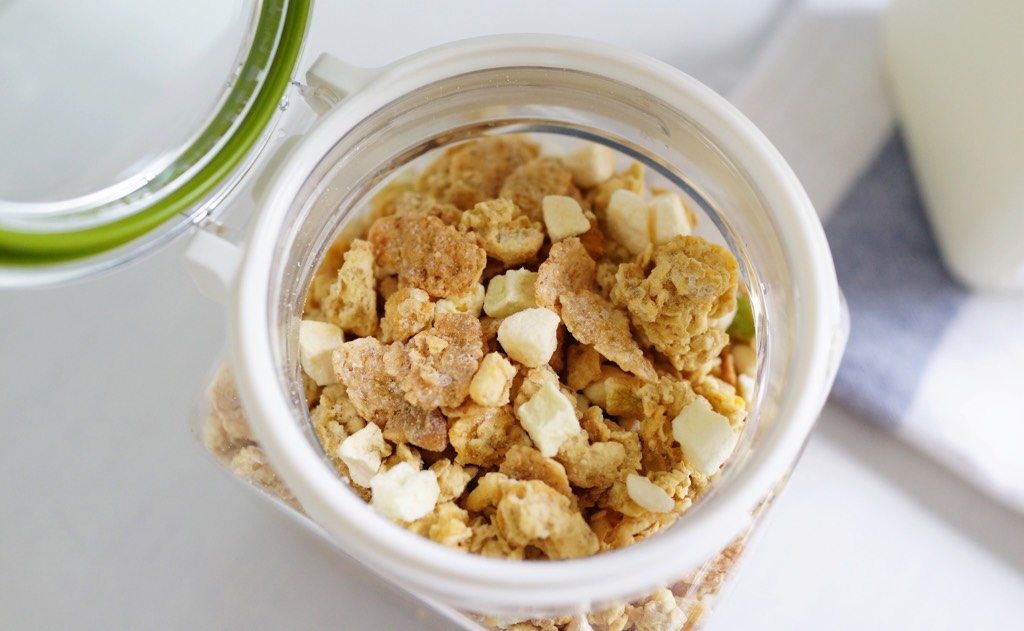 The best way to enjoy the Quaker's granola and cereals is to go with some cold fresh milk. Well, if you are not a sweet toother like myself, you might want to add in "no sugar added" muesli to increase your fiber intake, keep your sugar intake low and enjoy the flavors created by Quaker.
To read more about my Quaker Oats recipes, here it is: Baked Oat Rice with Chicken Chucks and Nutty Chocolate Oat Bars.
This post is brought to you by Quaker. Follow them on Facebook at Quaker Singapore for more interesting and fun ways to enjoy your daily dose of oatmeal.