With flower pots, wooden carton boxes and plants crawling onto those criss-crossed bamboo fences, they make Shebrews Cafe at Queenstown beautifully decorated like a small backyard garden cafe in a village. Located in the corner of Queenstown Community Centre, this small cafe fits well for 40 people and it's furnishing is simple.
Calling themselves as "slow food" cafe, they would like their customers to enjoy a slower pace in their life and enjoy the food and beverages in Shebrews Cafe. Talking about pricing, probably this cafe is the most affordable I have visited so far. As the cafe is located in the Queenstown Community Centre, there is free WIFI available for public use.
Shebrews Cafe served sandwiches with tortilla chips on their menu, which is at the counter. With the bread choices of Ciabatta or Foccacia ($0.20 more), their sandwich menu includes Teriyaki Chicken ($4.80) and Japanese Mayo Tuna ($4.60). They also served mains such as Oven Baked Beef Lasagne ($8.50), Oven Baked Macaroni & Cheese ($8.50) and Chicken Mushroom Baked Rice ($8.50). Shebrews Cafe's espresso coffee selection is not a lot, but good enough for casual coffee drinkers. Their espresso coffee menu includes Long Black ($2.80), Latte ($3.40) and Toffee Latte ($3.70). To enjoy a glass of iced coffee, just topped up an additional of $0.20 to $0.30 more. There is also a weekday meal promotion which just by getting a main course, the drink and ice cream are free.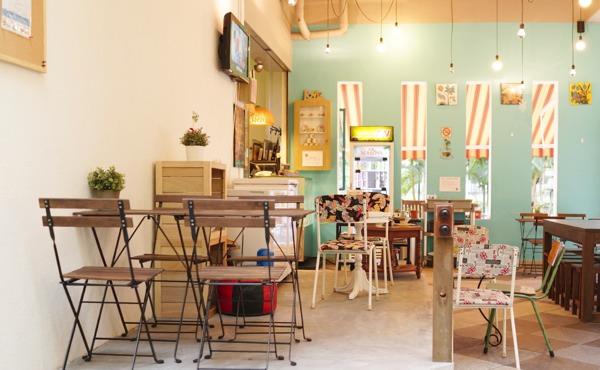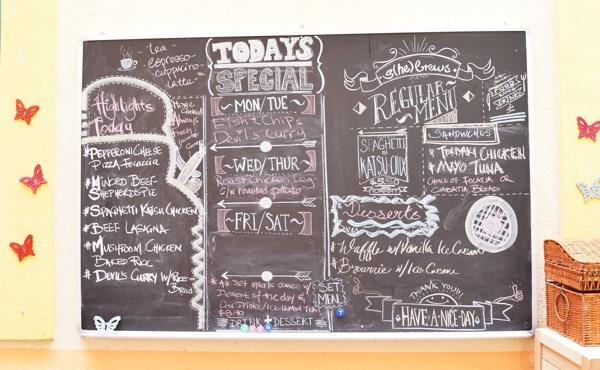 From their Today's Special and recommendations, I have ordered their Fish & Chips ($8.90). Since it is a weekday special, my glass of iced lemon tea ($2.30) and ice cream are free.
It is nice that I can opt for iced lemon tea without any sugar. Filled up in a glass mug, my iced lemon tea was refreshing and quenched my thirst for the hot day.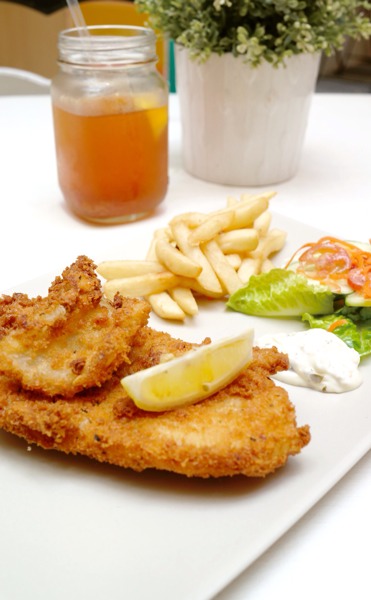 As Shebrews Cafe is a self service cafe, I will need to collect my food from the counter and clear my plates after I am done. Probably that's how Shebrews Cafe managed to keep their food and beverage pricing really affordable. With some fresh side salad and fries, my plate of Fish & Chips was nothing I can ask more. Taking my first bite of the Fish & Chips, the fried fish is slightly oily but it was really crispy on the outside and the meat was really tender and juicy.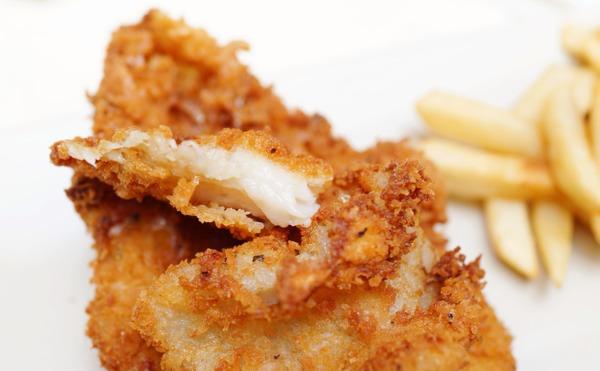 Shebrews Cafe makes me feel like home. The iced lemon tea was refreshing enough to get me through the hot weather in this mid-year of Singapore and the Fish & Chips taste really like home cooked. With such affordable price and quiet environment, that's really enough for myself.
Note: This cafe is closed.
Address of my visit
Shebrews Café
365 Commonwealth Avenue
Queenstown Community Centre
Singapore 149732
Opening Hours
Monday to Friday: 10:30am to 6:00pm
Saturday to Sunday: 11:30am to 7:00pm
Telephone: (65) 8606 0030
Website: http://www.shebrews.org