Located beside a bus stop with bus service number 33 and near to the popular Long Phung Vietnamese restaurant (click here for my post), there is a little less known Vietnamese dining place known as Samsim Quan An Vietnamese Cafe in 233 Joo Chiat Road. With it's simple furnishing and lack of crowd on a Sunday lunch time, the food prepared by the kitchen wasn't what I really expected.
Taking a seat in this restaurant and browsing through their food menu, they serve a variety of Phở or noodles, khai vị or finger foods, Hai San or shell seafood and Bánh mì or sandwiches. Their Phở are priced typically at $6.00 per bowl and Bánh mì are priced at $5.50. Samsim's finger foods sure sounds out of the box in their menu such as the BBQ Dry Cattle Fish ($6.00), Century Eggs ($8.00), Fried Prawns ($12.00) and Fried Chicken Wings ($6.00). Their shell seafoods are cockles and Gong Gong which the menu selections includes garlic style and sweet and sour style. The pricing is $6.00 for small and $10.00 for large.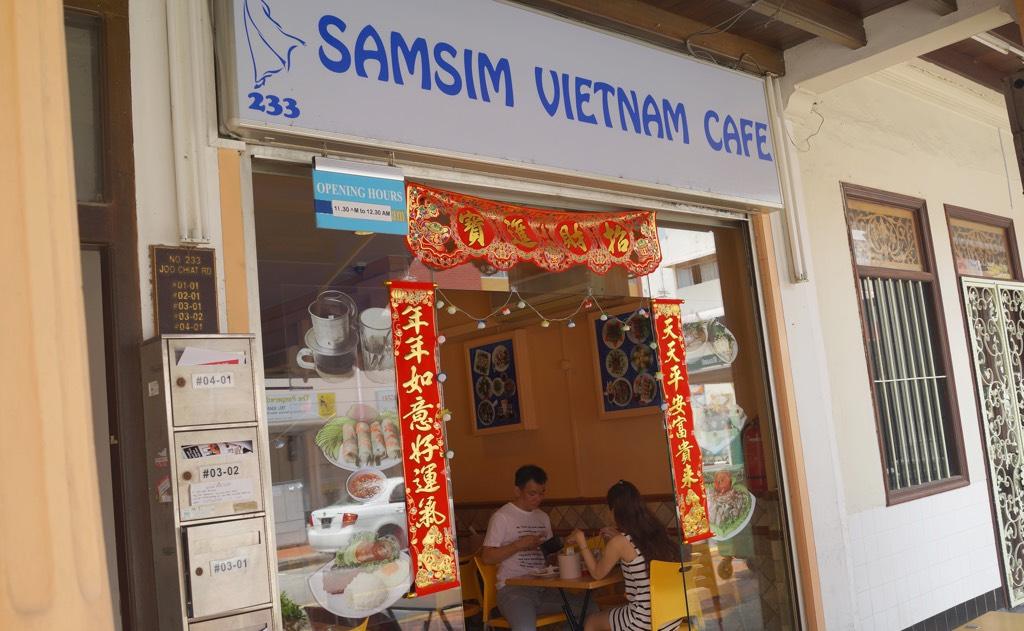 Putting my tastebuds on their Vietnamese Iced Milk Coffee cà phê đá ($2.50) and Vietnamese Iced Tea ($1.00), their iced milk coffee was authentic and excellent, while their sugarless iced tea was a thirst quencher.
Serving up first was the Hu Tieu Heo ($5.50), which was a bowl of vermicelli soaked in pork rib broth topped with slices of pork. The broth tasted naturally sweet and the slices of meat were thin cut of pork belly. I love the idea of the fresh vegetables placed separately on another plate so that I can decide how much greens I would love to have.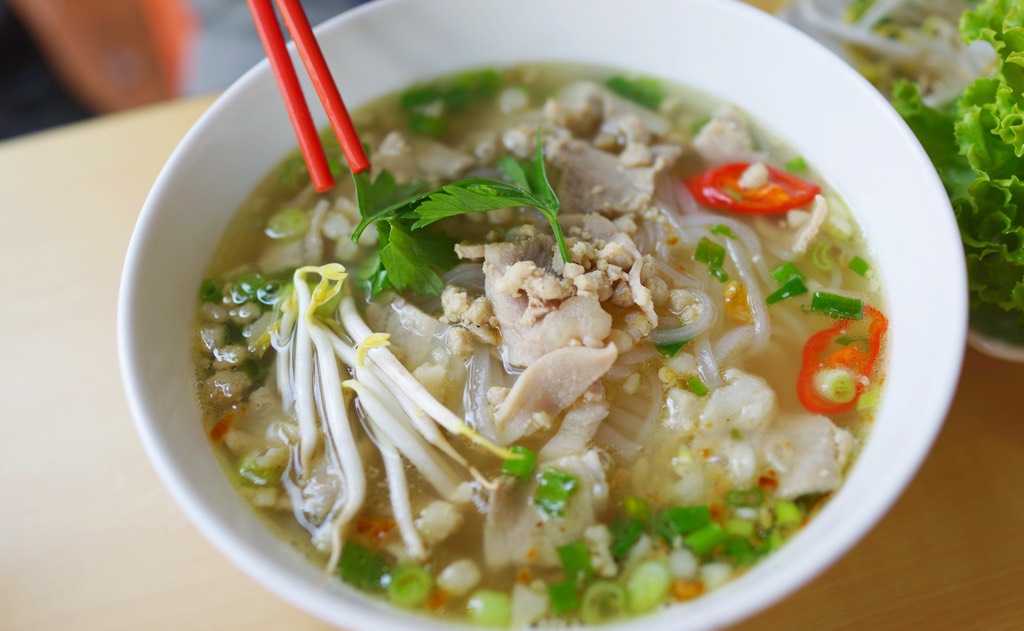 Gỏi cuốn ($1.20 each) are rice paper spring rolls, which the inside is stuffed with rice vermicelli, cooked prawns and vegetables. This summer rolls are usually served with dipping sauce. The Gỏi cuốn served in this restaurant was average. A safe appetizer to order.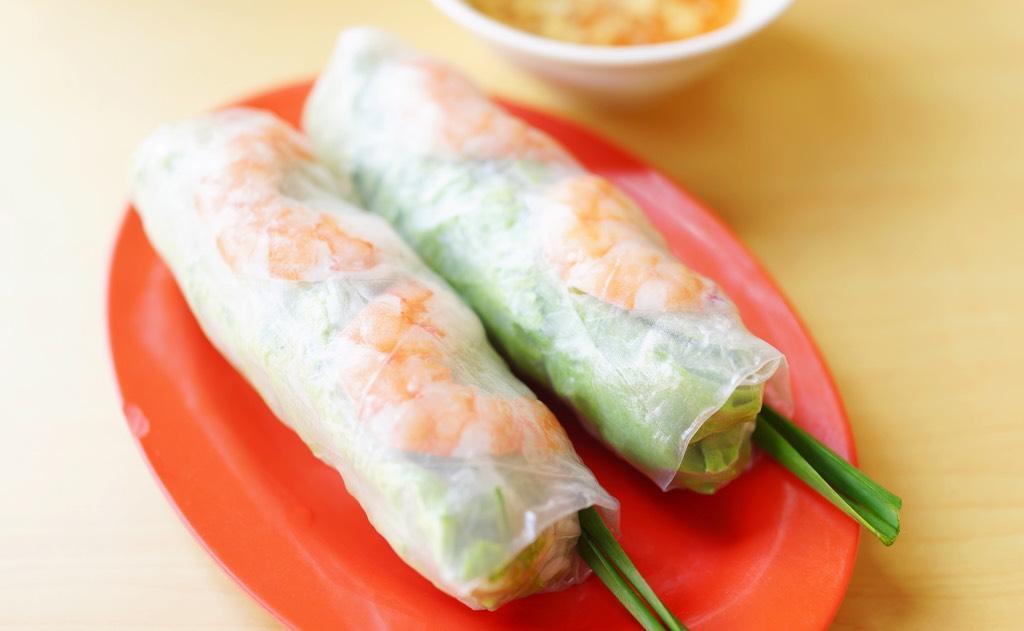 Next on my table was Bún thịt nướng ($7.00) which is dry rice vermicelli with grilled pork, fried spring rolls and other vegetables such as basil and mint leaves. The rice vermicelli had a very soft texture and pouring the condiments into the bowl gave a tangy taste with a hint of spiciness. The fried pork doesn't taste dry and the fried spring roll was very crispy and flavorful. Very tasty.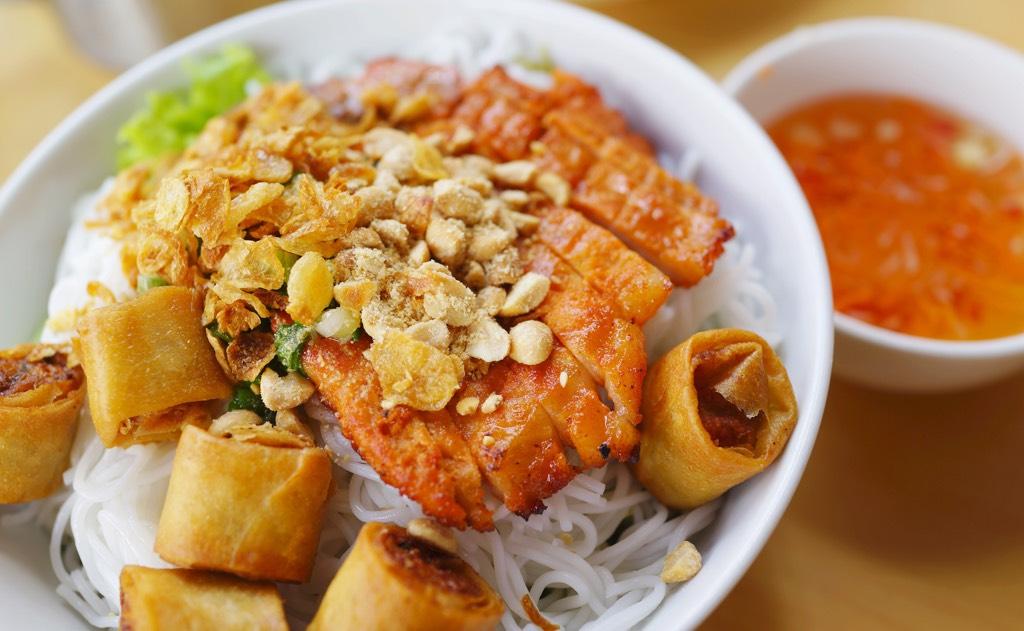 I would say the Vietnamese cuisine served in Samsim Quan An Cafe blew me away with their good food. When I approached the friendly Vietnamese Chinese staff on how long they have opened, she told me with a rather disappointed reaction that "it has been very long". With no GST and service charge, this dining spot is value for money and worth checking it out if you are craving for some healthy Vietnamese food.
Address of my visit
Samsim Quan An Vietnamese Cafe
233 Joo Chiat Road
Singapore 427491
Opening Hours
Monday to Sunday: 11:30am to 12:30am