As Tanjong Katong is near to the seafront of East Coast beach, this district is a food paradise with many small cafes and restaurants locating along the streets in the rows of shophouses. During my morning trip with my family in Tanjong Katong, I bumped onto this small cafe called Pies and Coffee (Pies & Coffee) located just opposite Tanjong Katong Girls School and nearby to a bus stop. Pies and Coffee in Tanjong Katong is one of their four cafe outlets in Singapore. The other three outlets are located at The Grandstand, Rochester Mall and Robertson Walk.
When entering Pies and Coffee in Tanjong Katong, those white-coloured painted walls accompanied with brown-coloured dining furniture and clutter-less layout makes this cafe's interior design rather minimalistic and clean. Nothing less and nothing more. Outdoor seating are available, but I will skip that due to the hot morning weather in Singapore. From the size of this cafe, it should be able to accommodate up to 30 customers comfortably. Now, it's time for a family meal.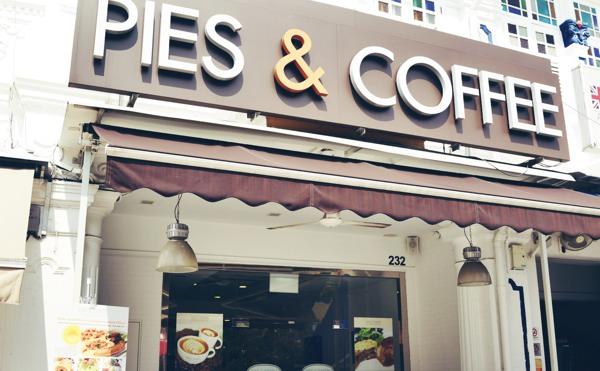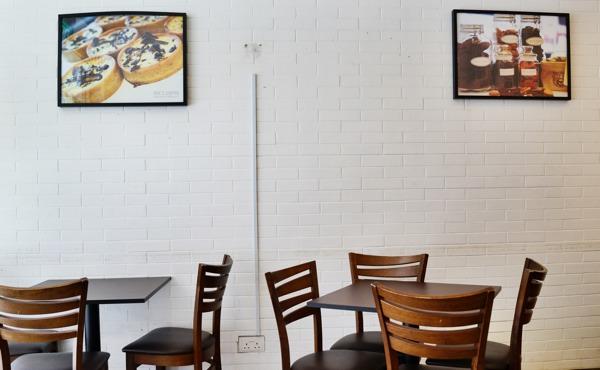 My first order serving right up was the Banana Hazelnut Pancakes, which comes with a glass of free cloudy apple or orange juice to choose from. Only the top slice of pancake is deeply coated with Nutella spread and then topped with fresh blueberries and strawberries. Between each slice of the pancakes, they are separated with fresh slices of bananas, probably about 4 to 5 slices. Priced at $9.25, the pancakes and Nutella makes a perfect food companion together for an awesome breakfast.
Serving up next was the Hearty Breakfast that comes with scrambled eggs, fresh salad on the side, two sweet Belgium waffles and a cheese sausage. The scrambled eggs are actually egg mayonnaise mixed with sweet relish in this Hearty Breakfast, creating a sour and tangy taste. As those Belgium waffles are already sweetened, it is great to eat them as it is. There is no need to serve them additionally with confectioners sugar or syrup. Probably, I would suggest Pies and Coffee to serve these Belgium waffles with some fresh cut fruits on top of it. Like the Banana Hazelnut Pancakes, the Hearty Breakfast also comes with a glass of cloudy apple or orange juice at a price of $13.55.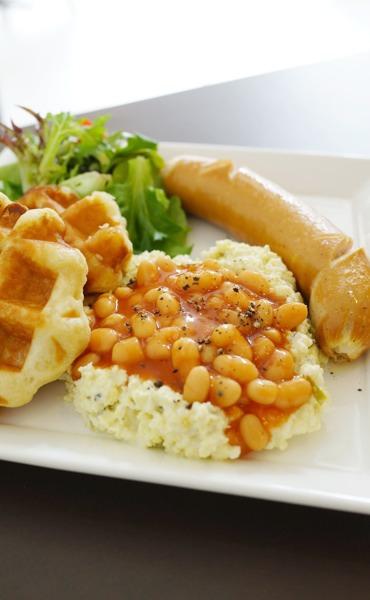 I have also decided to try Pies and Coffee's latte, which cost $5.80. To my surprise, the latte was smooth and aromatic. The latte did not taste sour and has a slight bitter aftertaste. What a great morning dosage of caffeine.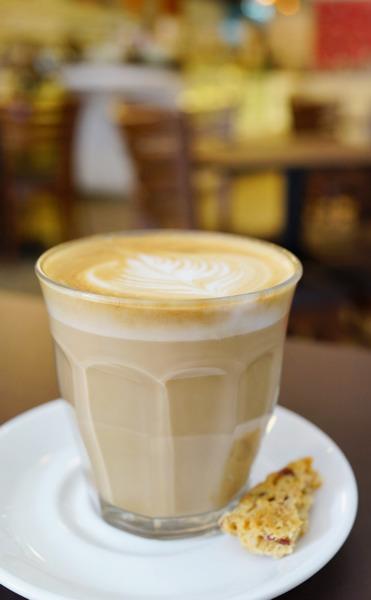 I have also tried the Pies and Coffee's Iced Mocha Coffee which cost $6.90. This is a nice and sweet iced chocolate drink with a slight hint of coffee aftertaste.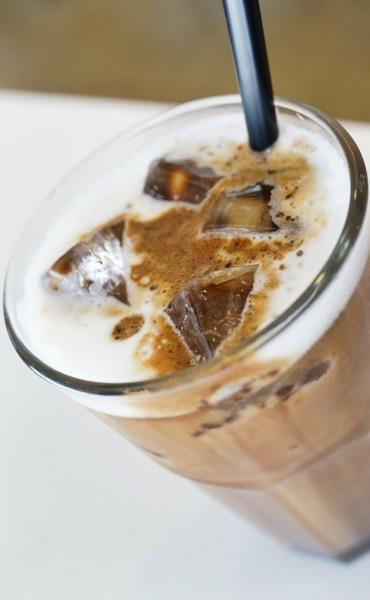 Finally, here comes my Chicken Cheddar Pie ($9.95), which was serve hot after the staff have it heated up in the oven. The pastry crust of the pie was soft and had a buttery taste. Slicing the pie with a knife doesn't makes the crust crumbles easily. Not a messy job after all.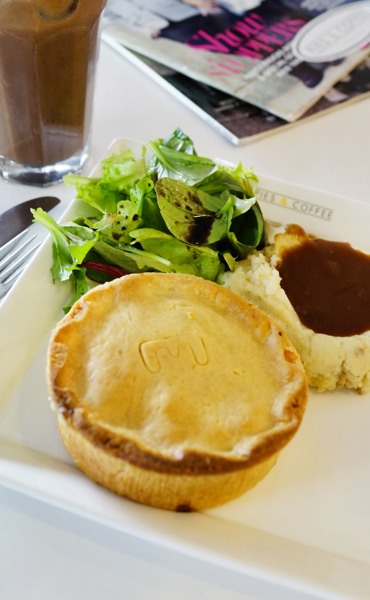 Taking a peek inside my Chicken Cheddar Pie, the sauce of the ingredients inside the pie flows out quickly when sliced and there were large chunks of chicken meat and potato inside the pie. The taste of cheddar was mild and there were rosemary herbs present in my Chicken Cheddar Pie. Seems like I love the crust of my pie more than the ingredients inside.
The good thing about Pies and Coffee is there is no service charge and the cafe has nice ambiance and great for small group gathering. Do note that for the Pies and Coffee breakfast sets, the Tanjong Katong and The Grandstand outlets serves egg mayonnaise mixed with sweet relish, while Robertson Walk and Rochester Mall serves scrambled eggs. With an additional of $1.00, you are able to upgrade for a Long Black or English Breakfast Tea. As there is only 1 bus locating outside the cafe, you might need to check which are the buses that stop by.
Address of my visit
Pies & Coffee
232 Tanjong Katong Road
Singapore 437020
Opening Hours
Monday to Friday : 9:30am to 10:00pm, except Friday at 10.30pm
Saturday & Sunday : 9:00am to 10.30pm, except Sunday at 10pm
Telephone: (65) 6342 1667
Website: http://www.piesncoffee.com