Yes! Paris Baguette Cafe is now baking pastries and serving meals in the friendly neighborhood of Tampines, the eastern part of Singapore. Located on level one in Tampines Mall and facing the Tampines MRT train station, this bakery cafe was been widely seen during my business trip to Korea last year. Back then, I never got a chance to try the taste of their pastries due to my busy schedule.
This time round, I am heading to Paris Baguette Cafe in Tampines Mall to have their breakfast and of course, coffee. What a great morning to start a yummy breakfast with my family!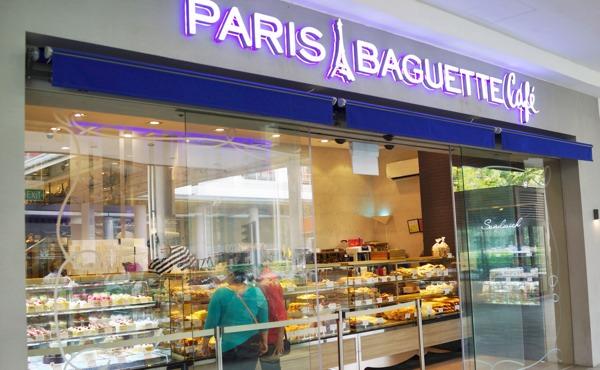 At the entrance of Paris Baguette Cafe at Tampines Mall, the beauty of cakes, breads and other pastries are sure to be delightful to many passerby. As this cafe operates in a free seating manner, we chose the seats beside the glass panels, which allow us to see the bakers tossing flours on doughs and decorating pies with fruits.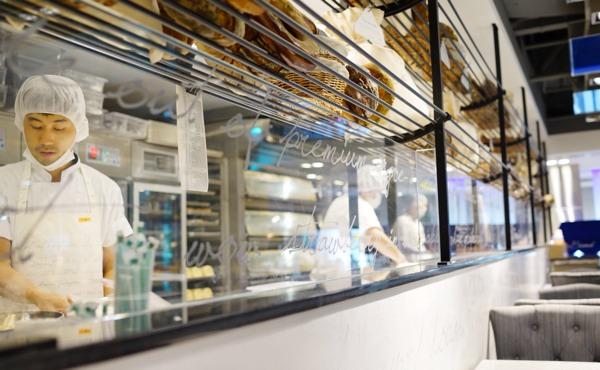 Ordering of food is like any other cafes such as Coffee Bean & Tea Leaf and Spinelli, which the food menu is located at the counter. Order the food of your likings, pay for it and a number tag will be given to you. While waiting for our breakfast orders to be served, my little boy was getting really comfortable with the cafe's cosy seat.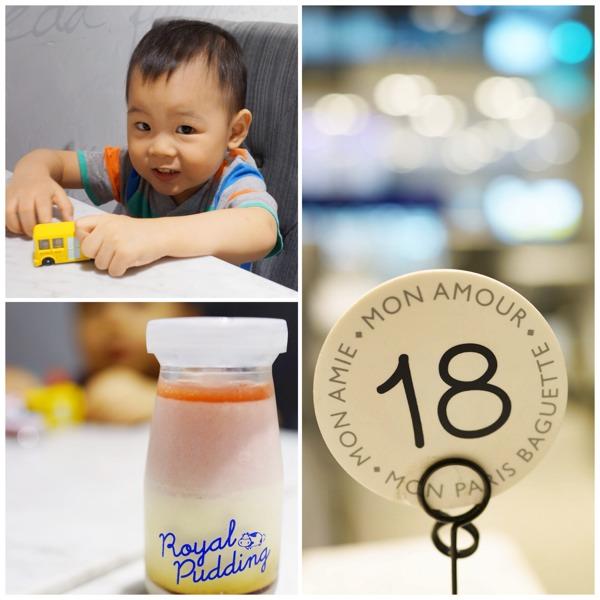 We started our first taste of Paris Baguette Cafe with their glass bottled Strawberry Royal Pudding. This small bottle of strawberry flavored pudding cost $4.00, which might be a little costly but the taste of it sure leaves their customers a good impression of this popular Korea chain cafe. The taste of strawberry and it's sweetness was just right and the pudding's texture was really smooth and creamy. Having one pudding bottle is not enough!
Serving up was the Club Sandwich. The ingredients between those lightly toasted breads are bacon, fresh lettuces, chicken, tomatoes and fried egg. When I mentioned fresh lettuce, I really meant fresh and crispy lettuces, not soggy lettuces. The sandwich is then sliced into small rectangular shapes and held together with a stick. Having this Club Sandwich with two hands is not a messy job at all. Potato wedges and a small serving portion of fresh salad completes this meal, which is priced at $12.00. The Club Sandwich was really a nice treat.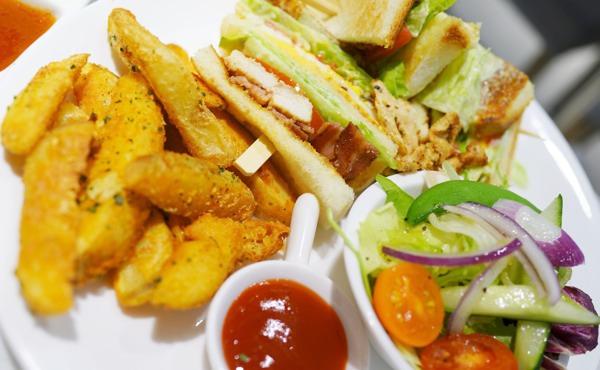 There is a new arrival meal in Paris Baguette Cafe's menu with a wacky name called "I Am A Stick, You Are a Stick, Too." So what are these sticks? Well, these sticks are referring to the toasted waffle sticks and fried chicken strips. The both of them are then served hot in a basket with slices cucumbers, tomatoes, capsicums and potato chips. Dipped those toasted waffle sticks into the maple syrup and enjoy the morning sugar rush. The portion of this meal serves well for one to two persons and is priced at $16.00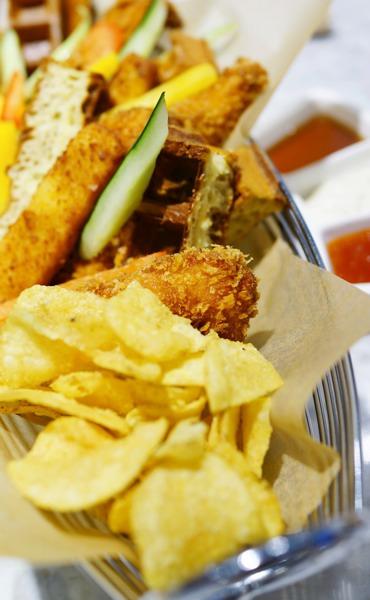 How could I have missed out my hot latte from Paris Baguette Cafe? My cup of hot latte, which cost $6.00, did not disappoint me at all from this bakery house. Excellent aromatic coffee with the right proportions of milk added.
The cafe's seatings are comfortable but the walkway is not spacious due to the shop area is quite small. I will say the food pricing are like typical cafe pricing. There are plenty of pastries and cakes to choose from and the serving portions of their meals are generous.
The Paris Baguette Cafe at Tampines Mall really made our breakfast an enjoyable one, especially with those entertaining bakers behind the glass panels making funny faces with my little boy.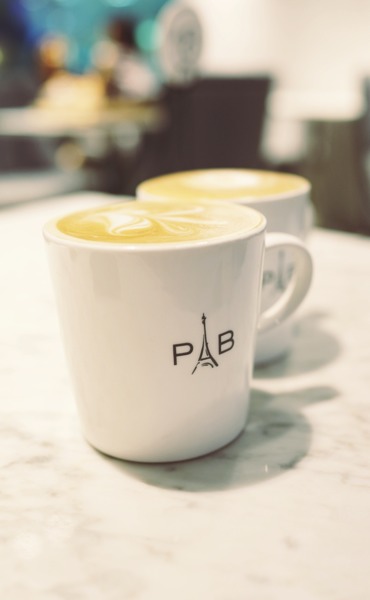 Address of my visit
Paris Baguette Cafe
#01-32 Tampines Mall Singapore
Opening Hours
Daily: 10:00am to 10:00pm
Telphone: (65) 67437383