Open fresh air, spacious walkway and comfortable sofa sittings makes Nosh restaurant and bar a nice place for wedding solemnisation and birthday parties. To get to Nosh, the nearest MRT station is Buona Vista on the East West line and Circle line, and it is located right next to Rochester Mall. Although it is an open concept restaurant and bar, there is an air conditioned bar counter which can fit probably about 10 people.
In this weekend brunch, I have decided to bring my family to enjoy this beautiful restaurant in the western side of Singapore. Do take note that Nosh's weekend brunch will start from 10.30am to 2.30pm, which the last orders will be at 2.15pm.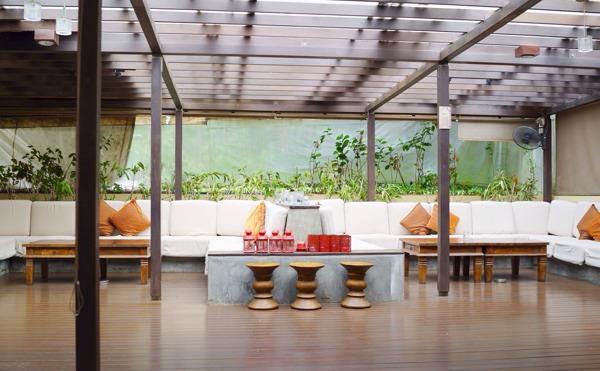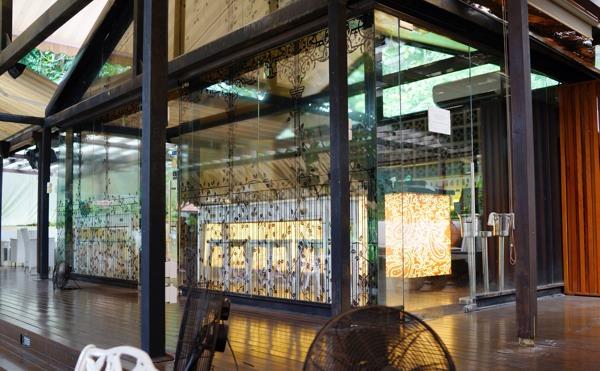 Reaching Nosh in the early afternoon, the restaurant wasn't fully occupied yet. Browsing through their brunch weekend menu, we have decided to order their Truffle Mushroom Soup, Croque Madame and Nosh Omelette. Two breakfast mains and one bowl of soup, just nice for the three of us.
Here comes our brunch serving hot altogether at the same time.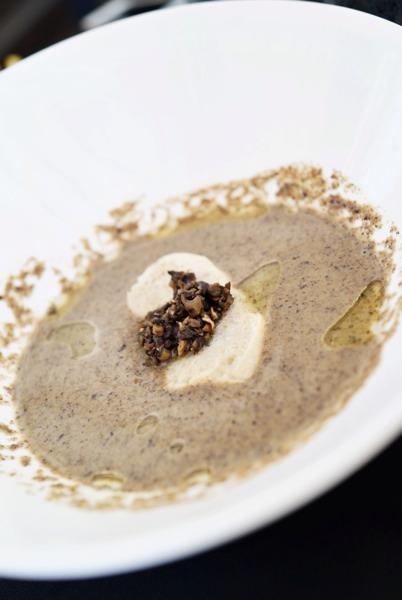 This simple bowl of Truffle Mushroom Soup which it's appearance doesn't appeal to me, really wows me when tasting it. Prepared using three different types of mushrooms together (black truffles, button mushrooms and shiitake mushrooms), this bowl of soup tasted sweet, rich in flavor and creamy. Nosh even puts a small piece of toasted baguette in the soup. This bowl of soup cost $10.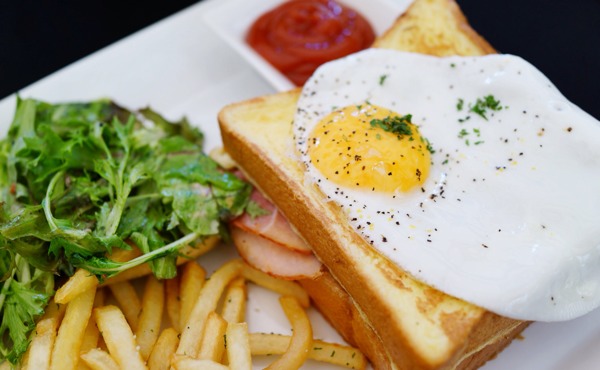 Also on my dining table is the Croque Madame which comes with slices of honey ham and béchamel sauce squeezed between two slices of butter-rich and soft brioche bread. The bread is then topped with a sunny side up egg and served with fries and side salad with dressing. The side salad has a mild spicy taste, which I felt it is rather special. The price of this Croque Madame is $19. Talking about fries on the plate, Kayden really enjoyed his finger foods.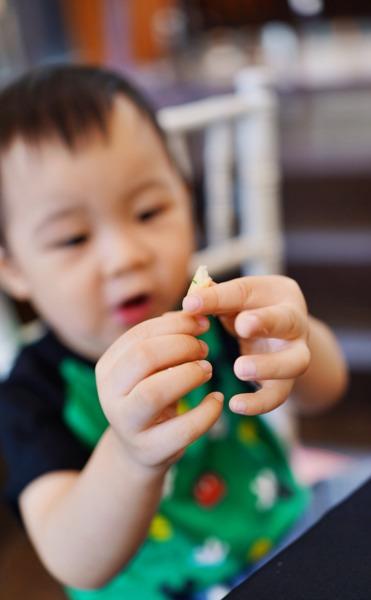 The Nosh Omelette, which I believe is Nosh very own creation, is not any ordinary egg omelette. When I sliced open my omelette, the ingredients inside were pork confit, sautéed mushrooms, truffle aioli and percorino cheese. Probably this is the best omelette I ever had. On the plate, there were huge chucks of roasted potatoes and the same spicy side salad as the Croque Madame. This plate of Nosh Omelette cost $16.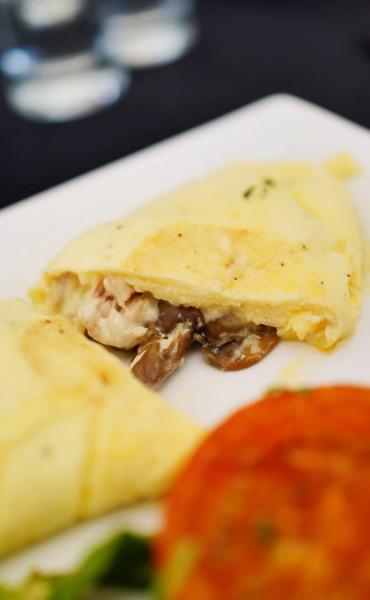 The weekend brunch that my family had at Nosh was an enjoyable one. Despite the food is quite expensive, the food quality and taste of our family weekend brunch was good. Even though Nosh is an open concept restaurant, there were many huge fans and air coolers use to keep the whole dining area cool. I believe hanging out with friends during the night time for some beer will be a good idea in Nosh, as the overall ambience in this restaurant and bar feels relaxing and cosy.
With such spacious restaurant, I decided to snap some photographs of Kayden before we bid farewell to Nosh.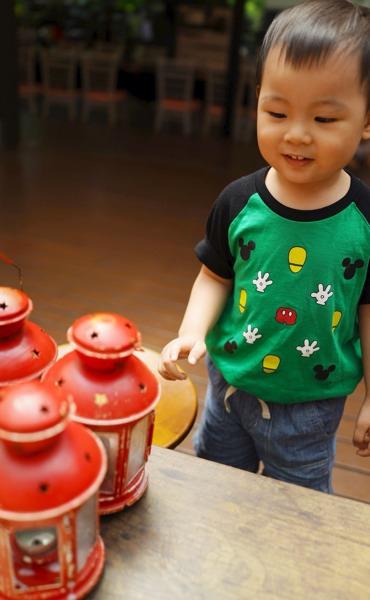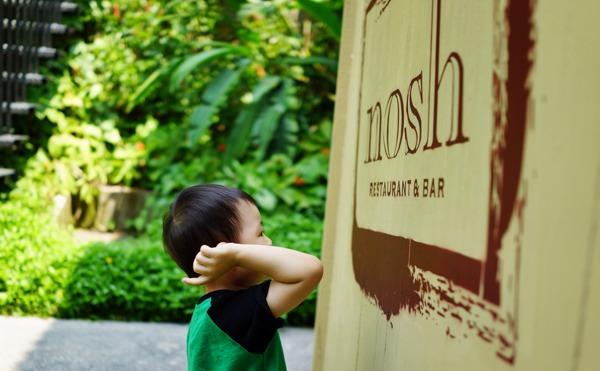 Address of my visit
Nosh Restaurant & Bar
9 Rochester Park
Singapore 139220
Opening Hours
Brunch:
Saturday & Sunday: 10:30am to 2:30pm
Dinner:
Tuesday to Thursday & Sundays : 6:00pm to 11:00pm
Fridays and Saturdays : 6:00pm to 12:00mn
Telephone: (65) 6779 4644
Website: http://nosh.com.sg/