With a variety of East to West delicious cuisines all housed in FIVE Square, you will be also expecting a whole new digital dining experience. Located in Pickering Street at Great Eastern Centre, this dining spot includes FIVE Square and FIV五 (Fivebar). The FIV五 (Fivebar) offers $5 specials everyday, which is modeled after the Japanese's 300-yen bars, while the FIVE Square includes five food stalls with tantalizing treats for the people in the CBD area. Therefore, customers dining-in has the best of both world food experiences.
With the advancements and ideas in today's technology, our everyday lives are very much enhanced. Today, FIVE Square is offering an innovative way of making this F&B business more efficient. They are introducing self-ordering kiosks to each food stalls. Using a 8″ touchscreen display for each self-ordering kiosk, the food menus are clearly indicated and the user interface is easy-to-use. There are two different types of self-ordering kiosks available in each food stalls: cards payment kiosk and cash payment kiosk. In this way, customers have a choice on the mode of payment they wanted and this in return speeds up the queuing up process at the food stall.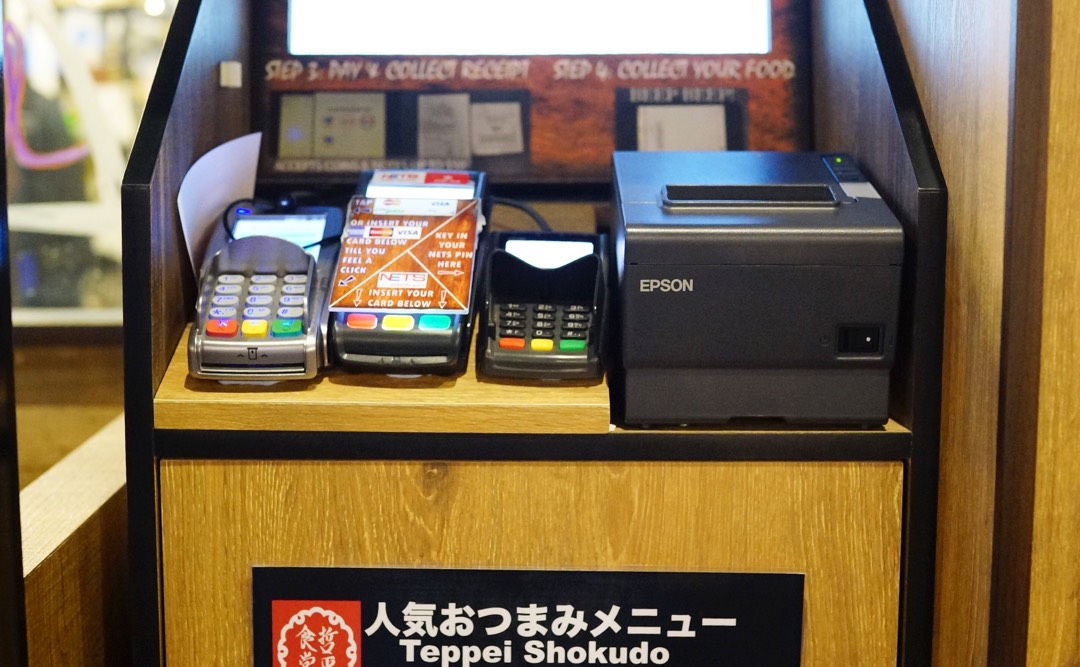 To make these self-ordering kiosks more effective and interactive, you can enter your mobile phone number upon ordering into the system. Hence, when your food orders are ready, a SMS notification will inform you to collect your food. No more waiting around the food stalls for your ordering number to be called or holding onto battery operated wireless buzzing tokens.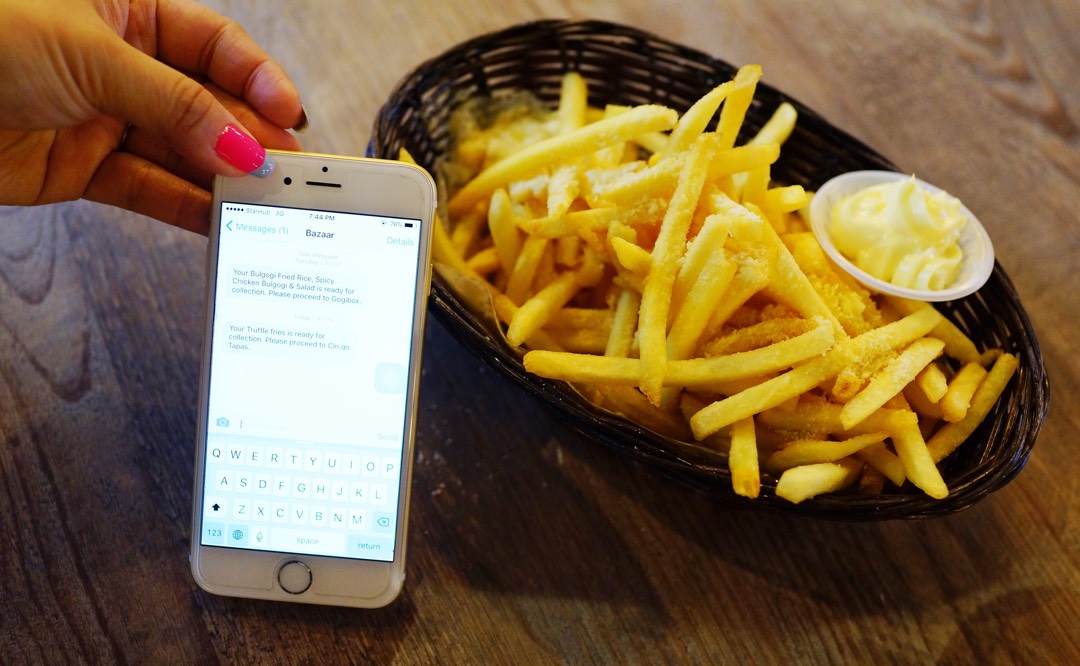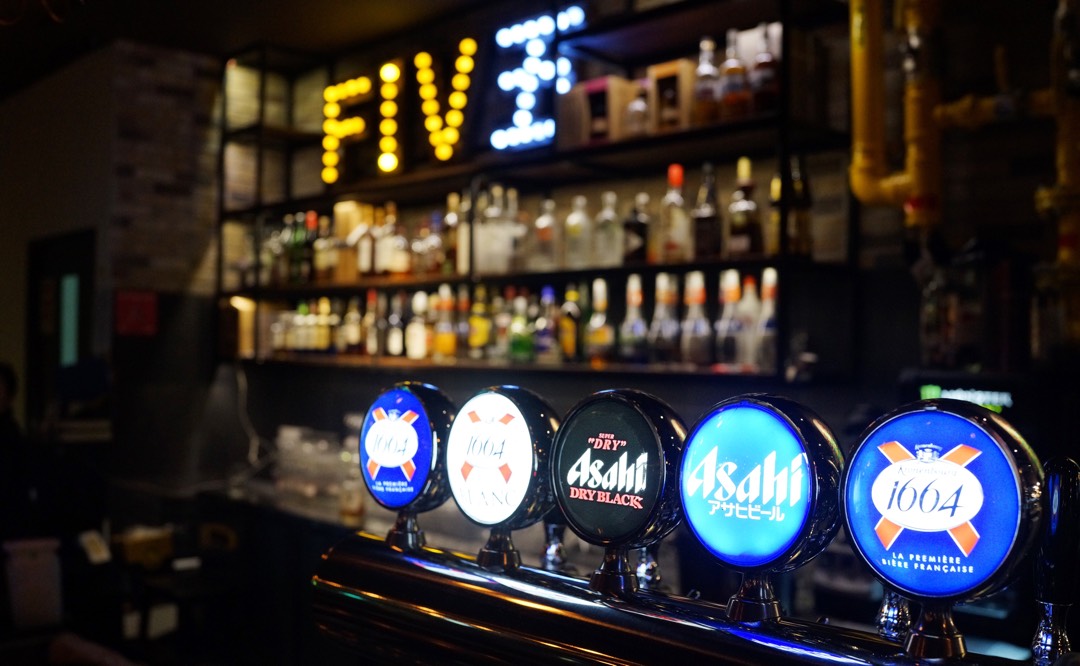 The food stalls in FIVE Square includes Gogibox (Korean), Grub Noodle (Chinese), Cin.qo Tapas (Spanish), Teppei Syokudo (Japanese) and Omnivore (salads and grilled meats). Together with the other five bloggers, we have lots of fun talking and taking food photographs. It was an awesome dinner together.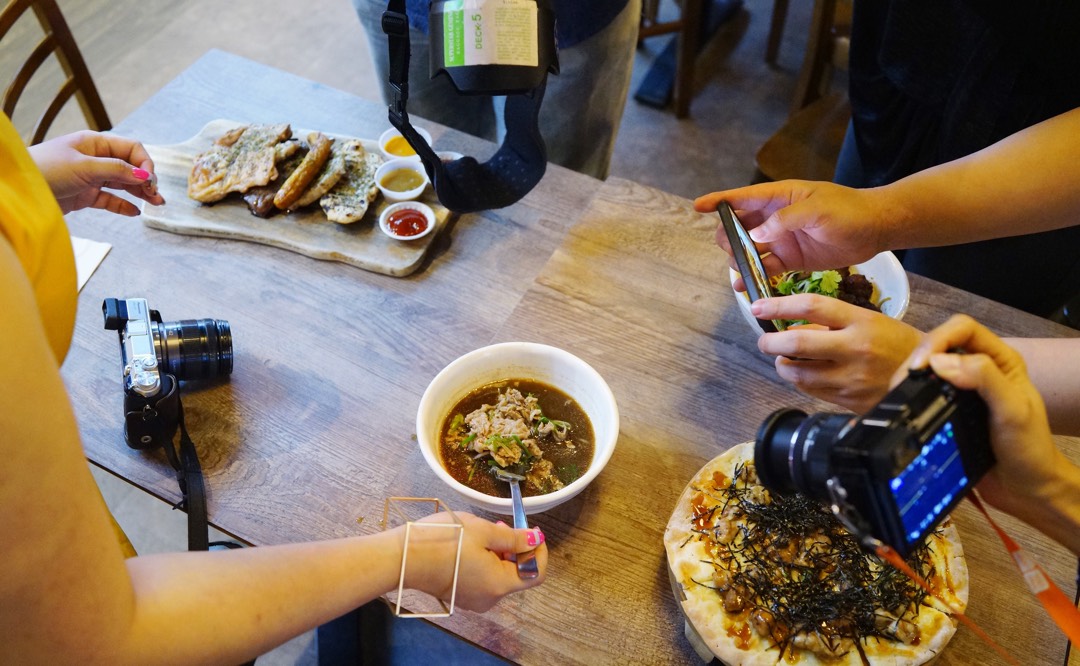 From Cin.qo Tapas which serves Spanish cuisines, we had Seafood Paella ($9.50 / $12), Truffle Fries ($10) and Teriyaki Pizza ($15). For the above three food, my personal favorite is the Teriyaki Pizza because of it's sweet flavor and thin crust.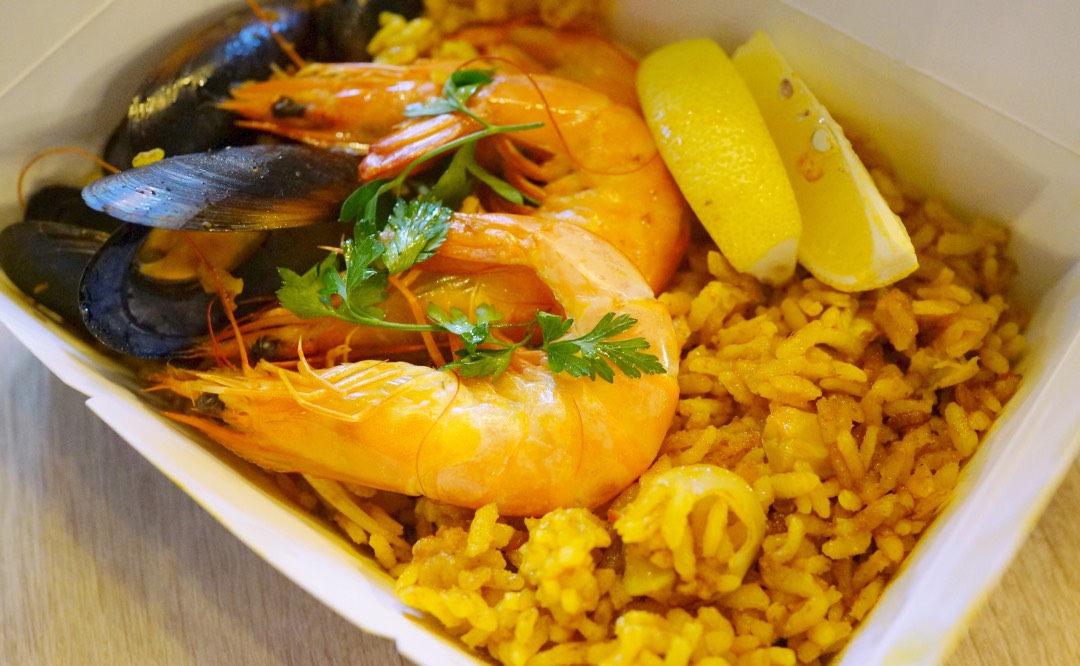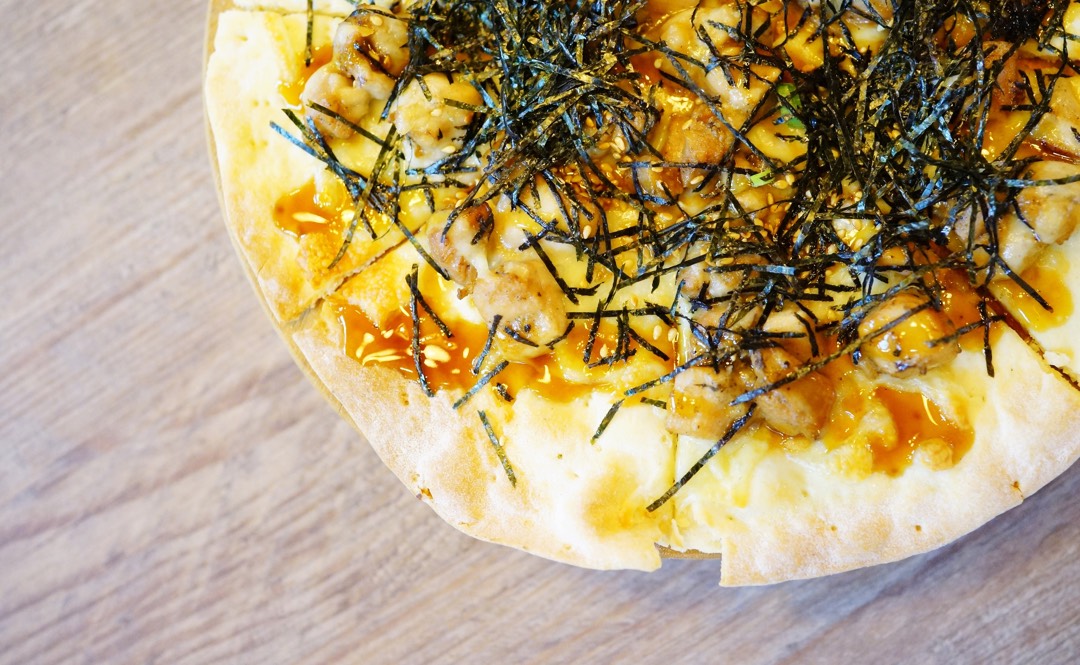 For the Japanese food stall, Teppei Syokudo, we had the tasty Kaisendon ($16) which is a bowl of fresh marinated salmon, salty burst of ikura, chewy rice and a scoop of freshly grated wasabi. You can alternatively topped up delicacies such as sea urchin ($8), salmon caviar ($8) and bonito ($8).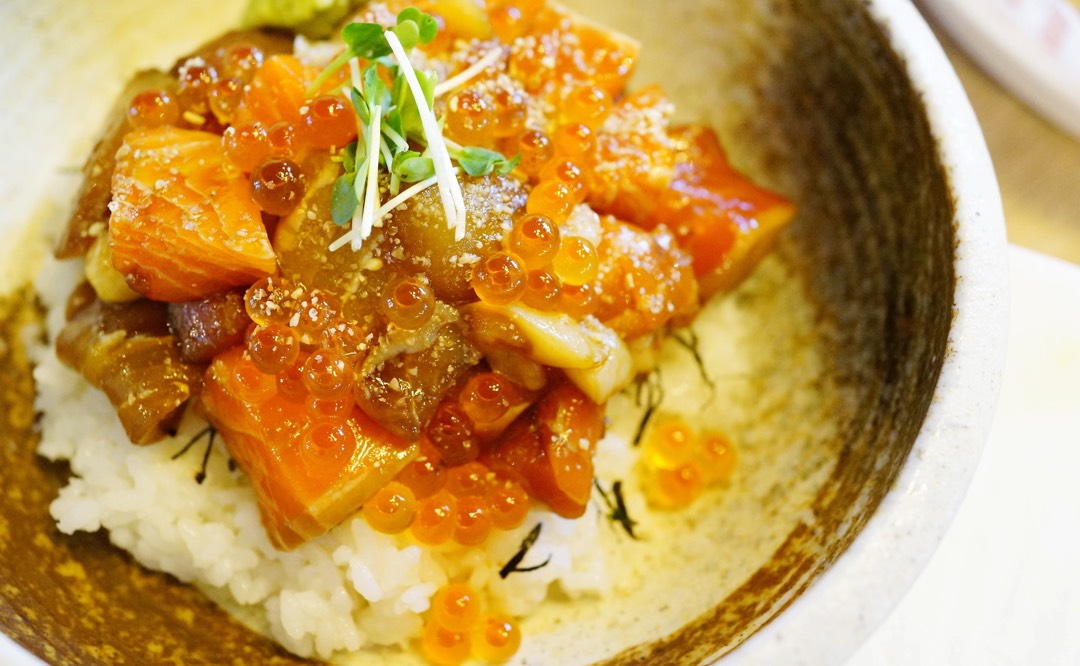 From Gogibox, I had the Kimchi Fried Rice with Spicy Chicken ($8.50) and Beef Tacos ($6.80). The Beef Tacos is a fusion between the Mexican Tacos and the Korean's Bulgogi. While from the Grub Noodle stall which serves Chinese cuisines, I had their Beef Noodle ($8.90) and Pork Noodle ($9.90). Besides noodles, Grub Noodle also serve appetizers such as Beef Sausage Meatballs ($5.90), Kang Kong Salad ($3.90) and Chicken Drumlets with Mentaiko Mayo ($7.90). Probably my food expectations are high, the mains from both stalls were just average.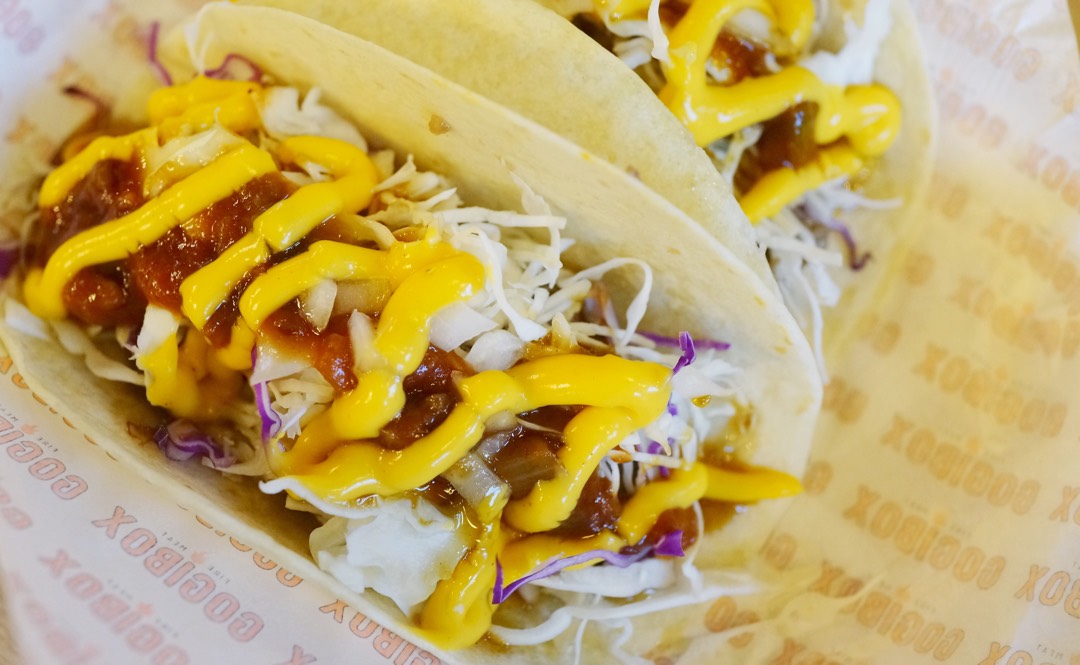 My favorite food stall in FIVE Square is the Omnivore's Sample Platter ($24.80). Served with sausage, beef, chicken and pork, the Sample Platter is a delightful platter of grilled meat. This food store also serves salads ($6.80) and omnivores selections ($12.80), which is choice of one meat and salad.
Besides the good food from FIVE Square and laughters with rest of the bloggers, these self-ordering kiosks are definitely here to stay as it offers less errors such as payments, enhance the working environment in the F&B industries and a more pleasant dining experience for the customers.
Address of my visit
Five Square
Great Eastern Centre #01-03, 1 Pickering St
Singapore 048659
Telephone: 8798 0245
Website: https://www.facebook.com/fivesquarebar