A little baking fun at home for the coming Halloween Festival for the young ones. With the ultra moist mocha cupcakes baking recipe from Food.com and Martha Steward's cheese frosting, we topped each cupcake with a M&N chocolate candy and our own DIY Halloween creatures. Put them all inside the fridge before serving.
Serving size: 10 persons
Preparation time: 40 minutes
Baking time: 30 minutes
Ingredients for mocha cupcakes:
1. 2 cups of flour
2. 1½ cups of sugar
3. 3/4 cup of cocoa powder
4. 1 teaspoons of baking soda
5. 1 teaspoon of baking powder
6. 1 teaspoon of salt
7. 2 large eggs
8. ½ cup of canola oil
9. 1 cup of butter milk
10. 1 teaspoon vanilla extract
11. Brew 240ml of CBTL coffee capsule, or any brands of coffee can be a substituted.
Ingredients for cream cheese frosting:
1. 200 grams of Philadelphia cream cheese, room temperature
2. 2/3 of unsalted butter stick, room temperature
3. 1½ cup of icing sugar
4. 1/4 teaspoon of vanilla extract
Directions for baking the mocha cupcakes:
1. Brewed the black coffee and side it aside to cool.
2. Preheat the oven to 176° Celsius.
3. Using a large bowl, whisk together the canola oil, eggs, vanilla extract and black coffee.
4. Add in the sugar, cocoa powder, salt, baking soda and baking powder and stir.
5. While stirring, pour in the flour and milk in an alternating sequence.
6. Arrange 12 cupcake papers and spoon the batter into the cups about three-quarters full.
7. Bake the cupcakes for 25 to 30 minutes and use a toothpick to check if the cupcakes are fully baked.
8. Allow the cupcakes to cool for about 15 to 30 minutes before any frosting.
Directions for making the cheese frosting:
1. Place the cream cheese into a medium-sized mixing bowl.
2. Add chops of butter and beat until smooth.
3. Sift in the icing sugar and continue beating until smooth.
4. Add vanilla, and stir to combine.
Swirl the cheese frosting, topped each cupcakes with a M&N chocolate candy and DIY Halloween monsters.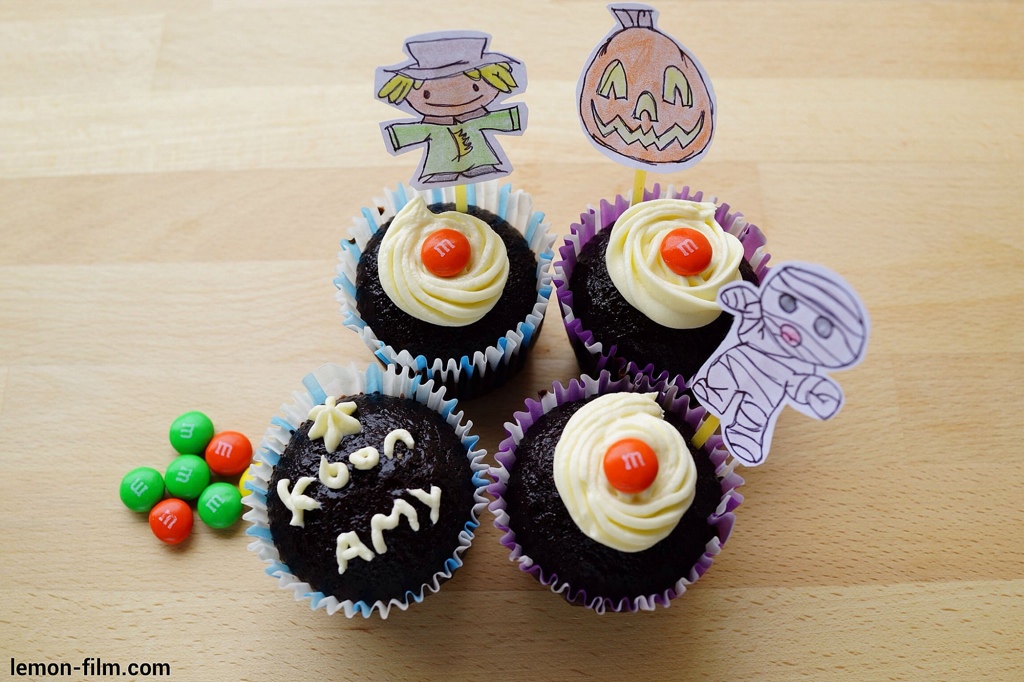 A little special for my wife and myself.