When comes to nutritional and high fibre breakfast, Quaker is one of my family's trusted brand. My wife and I love Quaker instant oats because they are the easiest to prepare. Just add hot water, and in two minutes, my breakfast oatmeal porridge is ready to eat. Other healthy Quaker Oats series includes Quaker Quickcook Oatmeal and Quaker Whole Rolled Oats.
The reason why I enjoy eating oats in the morning is that it keeps me feeling fuller longer, thus reducing those mid-morning junk food cravings. By choosing to start my day eating right, it will set the right tone for the rest of my day. Hence, making the right food decision is very important.
Regardless young or old, Quaker oats are a healthy food choice for all people. Quaker oats provide a great source of carbohydrates, fibre, protein, and whole grains to give my family the energy we need throughout the day.
There are many health benefits to eating Quaker oats such as lowering the risks of heart disease, diabetes, cholesterol and reduce constipation. With these positive benefits, adding this power food into my diet any time of the day will boost my overall health.
As a Dad, I need to set a good example for my children when comes to making food choices. If they see me eating a proper healthy diet, chances are that they will do the same. There are many ways to enjoy Quaker oats. You can make overnight oats, one-minute oats, and even instant oatmeal. While I love my Quakers oats serve hot, my boy loves to have his Quaker oats topped with some fresh cut fruits or with honey.
In my opinion, oats is one of the healthiest food you can eat. It's nice to introduce oats to your family at the start of the day so they can enjoy those great health benefits. If you are a busy parent like me, Quaker instant oats is a good option to make a hot bowl of oatmeal porridge.
Love Quaker Oats? Why Not Participate In Eat, Drink, Shop Healthy (EDSH) Challenge 2017
Many of us visit the supermarkets for our groceries. Look out for the "Healthier Choice Symbol" which carries the tags such as "Lower in sugar" and "Higher in Wholegrains". This symbol will help us make healthier food purchases.
From 1 August to 31 October 2017, Health Promotion Board will be having an "Eat, Drink, Shop Healthy" campaign to reward us with incentives when we choose to purchase healthier food choices.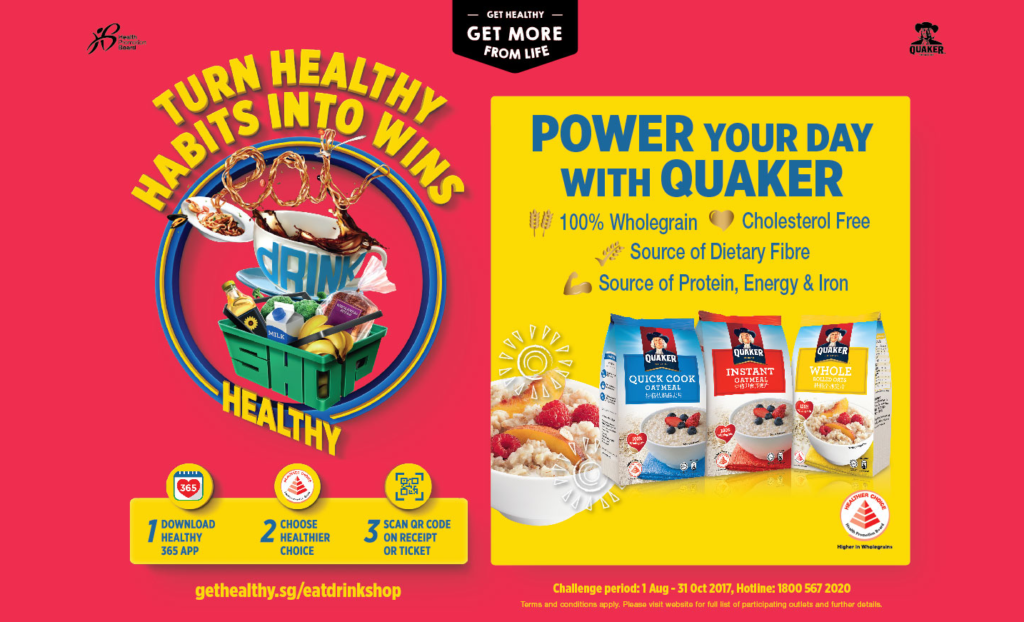 Using the Healthy 365 app on iOS and Android, here's how you can participate in the "Eat, Drink, Shop Healthy" (EDSH) Challenge 2017.
Choose healthier options from participating outlets.
Collect Receipt with QR code or QR Ticket from participating outlets.
Click on the orange camera button in the Healthy 365 app and click "Scan QR Code".
Please scan the QR code on the same day of your purchase to earn Healthpoints, up to the weekly maximum Healthpoints for each category.
For more information and our full Terms & Conditions, visit www.gethealthy.sg/eatdrinkshop.