Taking a break during a weekday, I am bringing my wife for a morning movie treat in the Cathay Cineplex in Orchard Road. Before heading for our 11:00am movie, I brought her for a cosy morning breakfast in Maison Kayser at Scotts Square, which is located in the basement. Taking the escalator down to B1, this cafe was really empty and the staffs were busily putting the freshly baked breads onto the trays. Fresh pastries to enjoy in a quiet ambiance for our breakfast. Perfect!
Just a little introduction, Maison Kayser is a 18 year old bakery brand which started back in Paris in 1996 by a French baker and food writer, Eric Kayser, who is highly regarded as one of the best bakers around the world. There are more than 80 bakery outlets internationally and this bakery outlet in Scotts Square is Singapore's first Maison Kayser branch.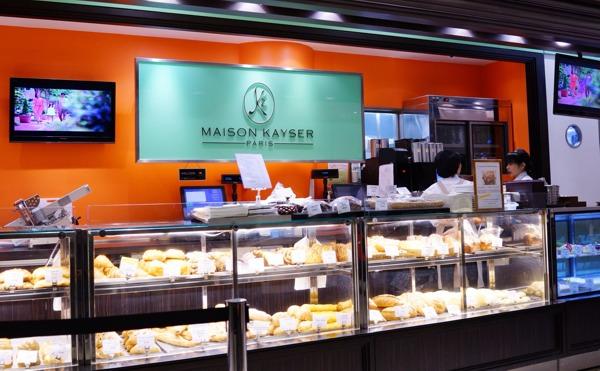 With a wide selection of breads and pastries, I asked for the service staff's breakfast recommendation. For something sweet and affordable, she recommended us to take the Croissant Set A with comes with two croissants and a cup of hot coffee. For something savory, she would recommend the Croque Monsieur. So, I decided to take her advise and give their food a try.
In the Croissant Set A, it comes with a croissant, a pain au chocolat and a hot latte. My croissant was warm, moist and fluffy on the inside, while the outside of the croissant was really crispy and flaky. Cutting my croissant with a butter knife was easy, probably because it was just baked out of the hot oven. The pain au chocolat has almost the same texture and mouthfeel like my croissant bread, except for the addition of dark chocolates which gives this puffy bread a sweeter taste rather than a buttery flavor of a croissant. This set meal is priced at $6.45.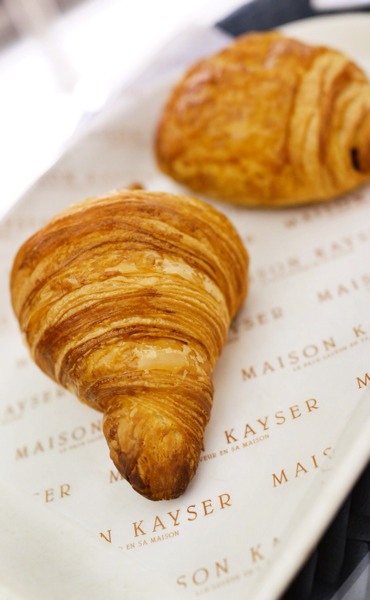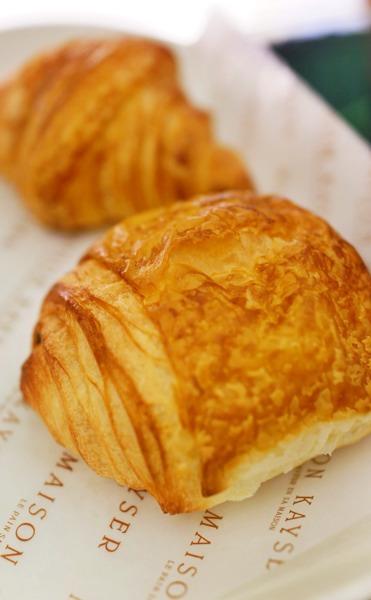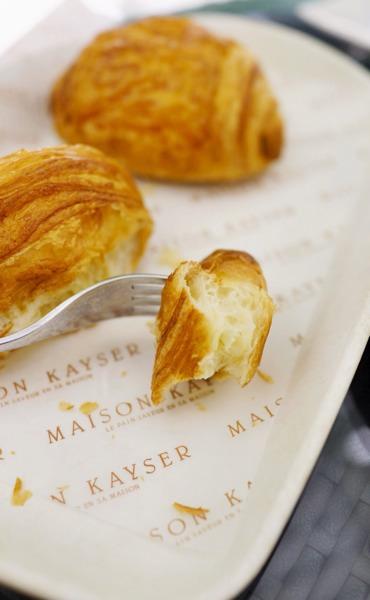 I will not rate Maison Kayser's hot latte, which is included in the Croissant Set A, and my cappuccino ($6.26) as one of my list of best coffee cups. The latte and cappuccino lacks the nutty roasted coffee bean aroma and taste lingering on my throat. Instead, I felt that the proportion of milk was too much. With the price of $6.26 for my cappuccino, probably I will skip that and have my morning coffee elsewhere.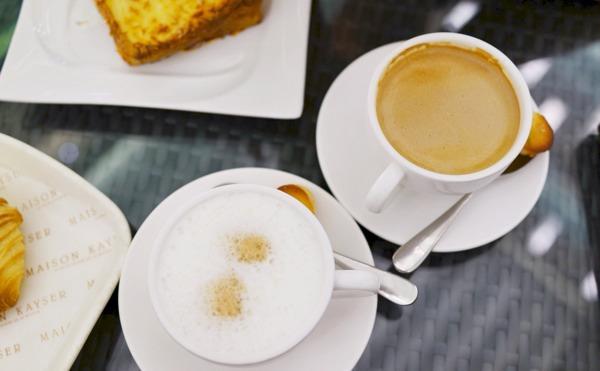 Serving hot next for my morning breakfast was the Croque Monsieur, which is priced at $7.48. This bread toast is a grilled ham and cheese sandwich, which is commonly served in French cafes. The cheese of this Croque Monsieur from Maison Kayser was evenly spread on the outside and inside, giving it a real cheesy taste in every bite. The only downside of this sandwich was it's price, which I felt might be a little too expensive for it's serving size.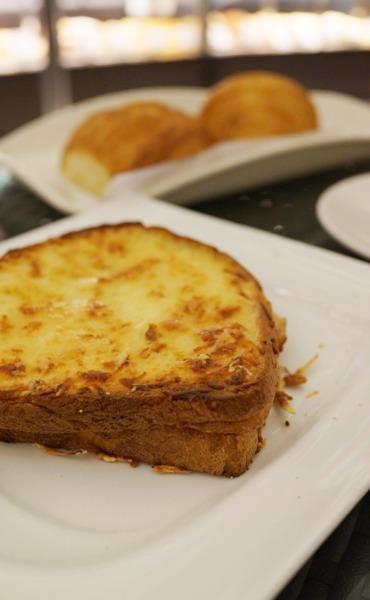 With all things considered, Maison Kayser's first bakery outlet in Scotts Square is a cosy and quiet cafe with comfortable seating during my visit in the morning. Unfortunately, there is no free wifi available. With the huge ovens in their kitchen, most of their pastries are freshly baked in-house. Therefore, going there early will have the chance to enjoy their breads and pastries straight from their hot oven.
There are quite a number of mixed reviews about this bakery outlet from Paris, but I have to admit that my croissant and pain au chocolat were good. If I am going back to this cafe again, I might skip their coffee and try their other taste of French pastries.
Address of my visit
Maison Kayser
#B1-09, Scotts Square, 6 Scotts Road
Opening Hours
Daily: 8:00am to 9:00pm
Telephone: (65) 66363672
Website: http://www.maison-kayser.com