Who doesn't love to take a weekday off from work and enjoy a less crowded restaurant with friends and family. Today, together with my wife and Kayden, we went to Ma Maison restaurant located in Bugis Junction for our weekday lunch together.
Ma Maison is a Japanese restaurant which serves western meals and their restaurants are internally themed like country cottages. Additionally, for every children aged 10 years old and below, a free toy will be given to them as a welcome gift.
Wet tissues comes in very handy when cleaning babies mouth. Parents should know how nasty those little ones will get.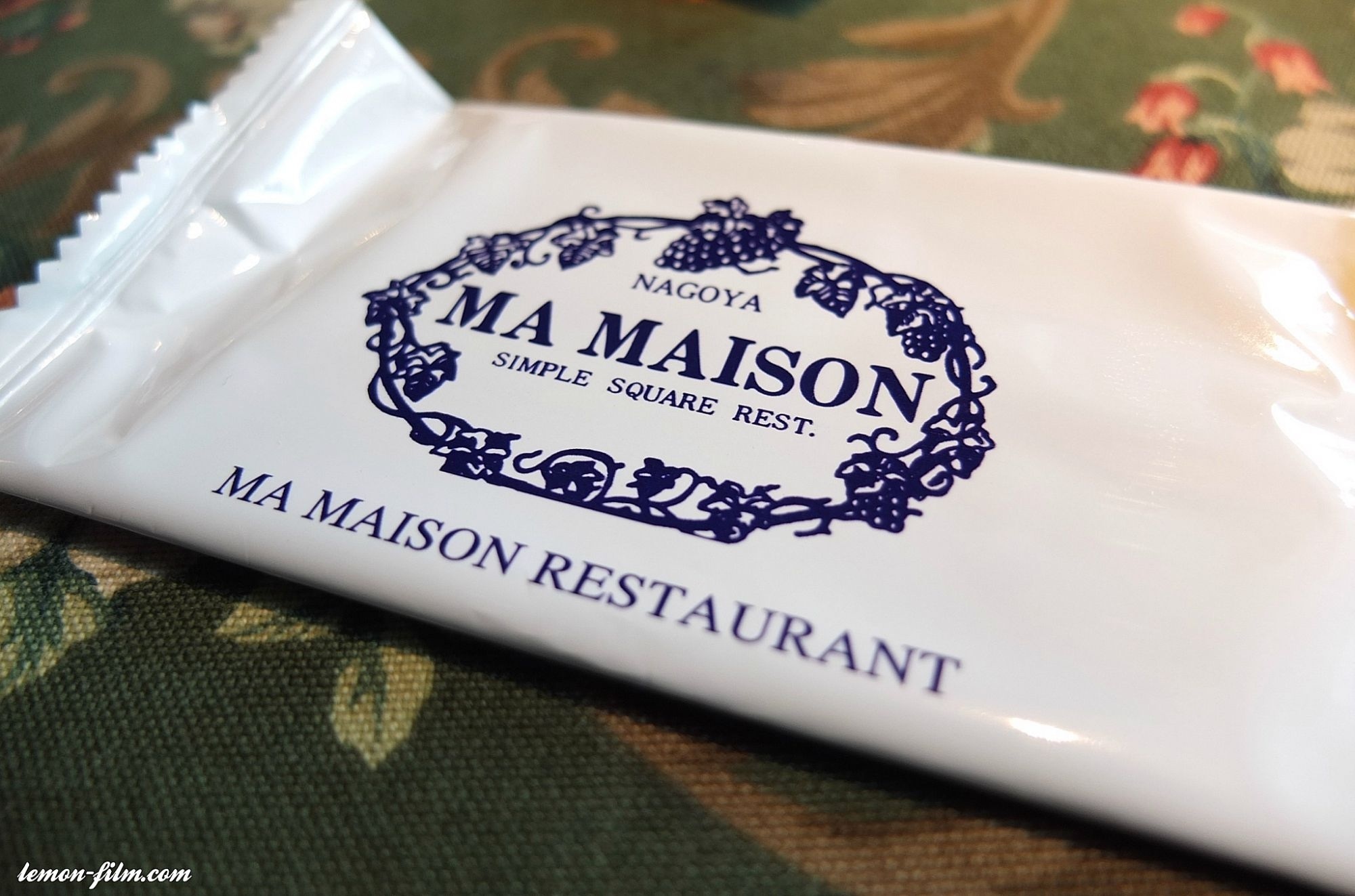 With the dim lightings and soft jazz music playing in the background, Ma Maison can be a recommended dining place for couples. I felt relaxed dining in this restaurant especially when there were less than 8 customers in the restaurant during my visit. This was a rare opportunity for me as this restaurant was always crowded with people during the weekends!
What a family day for us! I did not opt for the free beer. Instead I go for a ice cold thick mango juice.

We have ordered 2 set meals for our lunch. Set B is the beef patty meal ($12.90) while Set C is the pork chop with black pepper sauce ($16.50). Both sets comes with a drink such as iced-tea or hot coffee, a bowl of salad, a bowl of hot corn soup and your choice of rice or bread to go along. As we have brought our little boy along, there is a free drink for daddy, free ice cream for mummy and free toy for the little one. That's so nice!
My first plate to start with: a fresh plate of fibers!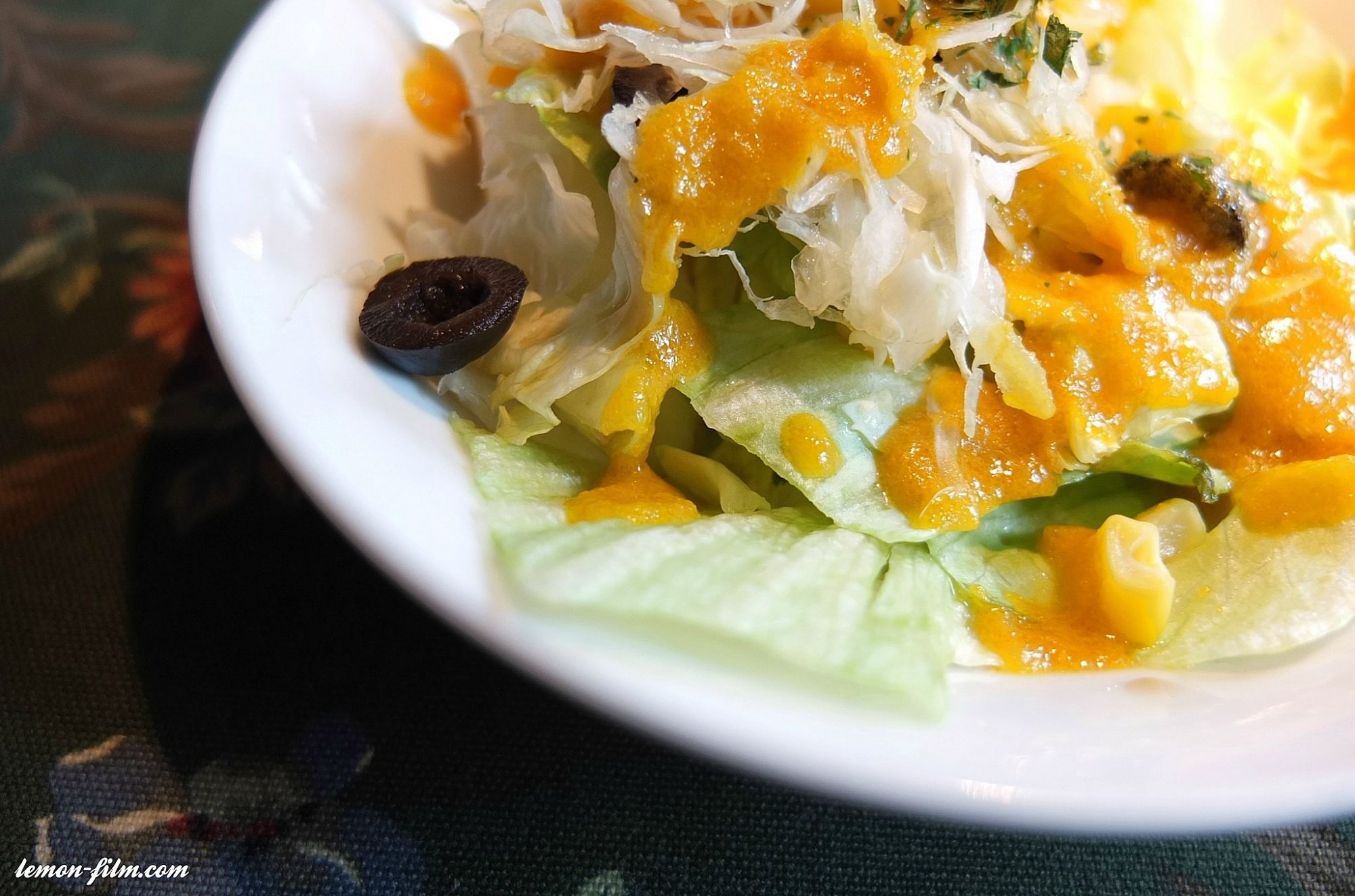 My bowl of salad arrived on my table first. The serving was not a generous portion, but it is still a good appetizer.
The thick layer of beef patty was really juicy. By slicing it with a knife, I can see this beef patty was created by compressing minced beef together. There isn't too much of additional flavoring added to this pan fried beef, probably just marinated with some salt and pepper. To me, that was just nice. The dark sauce, which is worcestershire, accompanied with the beef patty was so saltish until I have to eat the patty with the rice I have ordered. The sauce was a letdown.
Closing up on the pork chop with black pepper sauce.

The sides that comes along with the black pepper pork.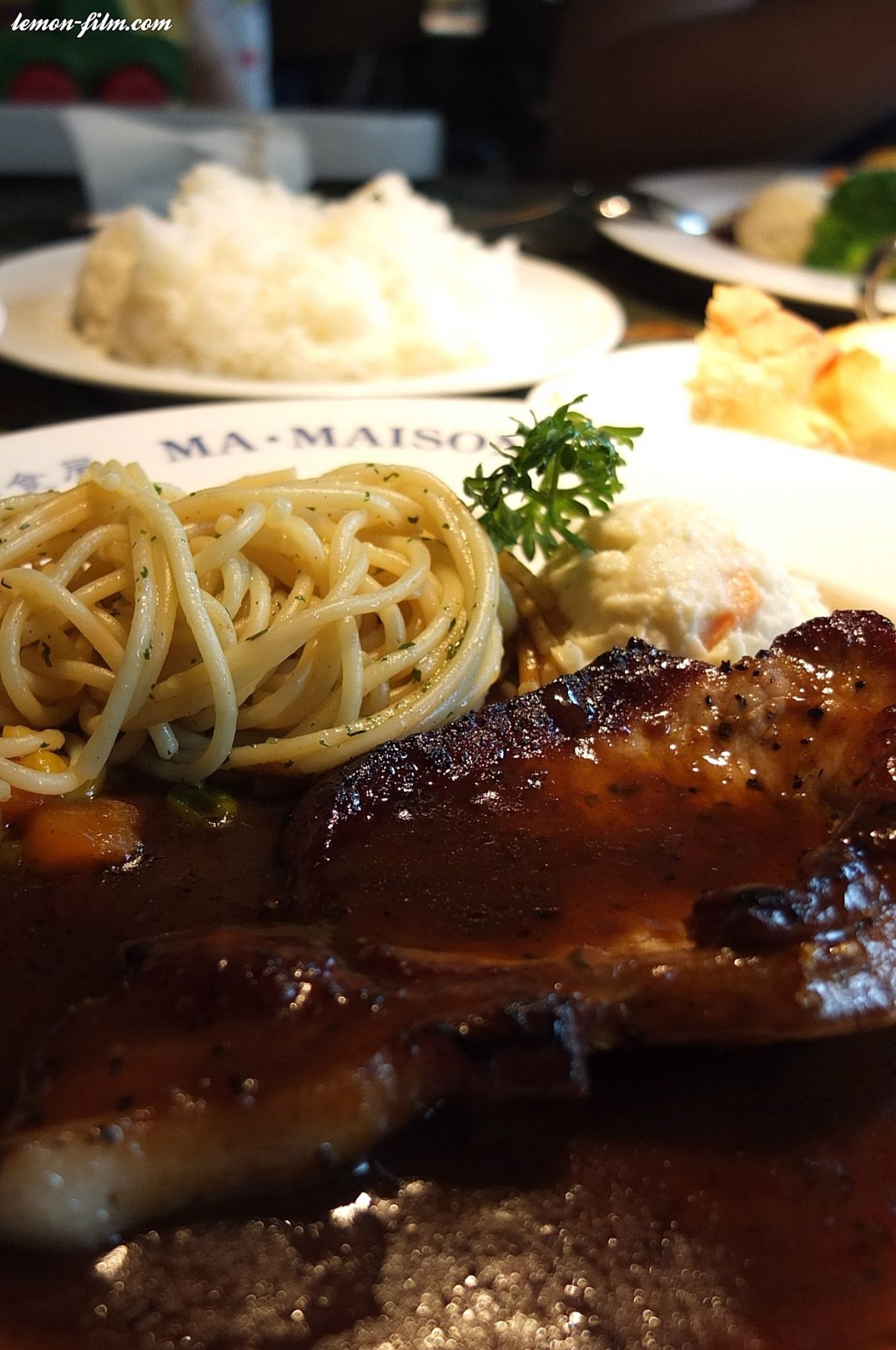 The serving size of the black pepper pork chop was just right for my appetite. The spaghetti was well seasoned with herbs and olive oil, making it rich in flavor. Just like my beef patty, the same small scoop of potato salad was placed on my plate neatly. The potato salad had a creamy taste and every bites of the salad that were put into my mouth, I can chew some small chops of potato and corn in the salad. That gave the extra texture to the potato salad. My disappointment were the pork and the black pepper sauce. I would expect the grilled pork to be tender, but unfortunately, it was quite tough. The black pepper sauce lacks the peppery taste.
I truly enjoy my dining experience in Ma Maison because of it's unique restaurant settings and good customer service. Most importantly, Kayden finished the spaghetti on my plate of black pepper pork chop CLEAN and ermmmm …. mummy's free ice cream.
Oops! That is NOT the free toy given by Ma Maison. This is Kayden's favorite school bus.

Address of my review:
Bugis Junction
#02-51, 200 Victoria Street Singapore 188021
Opening Hours:
Mon-Fri: 11:30am–3:00pm, 6:00–10:00pm
Sun & Sat: 11:30am–10:00pm
Website: http://www.ma-maison.co.jp