Taking the quiet road down into the street of Kampong Bugis in the morning, there lies an inconspicuous building that house a small and lively cafe called Loysel's Toy. Located just beside the Kallang River, this cafe by Papa Palheta would take about 10 minutes of walk from the Lavender MRT station. As there is a park and other sports activities nearby, Loysel's Toy is a nice place to hang out and relax for a meal or drink after some outdoor activities with family or friends.
Inside this cafe, the aroma of the freshly brewed coffee smells good and surely this will drive the temptation of many coffee lovers. In comparison of sitting indoor and outdoor, sitting inside this cafe may seem to be more cramp than sitting outside. In fact, sitting outside is a much better choice for comfortable spacious walkway and fresh air.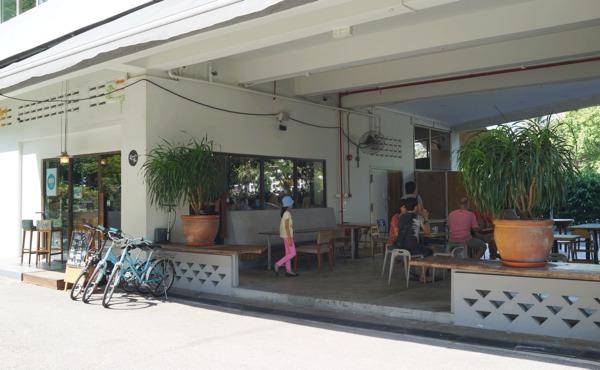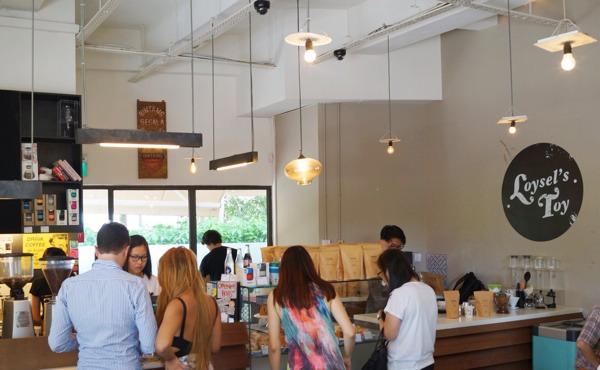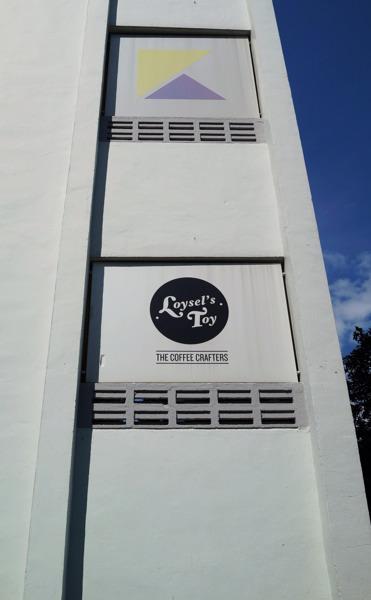 Loysel's Toy cafe has a weekend special menu for their guests. Serving until 4:30pm on Saturdays and Sundays, they serves up to 13 tasty mains such as Big L. Breakfast ($12), Spanish Omelette ($9), Fuji-Melt Sandwich ($11) and Rib-Eye Steak Sandwich ($7). For pancakes lovers, there are 4 pancakes to choose from like the Loysel's Breakfast Pancakes ($11), Pancakes with Gula Melaka ($6) and Pancakes with Strawberries ($7). In an overview, Loysel's Toy food prices ranges from $7 to $16.
Papa Palheta is an independent coffee boutique operating in Singapore and Malaysia, specialising in roasting of coffee beans. Hence, dining in Loysel's Toy is a must to try out their freshly brewed coffee. This cafe served a decent variety of coffees such as Cappuccino ($4.50), Long Black ($4), Cortado ($4.50) and Affogato ($7). You can have the option to choose for soy milk or double shot at an additional price of $1.
After ordering my food and beverages at the counter, a wooden block with a designated queue number was given to me. Despite the cafe was almost full house in the weekend morning, my two cups of coffee was served quite fast. Here comes my Latte ($4.50) and Flat White ($4.50).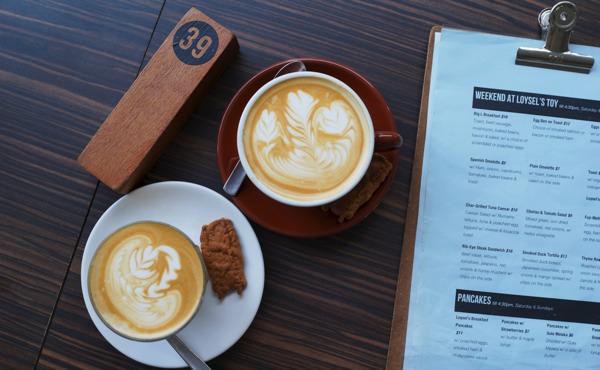 My Flat White, which was dressed up in maroon-coloured cup, tasted very light-bodied with a bittersweet aftertaste of coffee, while the Latte tasted more velvety than the Flat White. Both of my hot cups of caffeine dosage were pretty awesome. Take a bite of the cookie and a sip of coffee, the cookie just melted away and this made my coffee taste sweeter.
Pancakes are surely kids favorite. Topping the pancakes with a poached egg coated with hollandaise sauce and accompanied with slices of smoked ham creates the Loysel's Breakfast Pancakes ($11). This is a sweet and delightful breakfast main with a perfect poached egg with runny yolk. I am glad my wife and kid love this breakfast main.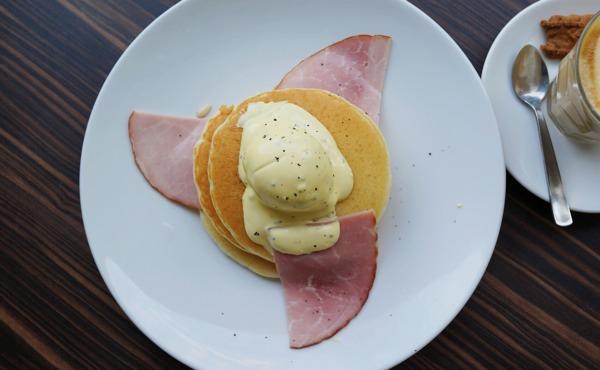 Instead of using the typical name "Egg Benedict", Loysel's Toy decided to name it Egg Ben Trio ($15). With two slices of toasted baguette bread served on my plate, each baguette bread is topped with a slice of smoked salmon, bacon, smoked ham, poached egg and hollandaise sauce. Unlike the Egg Benedict which I had from Arbite, the poached eggs do not have the taste of vinegar and the egg yolks were runny when cut open. The overall taste of the Egg Ben Trio was done just right and I got to admit that I enjoy it very much.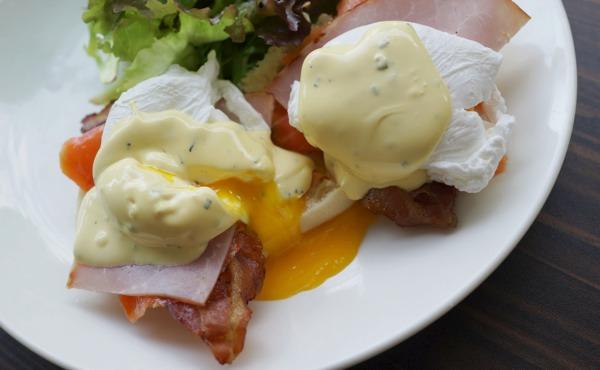 Talking about the whole ambience in Loysel's Toy, it was great. The dining experience was good and the staffs were efficient in clearing up the tables. Since the Loysel's Toy is located right next to the Kallang River and a park nearby, it is good to enjoy a walk after meal in this cafe.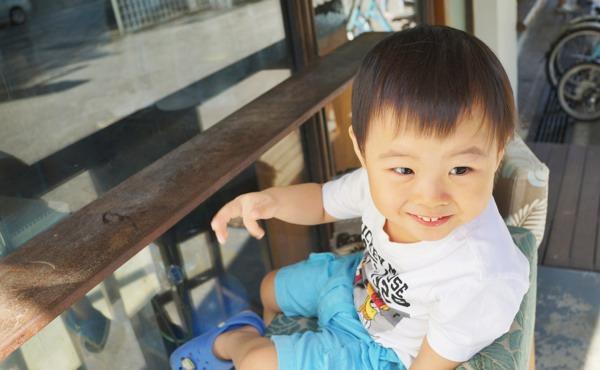 Address of my visit
Loysel's Toy
66 Kampong Bugis, #01-02
Singapore 338987
Opening Hours
Tuesday to Friday: 9:00am to 6:00pm
Saturday & Sunday: 9:00am to 7:30pm
Telephone: (65) 6292 2306
Website: https://www.facebook.com/LoyselsToy