Sweet delights that I had recently turned my gloomy days into a happy one was from the New York's Lady M Confections. With two outlets in Singapore, located in Fullerton One and Marina Square, I decided to pay a visit to Lady M Confections at Fullerton One. Located at the Singapore's Merlion and opposite the Esplanade, this New York bakery shop which prides itself of appealing and fine pastries has a minimalistic interior design with white as the primary colour.
Pushing the glass door open, the glass panes in Lady M Confections at Fullerton One brightens up the whole cafe. On an estimate, this bakery outlet can house about 16 people. No coffee for myself this time, just plain cake eating session and relax away in this originated New York confectionary outlet in the central area of Singapore.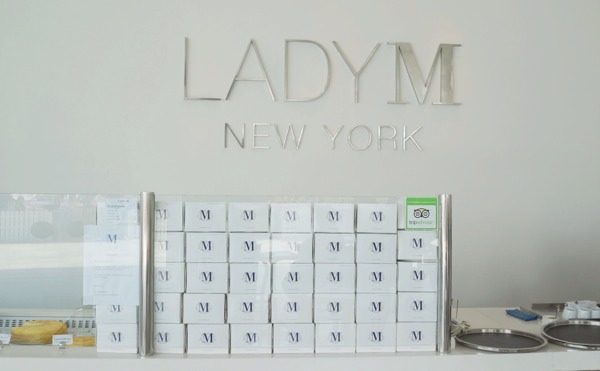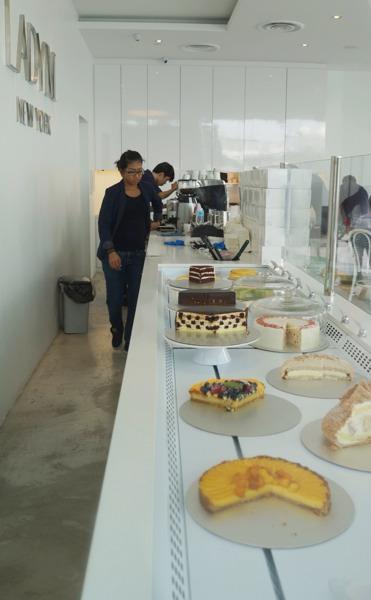 Up to 12 different exquisite pastries were available in Lady M Confections, namely the Vanilla Mille Crepes ($8 per slice), Red Velvet ($9 per slice), Strawberry Shortcake ($8.50 per slice) and Tarte Aux Fruits ($10 per slice). Beverages such as coffee, tea, soft drinks and champagnes are served in their cafe.
Frankly speaking, the pastry that tempted me to give it a try was the Checkers ($8.50 per slice), which was internally designed with patterns of the checkers chessboard by using vanilla and chocolate sponge cakes. The whole cake was then covered with chocolate ganache.
Served cold, my first bite on the Checkers was fluffy soft sponge cake with thick and sweet layer of chocolate taste.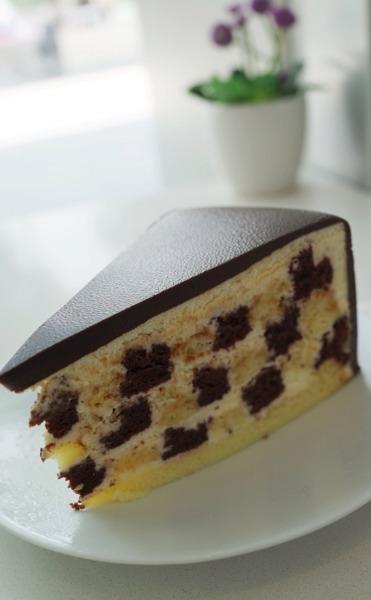 Baked together with chunky pieces of strawberries, cream and tasty puffs is the Strawberry Mille Feuille ($9 per slice). By adding the layers of puffs gave an additional chewy mouthfeel to this sweet, creamy and tasty slice of cake.
Lady M Confections from New York is a beautiful pastry boutique that serves exquisite cakes that will sure delight everyone. I will say the price of the sliced cakes are pricey, but the overall taste of the pastries that I had were good. Great ambiance and nice scenery to take a break off the hectic and busy daily life.
Address of my visit
Lady M Confections
One Fullerton
1 Fullerton Road #01-10
Singapore 049213
Opening Hours
Weekdays: 11:00am to 11:00pm
Weekends: 11:00am to 12:00am
Telephone: (65) 6820 0830
Website: http://www.ladym.com.sg