My family loves to have small side dishes like pickles, Achar (Nonya spicy mixed vegetables) or Kimchi (Korean fermented vegetables) during meal times at home. These flavorful dishes which gives the extra crunchy mouth feel seem to have magical powers to make our appetite better. Recently, my wife decided to make the Korean Spicy Mung Bean, also known as sukjunamul, as a side dish for the whole family. As there are many Korean supermarkets in Singapore nowadays, looking for great selections of Korea-made food products such as condiments is easy. Therefore in this recipe post, two key ingredients are used. They are the Gochujang and Korean Fish sauce.
Gochujang, or red chili pepper paste, is a traditional Korean fermented paste which has an intense spiciness and saltiness. Taking a small spoon of Gochujang paste made me shut my eyes real tight! Next, the Fish sauce or Anchovy sauce is great for making Kimchi, stew and other food seasoning purposes.
This spicy mung bean salad is a simple to make side that would take about 30 minutes. Serving it chill and topping it on top of rice is a wonderful food experience. Now, let's begin to create a Korean food taste at the comfort of your own home.
Serving size: 2 to 4 persons
Preparation time: 30 minutes
Cooking time: 8 minutes
Ingredients:
1. 300 grams of Mung Bean
2. 2 stalk of scallion (spring onions), thinly cut
3. 1 tablespoon of sesame seeds
4. 2 tablespoon of Gochujang
5. 1/2 tablespoon of Korean fish sauce
6. 1/2 tablespoon of soy sauce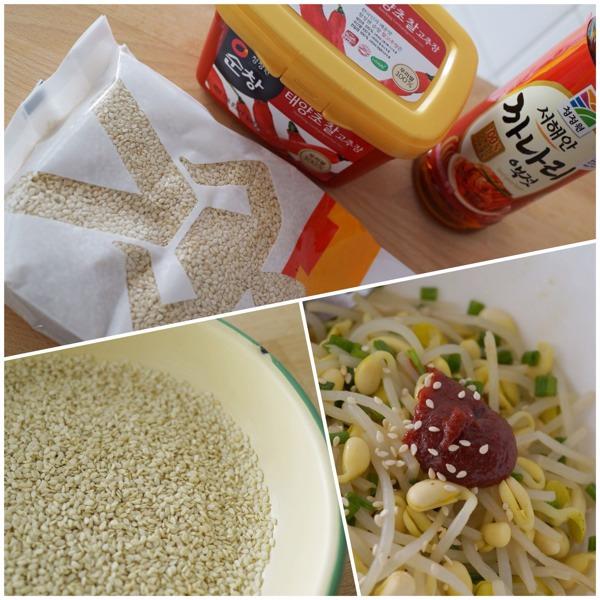 Directions:
1. Toast the sesame seeds in the oven at 140 degrees Celsius for 15 minutes.
2. Wash the Mung Bean cleanly.
3. Set a pot of boiling water, add the washed Mung Beans and allow it to be cooked for 8 minutes under medium heat.
4. Strain the cooked Mung Beans and set it aside to cool.
5. To remove any excess water, gently squeeze the cooked Mung Bean.
6. Put the Mung Bean sprouts into a food container and add in the Korean fish sauce, soy sauce and Gochujang. If you enjoy more spiciness, you can add in more Gochujang paste.
7. Topped the ingredients with sesame seeds, scallion and mixed them evenly.
8. Put the Mung Bean salad in the fridge to chill before serving.