When the slices of fatty pork belly meat slowly braised under low flame with sweet and dark sauce until tender, this delectable Hokkien dish when served with the soft lotus leaf buns create the Kong Bak Pau. Enjoying this dish is really simple: peel open a lotus leaf bun and sandwiched a slice of braised pork belly and some lettuce. The key ingredient for my homecook dish was the pork belly, where the top layer fats are juicy and the bottom layer is lean. Waking up early, I headed down to the wet market and ask for advice from the professionals to get the best cut of pork belly – the butchers.
The rest of the ingredients such as the fresh lettuce, cinnamon, star anise and lotus leaf buns can be found in the supermarket easily. Additionally, I have added small cubes of tau pok and hard boil eggs to go along with rice for my little boy.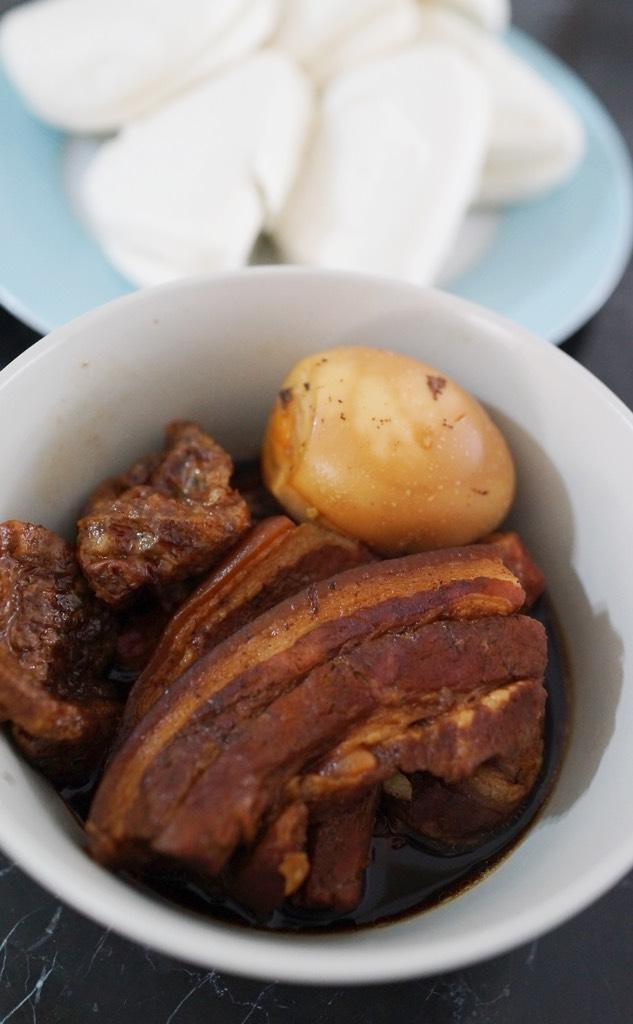 Serving size: 8 to 10 persons
Preparation and Cooking time: 60 minutes
Ingredients:
1. 250 grams pork belly (you can get the butcher to slice them)
2. 10 lotus leaf buns (steamed)
3. 300 ml of water
4. 1 stick of cinnamon
5. 1 star anise
6. 2 cloves
7. 3 tablespoon of dark soya sauce
8. 6 cloves of garlic (unpeeled)
9. 1 tablespoon of sugar
10. A pinch of salt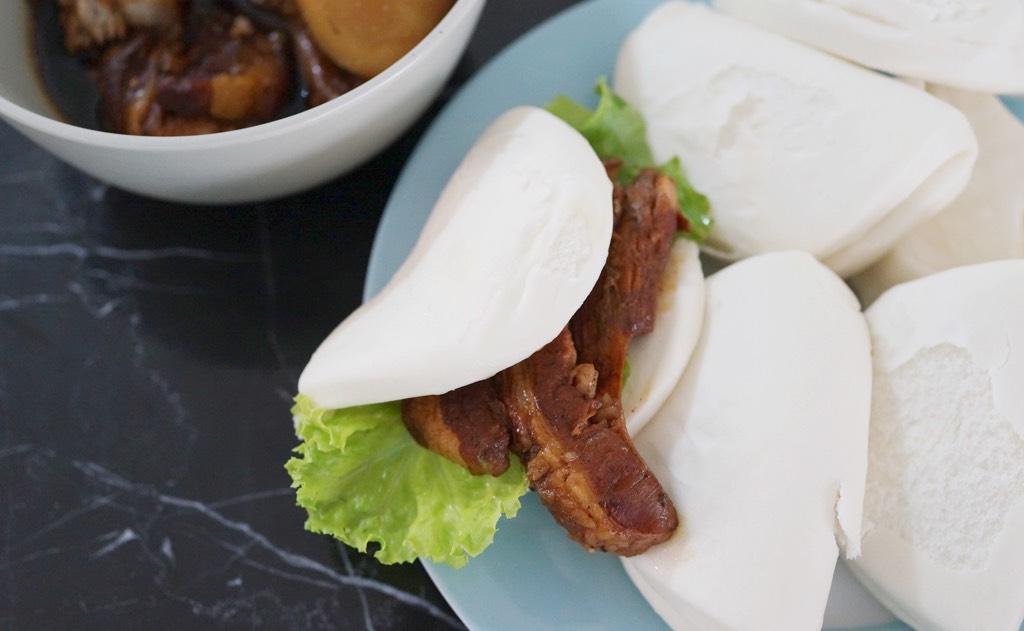 Directions:
1. Wash the slices of pork belly clean and put them into a bowl.
2. Pour some hot boiling water into the bowl and allow the submerge pork bellies to sit for 1 minute.
3. Rinse the pork bellies clean and set them aside.
4. Pour the water into a pot and allow the water to be fully boiled.
5. Add the dark soy sauce, cinnamon, star anise, cloves, sugar and garlic into the boiling water. Mix them well in the boiling water.
6. Add the slices of pork bellies into the pot.
7. Set the flame to low and allow the ingredients to slowly simmer for 30 minutes or more until the pork bellies are soft.
8. Serve with the steamed lotus leaf buns and fresh lettuce.