Peranakan or Nonya ("Nyonya") cuisine is a blend of influences from the Chinese and Malay style of cooking. My mother, who is from Malacca which many Peranakan resides, is a great lover of Nonya dishes. She would normally describe Nonya dishes as spicy, sour and flavorful. Having Peranakan dishes is like having the best of the cuisines in the Chinese and Malay communities.
As my mother was craving for the tangy Peranakan dishes, I decided to bring her to Guan Hoe Soon Peranakan restaurant situated in Joo Chiat Place. This restaurant has been serving their customers since 1953 and that's a long way down in history. Joo Chiat and Katong are the prime areas for the Peranakan culture. The charm and beauty of these places are the shophouses, which are preserved for many years. There were also shops that sells Peranakan fashions such as beads, embroideries and costumes.
To get to Guan Hoe Soon restaurant, you will need to take bus number 33 from Bedok Bus Interchange or take a taxi, depending on which transport is more convenient. For drivers, I will not recommend driving down to this place because of the lack of parking lots. Although during my visit to this local restaurant, it may seem empty in the morning but it will be full house by lunch time. So, do call in and make your table reservation.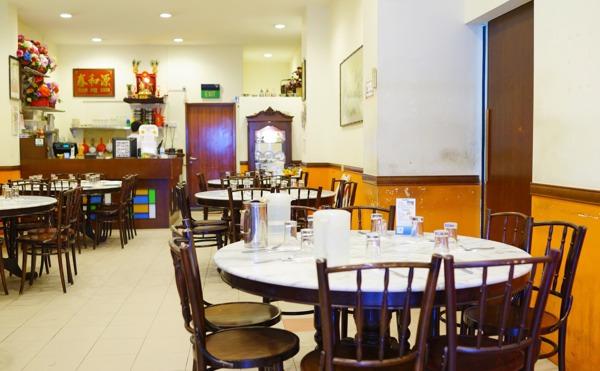 Entering into this Peranakan restaurant, the first thing that I get to notice was the numerous culinary awards hanging on a side of the wall. Those heavy wooden chairs and granite surfaced tables gives a traditional outlook that makes me wonder if there are any changes done in the layout and furnishing for the past six decades in this restaurant.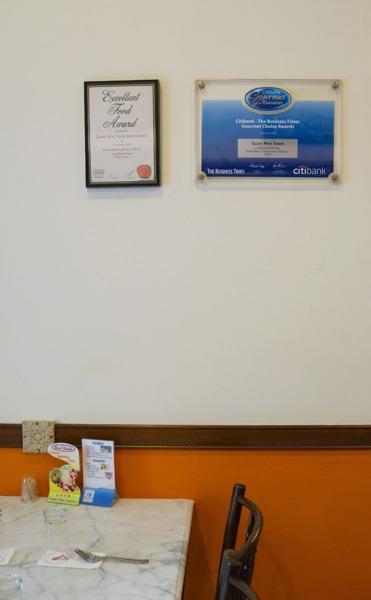 For Nonya cuisines, Guan Hoe Soon serves a wide spread. From seafood selections such as prawns and crabs to chickens and vegetables, all of them looks nice in their food menu. While fish pricing depends on market price, the rest of the food are fixed pricing. Their Nonya style vegetables are of the same price such as Sambal Terung (Egg Plant) ($10), Sayor Lodeh (Curry Vegetables) ($10) and Sambal Bendir (Lady Finger) ($10). Their highly recommended fish dish was the Ikan Assam Goreng ($12).
Besides Nonya cuisines, this restaurant also serves Chinese food such as Chicken with Cashew Nuts ($10), Beef in Claypot ($14), Hainanese Pork Chop ($10) and Butter Prawns ($12.80). As the Nonya food are mostly spicy dishes, Guan Hoe Soon got their food menu well indicated for non-spicy customers. All the foods that I have place ordered are recommended by Guan Hoe Soon's helpful waiter.
First, the spicy Nonya pickles known as Sambal Timum Salad ($3). This starter dish is mainly made up of cooked chicken gizzards, slices of onions and chucks of cucumbers and well mixed with chili paste. The word timun means cucumbers. For those that do not like chicken gizzards, you might not fancy this appetizer. Neverthless, this is a well-received dish by my mother.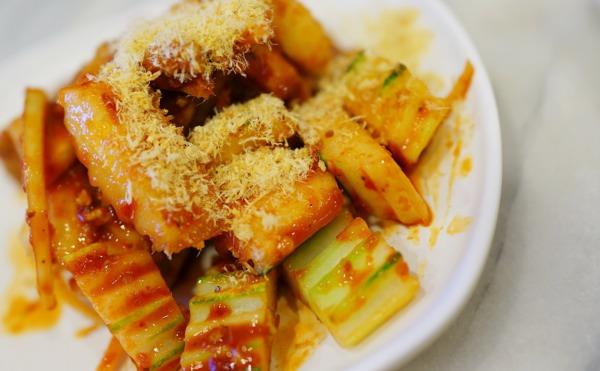 Serving next is the non-spicy Nonya-style Mee Goreng ($12). This tasty fried noodles is topped with slices of fried egg omelet and there are also slices of pork in this dish. By the looks of it, this plate of Nonya Mee Goreng looks like the Malay's Mee Soto, but it tasted quite like the Chinese's Hokkien Prawn Noodles.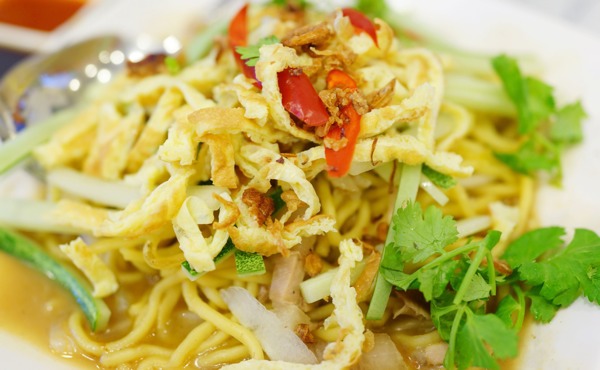 Most egg omelets I have eaten are normally oily but this Nonya egg omelet dish called the Crab Foo Yong ($10) impressed me and caught me off guard. Not oily at all and serving on the moist and starchy texture, this egg dish is cooked with crab meat, dried shrimps and other ingredients. A really smooth texture egg omelet!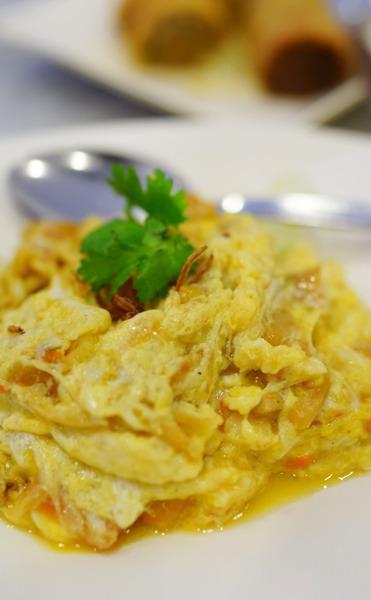 Under the Pork category in the Nonya food menu, here comes the Nogh Hiang ($10). This deep fried wrapped roll with minced pork, prawns and other seasonings tasted homemade and traditional. Crispy on the outside, dipped each slice into the sweet sauce or sambal chili before popping it into the mouth was fantastic.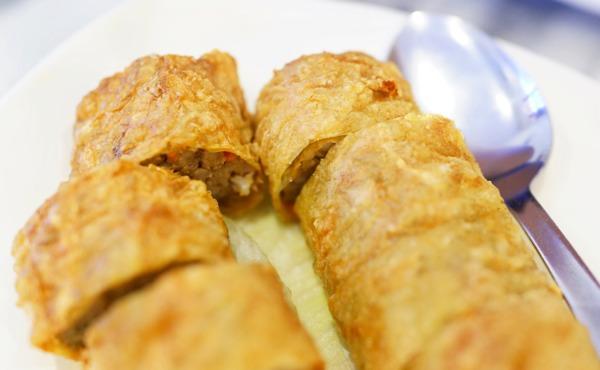 Here comes my mother's favorite and long awaiting dish, the spicy and sour Ayam Buah Keluak ($14). My mother said that without this dish on the dining table, you are not having the Peranakan cuisine right. Robust in flavor and taste of spices, the chops of chicken thighs in this dish was cooked until really tender. Those black-shelled nuts are called Keluak, which has a unique sweet taste despite it's unpleasant black look. Using a fork, the black-coloured flesh can be extracted out and eaten. Add the Assam sauce onto a plate of white rice makes it really enjoyable.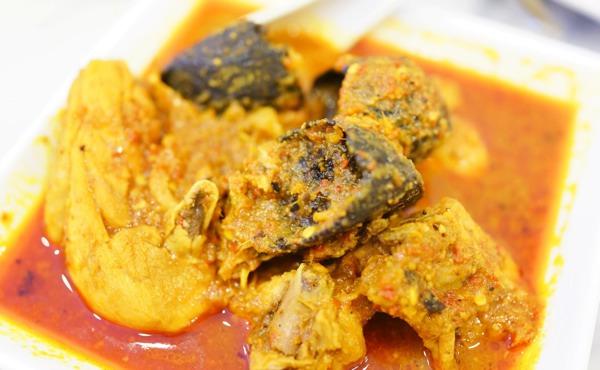 To balance out with some vegetables, we have ordered the Nonya Chap Chye ($10). This stirred fried cabbages are cooked with mushrooms, black fungus and bean curd skins. A delightful and simple dish.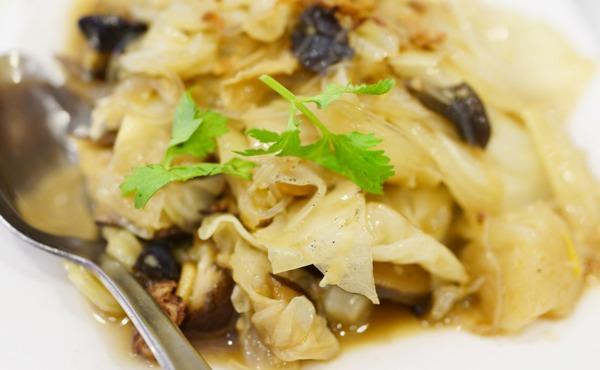 Guan Hoe Soon Peranakan Restaurant also served local desserts at a price of $3.80 each. They served desserts such as Chen Dool, Chin Chow, Pulut Hitam and Bo-Bo Cha-Cha. The Pulut Hitam, which is made up of black glutinous rice, is normally cooked with pandan leaves and gula melaka ("palm sugar"), followed by topping this hot dessert with thick coconut milk.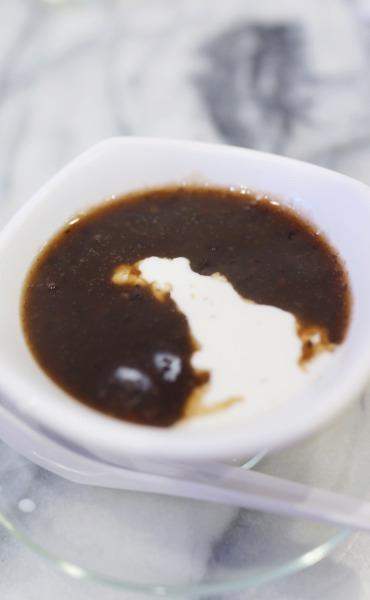 The Chen Dool, or Cendol, served has a rather special look in this restaurant. With the shaved ice all rounded up and compressed, the gula melaka is poured over the ice ball, giving the brownish appearance. Finally, the coconut milk, red beans, green-coloured rice flour and other ingredients are served together with the ice ball in a bowl.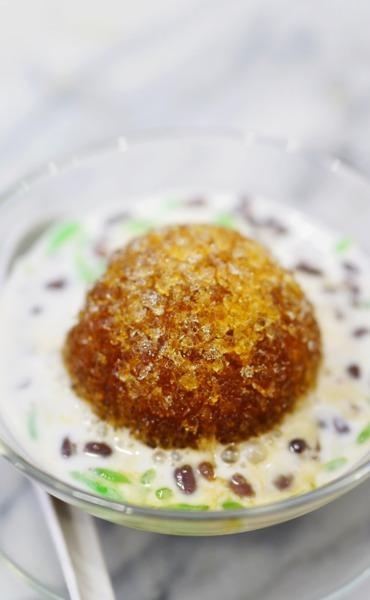 The Peranakan cuisine is definitely something different as they strike a good balance between the cuisine of the Malay and Chinese. They have distinct food flavors that makes these dishes uniquely Peranakan. It seems to me that their culinary influences are not just from the Malays and Chinese, but also from the taste of other South East Asia countries. I hope that Guan Hoe Soon Peranakan Restaurant can continue to maintain this food heritage for our future generations.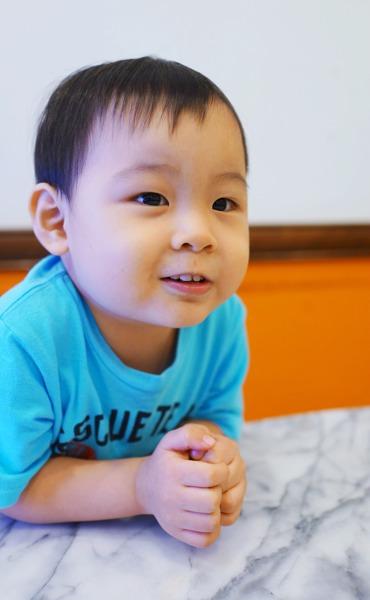 Address of my visit
Guan Hoe Soon Restaurant
38 Joo Chiat Place
Singapore 427762
Opening Hours
Monday to Sunday: 11:00am to 3:00pm (Lunch), 6:00pm to 9:00pm (Dinner)
Telephone: (65) 6344 2761
Website: http://www.guanhoesoon.com