With the use of the Entertainer Singapore app, I get to enjoy a great 1-for-1 dining deal in The Group Therapy Coffee at Duxton. Read on my dining experience and you might stand a chance to win the Entertainer 2015 Singapore app.
Lights and music brings up the night life along Duxton Road as this district is one of Singapore's favorite drinking spot for people to relax and chill out after work and during the weekend nights. Peaceful and quiet during the afternoon, Duxton Road has most of it's shops closed and few people walking in this district. Climbing up the staircase to the second floor of unit 42, I felt I have entered into another dimension where I heard the sound of coffee machines, laughters of people, sounds of cutleries and a welcome greeting of "Welcome to Group Therapy. Table for?" Here I go, enjoying my lunch time with my family in Group Therapy Coffee at Duxton Road.
Located near to the Tanjong Pagar MRT station and the Buddha Tooth Relic Temple, this cafe can fit approximately 80 people and welcomes private events such as birthday parties and networking events. Instead of common tables and chairs, Group Therapy Coffee has bar counter seating and large sofa sitting, giving a more causal dining feel.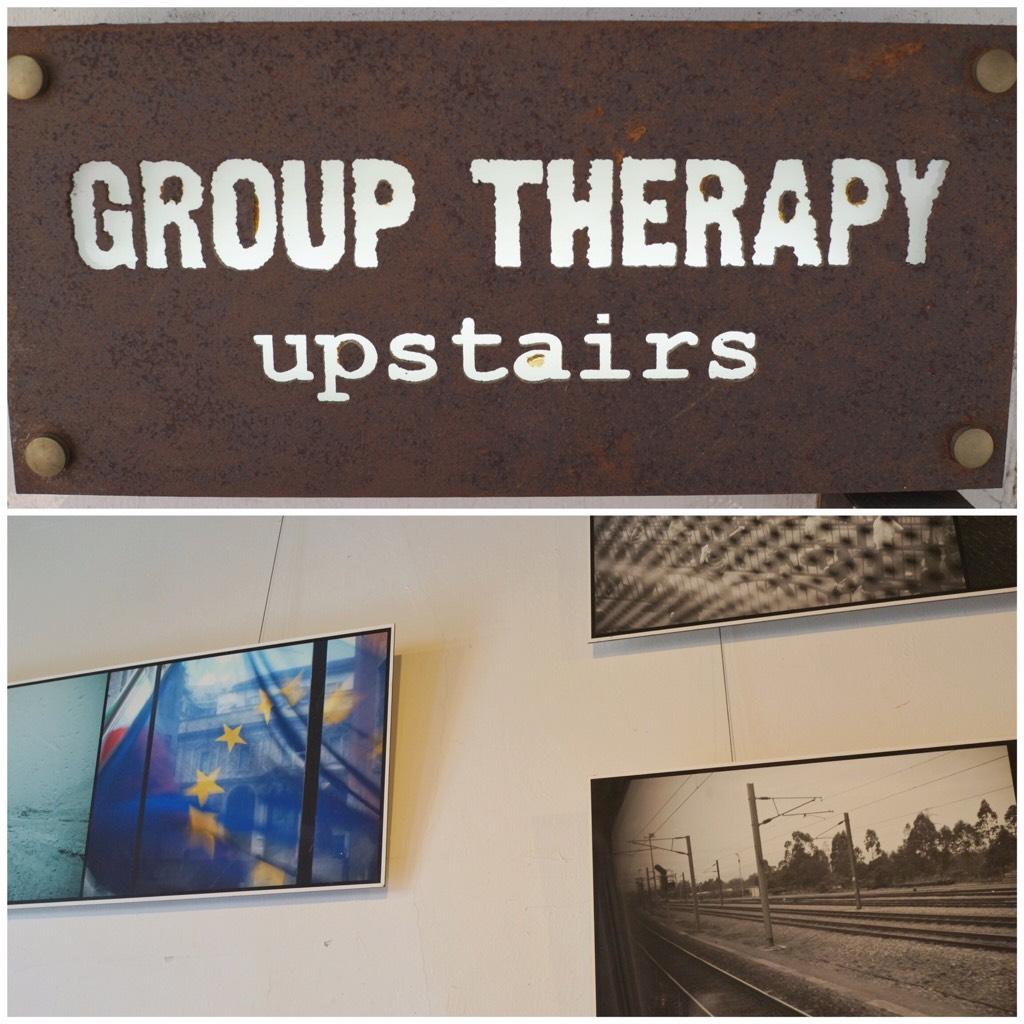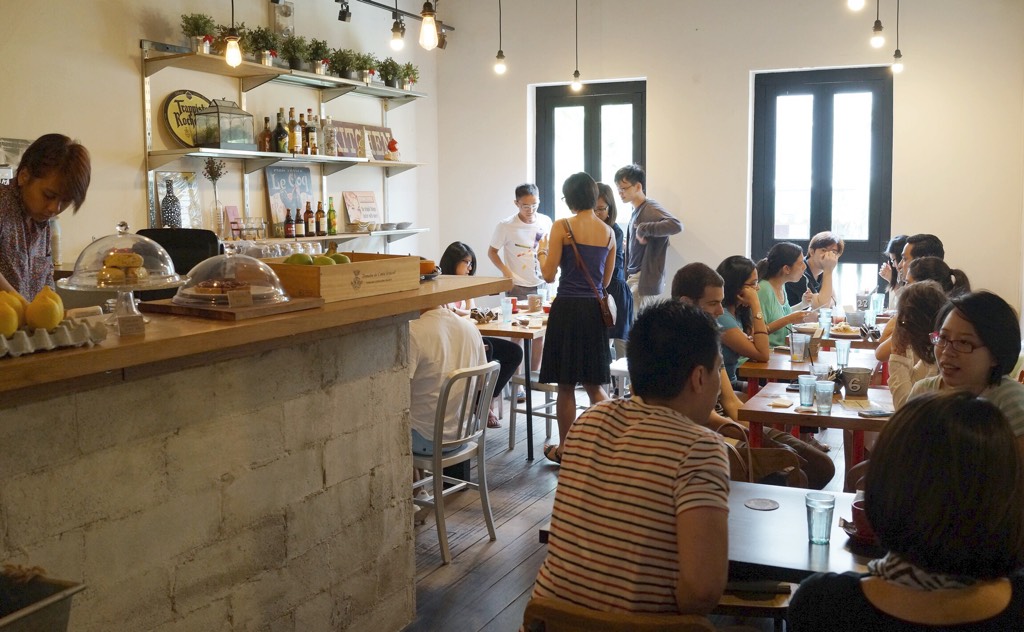 Talking about food selections, this cafe serves All Day Breakfast & Brunch such as Peanut Butter Waffles which is topped with bananas ($11.00), Sunnyside-Ups ($16.50) which comes with thick toast and BLT Croissant Plate ($20.00). Sandwiches, salads, pastas and burgers are also available. Good news to vegetarians, Group Therapy Coffee serves vegetarian meals too such as Truffled Ravioli ($19.00) and Spinach and Feta Roll ($11.50).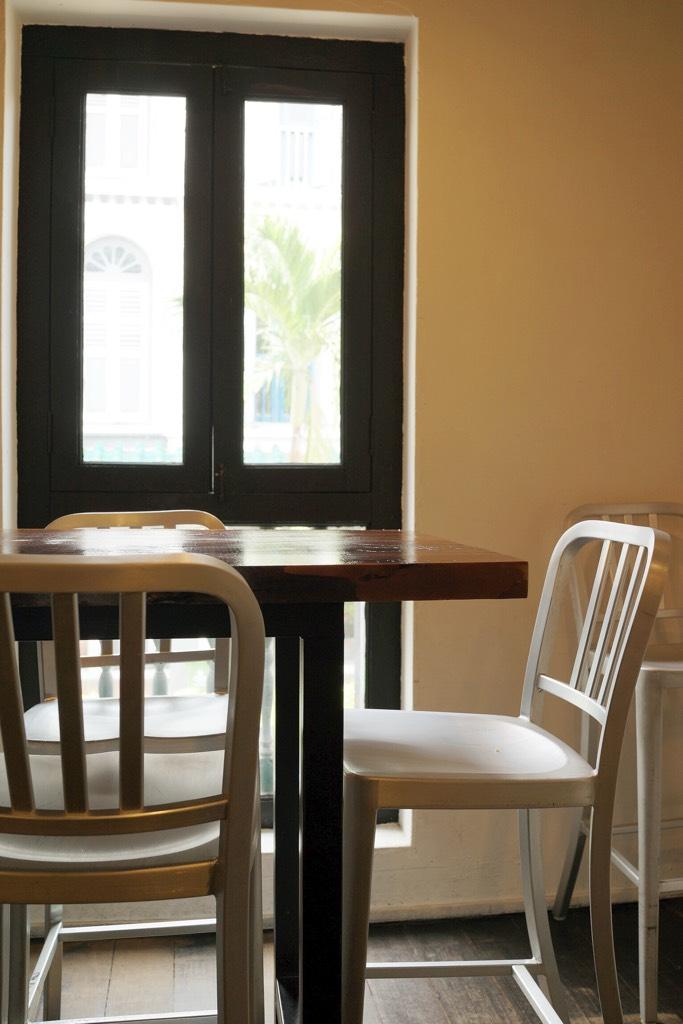 Spoilt for choices, this cafe's drinking menu has quite a handful of selections from coffee and tea, to sparkling sodas, beers and wine. Up to eight different sweet delights are available in this cafe such as the 4 Layer Carrot Cake ($9.50), Pecan Pie ($5.50) and Pistachio Cranberry Scone ($4.50).
Smooth and bittersweet aftertaste for the Flat White ($5.50) which I have ordered and the Seven Spice Chai Latte ($6.50) was good with it's top layer of milk frothing sprinkled with sweetened cinnamon powder.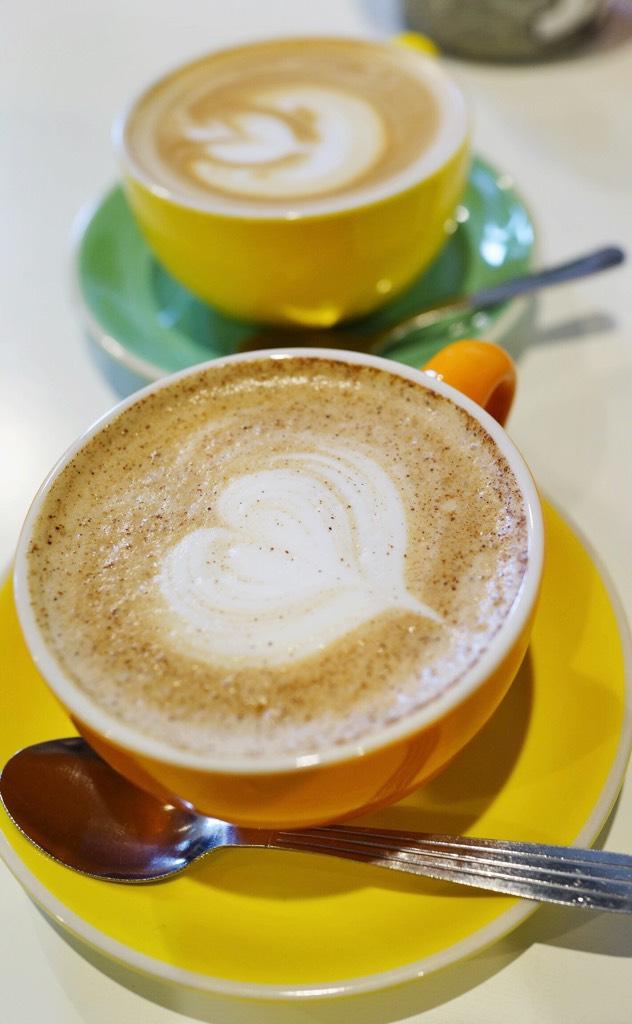 My soup of the day was the Truffled Mushroom Soup ($11.00). Despite the soup tasted saltish, the overall impression of the soup was creamy and rich. The top layer of the soup was drizzled with truffle oil, giving a truffle aroma for my hot bowl of soup.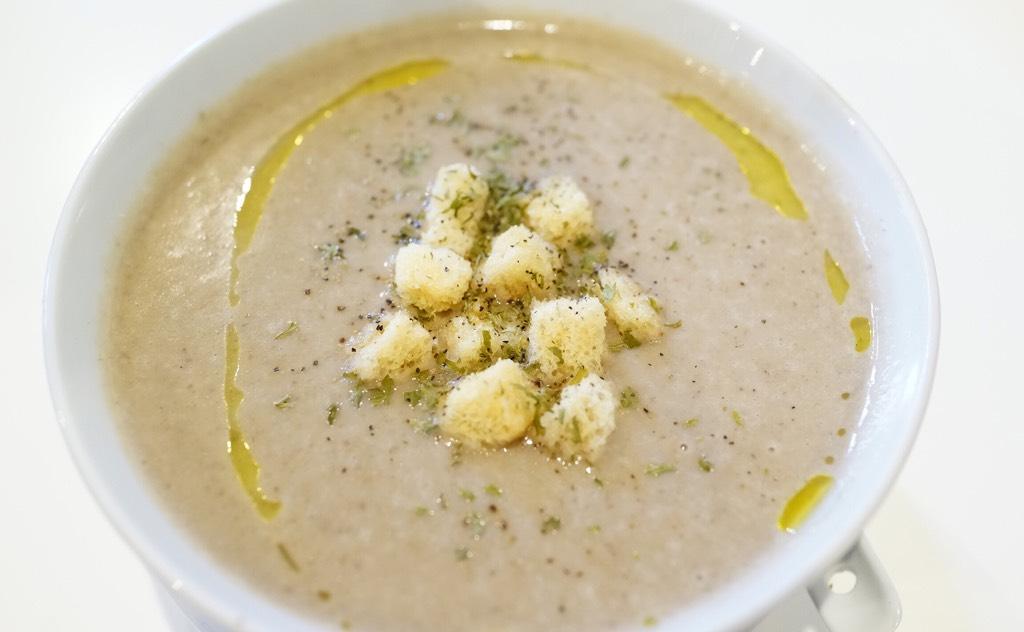 The Grilled Chicken Salad ($17.00) was a plate of grilled chicken thigh topped on fresh mixed greens, slices of cucumbers and cherry tomatoes. It was then served with honey mustard dressing. The grilled chicken thigh was juicy, tender and fatty and the vegetables were fresh.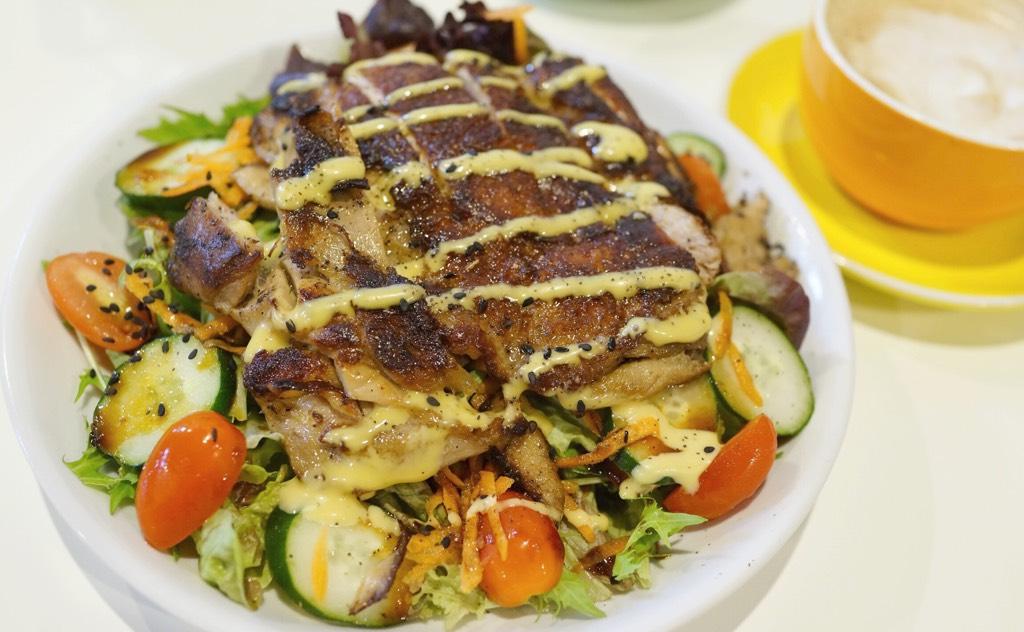 With the brioche toast sandwiching the smoked ham, bacon and melted cheese, followed by topping a sunnyside-up egg, the Croque Madame ($18.50) is served on my table. On the side of the plate was some salad and potato chips, the Croque Madame was a tasty meal for all cheese and toast lovers.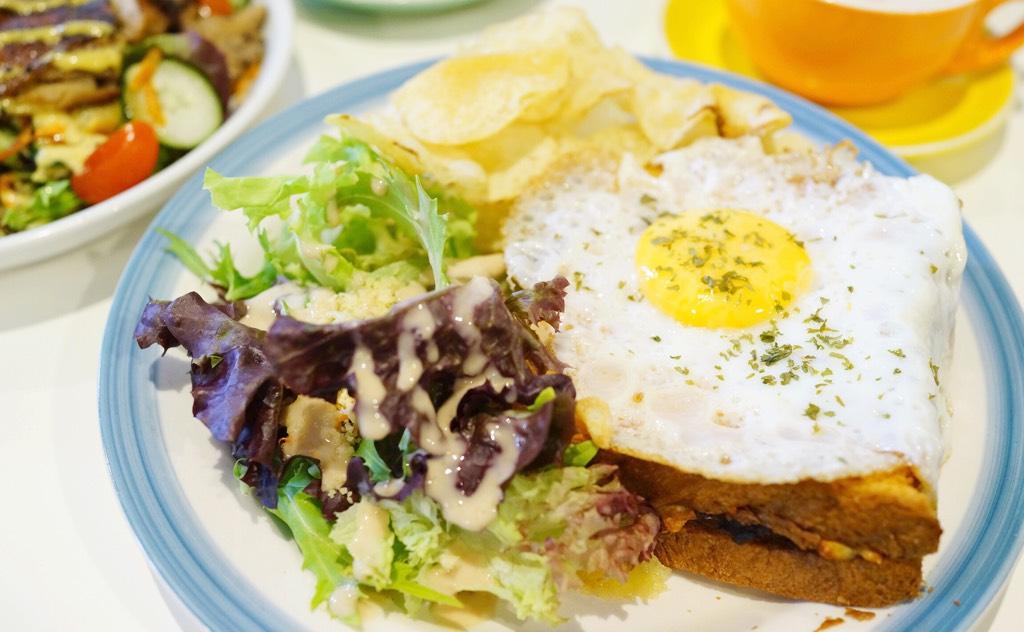 My lunch in The Group Therapy Coffee at Duxton was a good experience despite the waiting time of 20 minutes. The food serving size was generous and I am glad to say this cafe has a kitchen of it's own where food can be properly cook and prepared. This is the type of cafe which I would bring my friends to enjoy a good cup of coffee and comforting food.
Going down to level one, Kayden saw a huge purple coloured letter "B", which he go really excited about and wanted to take a photograph with it. *snap*!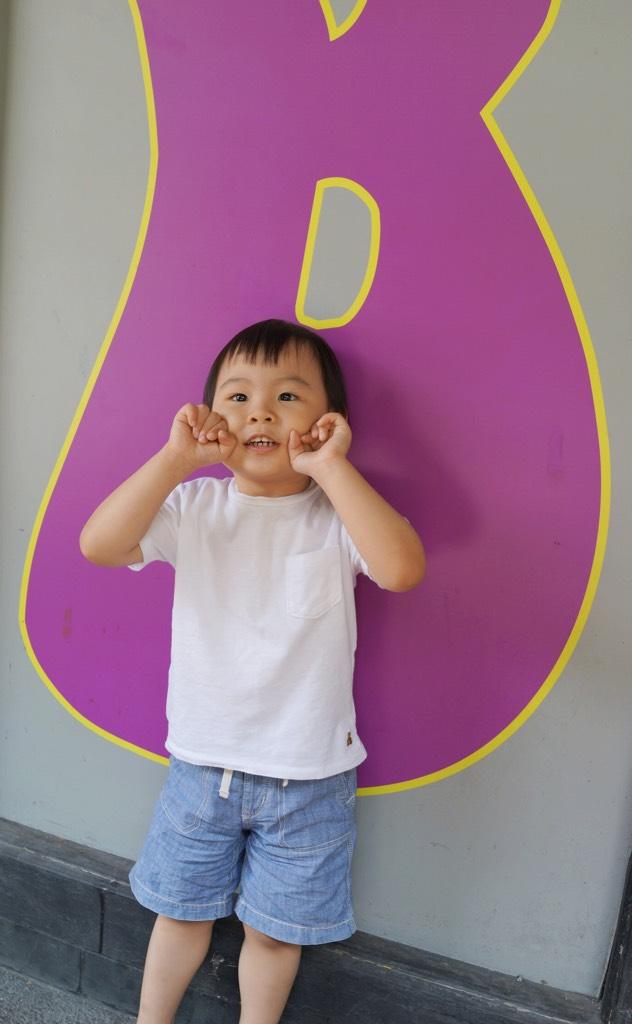 Address of my review
Group Therapy Coffee
49 Duxton Rd #02-01
Singapore 089513
Opening Hours
Tuesday to Thursday: 11:00am to 6:00pm
Friday: 11:00am to 11:00pm
Saturday: 11:00am to 10:00pm
Sunday: 10:00am to 6:00pm
Telephone: (65) 6222 2554
Website: http://www.gtcoffee.com
Thanks for reading my post and now, for the great deals portion.
Isn't it fantastic if you can get to enjoy the good things in life without hurting your wallet much at a touch of your fingertips? If you are looking for a comprehensive lifestyle app with awesome saving deals, then the Entertainer Singapore app is what you are looking for. Not only in Singapore, there are over hundreds of participating merchant partners in Asia which will give you great savings all year round.
This time round, The Entertainer Singapore has launch their 2015 version for various smartphone operating systems. Click here to know more about the Entertainer 2015 Singapore app.
That's not all. Reshare this post with the hashtag #TheEntertainerApp across your social platforms or leave your comments from now until 20 November 2014, 5 lucky winners will stand a chance to win the Entertainer 2015 Singapore app from The Entertainer Singapore team if this post garnered the most reshares or comments. Now, there is always something to smile about.