In the friendly neighborhood of Hougang, Lola's Cafe at Simon Road is located among the shophouses near to Kovan MRT station. The colours of just black and white on Lola's Cafe's signage makes this cafe a prominent sight across the train station. As I always look forward in enjoying my Friday's dinner after work with my family and friends, I will need to look for a nice cafe that can revitalise myself before my weekend starts. As I reached the entrance of Lola's Cafe at 7:00pm, the cafe was overwhelmed with people.
In the Lola's Cafe food menu, they served brunch from 10:00am to 3:00pm, while their dinner time starts at 6:00pm to 10:00pm. The mains for Lola's Cafe's brunch hours includes Farmer's Bratwurst Roll ($8), Breakfast Butter Croissant ($13) and Lola's Full Monty Breakfast ($15). What I am having for my dinner in Lola's Cafe was their Beer Battered Fish & Chips ($15) and Chicken Burger with Spicy Aioli ($14). These two dinner mains seems to be their customers' hot favorite. They also served starters at all times for people who enjoyed fingerfoods such as Nacho Cheese Fries ($8) and Truffle Fries ($12).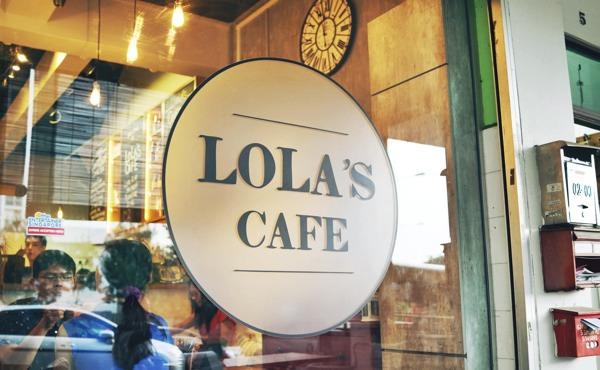 Getting iced drinks to cool down the recent hot and humid weather in Singapore, I got for myself the Matcha Green Tea Latte ($5.00) and my wife got her Iced Latte ($5.50). The top layer of creamy foam on our two glasses of cold caffeine was absolutely beautiful.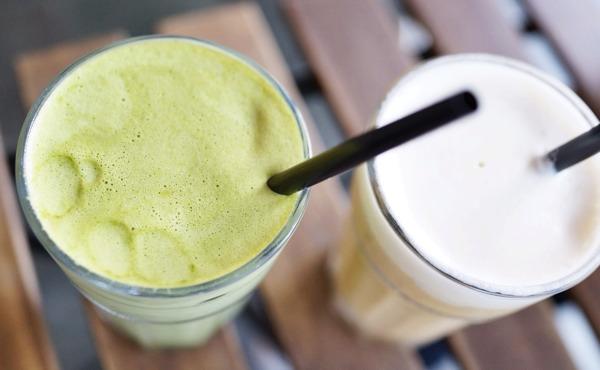 The Chicken burger with spicy Aioli served with those straight cut fries sure look appetizing. The chicken meat was tender and well-marinated, making this fried chicken patty rich in flavor. Accompanied with lettuce, cheddar cheese, chicken patty and spicy Aioli sauce all squeezed between the toasted burger bun, you will sure get your hands messy, but you will end up feeling satisfied.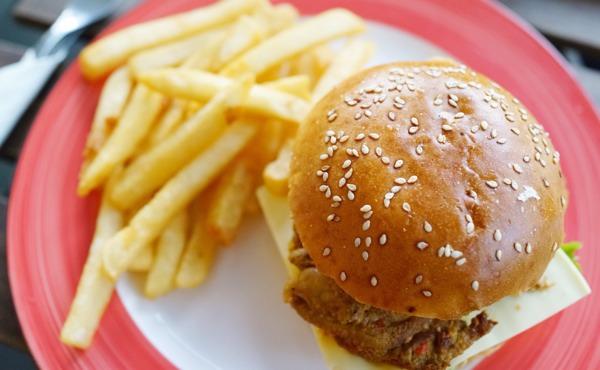 Served on a wooden bread board was the Lola's Cafe Beer Battered Fish & Chips. Together with the Belgium wheat ale and Pacific cream dory fish, the slices of deep fried dory fish are crispy, fresh and not overly coated with batter. As the wooden plate is quite small, using your hands will be much easier than using a pair of fork and knife.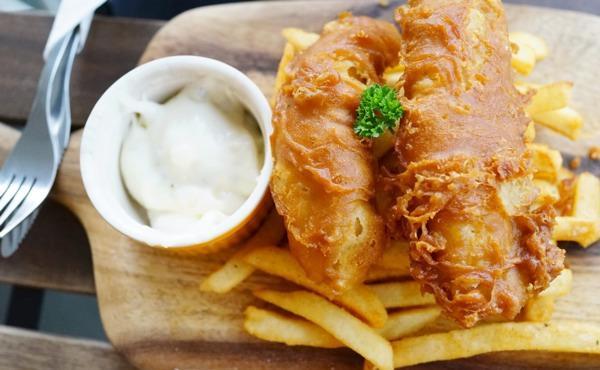 With the convenience of the Kovan MRT station nearby, hanging out in Lola's Cafe with friends and families is a good choice. Ordering of food uses the smartphone app called BigSpoon, but the app seems to be a little buggy. Probably getting straight to their service staffs is a better approach. I would say the food served in Lola's Cafe tasted good but the portion is a little small. During meal hours, the seating of Lola's Cafe can be quite cramped as you might just bumped onto someone sitting beside you. Despite it's small cafe space, Lola's Cafe is still a good cafe with great dining location and affordable meals under $20.
Address of my visit
Lola's Cafe
5 Simon Rd
Singapore 545893
Opening Hours
Monday: Closed
Tuesday to Thursday & Sunday: 10:00 am to 11:30 pm
Friday & Saturday: 10:00am to 12:00am
Telephone: (65) 6284 0349
Website: http://lolascafe.com.sg