EatPlayLove Cafe is a Western and Thai food fusion cafe which has a playful dining concept that every customers, regardless old or young, will love and enjoy. Entering into this cafe in Aliwal Arts Centre, those green and brown stripy painted tables, handicraft materials and nostalgic tidbits for sale are sure to make this cafe's visit for everyone a delightful and fun one.
This cafe can hold private events up to 75 people and they have various food packages in their website which is worth checking them out if you have plans for parties. The playful part in EatPlayLove Cafe in Aliwal Arts Centre is the kids craft corner, where there are crayons and colour pencils for children to draw and do colouring artworks. Handicraft materials such as DIY monster dolls and paper puppets are for sale so that parents and kids can enjoy playing and dining together at the same time.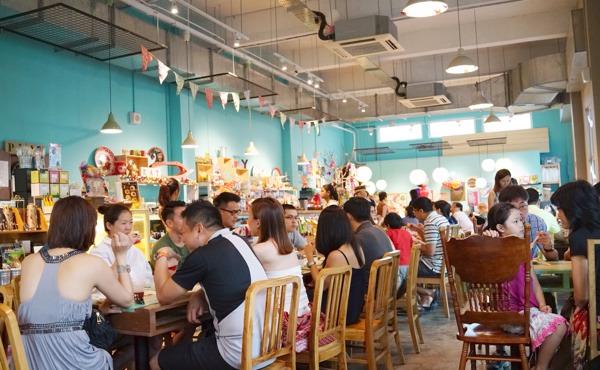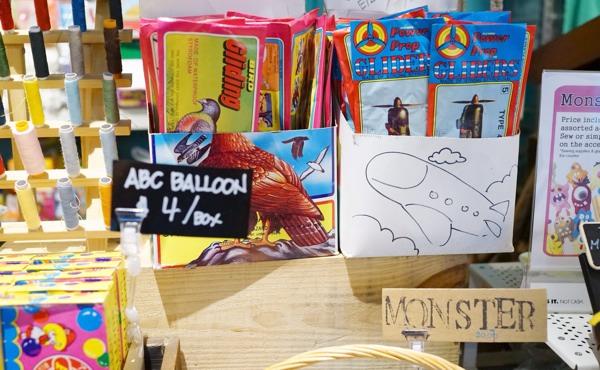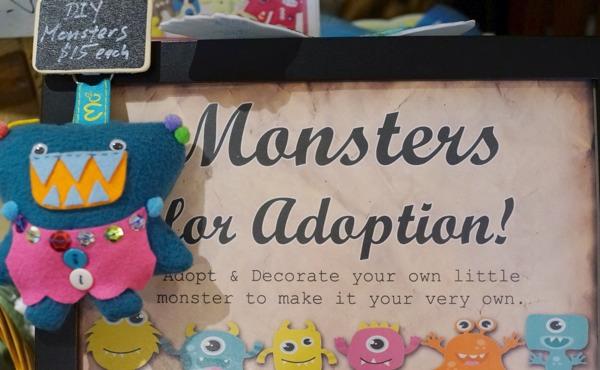 Since EatPlayLove is a Thai-Western fusion cafe, I am eager to try their Thai food rather than Western food. They have traditional Thai cuisine such as Green Curry Chicken with Rice ($8), Tom Yam Seafood Noodle Soup ($9.50), Pineapple Rice ($8) and Basil Chicken Rice ($8). On the Western side of EatPlayLove, they serves Aglio Olio ($8.50), Pesto Grilled Dory Fish ($10.50), Creamy Mushroom Baked Rice ($9.50) and Grilled Chicken Chop ($10.50).
Kid's meals are available for children under the age of 10 years old, which includes Chicken Macaroni Soup ($6.50), Mac & Cheese ($7.50) and Chicken Nuggets with Fries ($7.50) These meals also comes with the choice of milk, Milo, Ribena or Yakult.
Serving first on my dining table was the Honey Mango Prawn Salad ($12.50). My plate of fresh greens are topped with cooked prawns and fresh sweet cubes of mango. A nice appetizer dish to begin with. EatPlayLove Cafe also served other salads such as Grilled Chicken Salad ($10.50) and Fresh Green Salad ($7).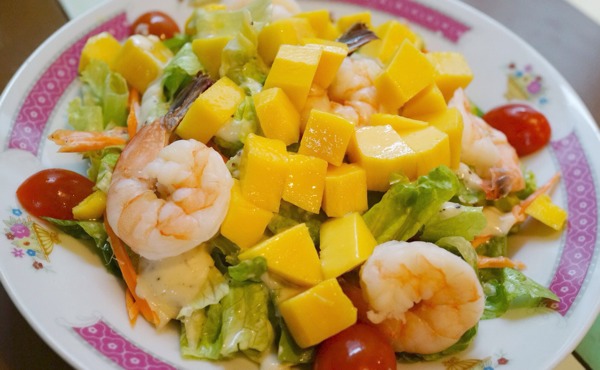 Browsing through their food menu, the drinks that I would love to try was their Thai Iced Milk Tea ($4) and Thai Iced Coffee ($5.50). Ever since my last visit to Thailand, I am deeply in love with the fragrance and sweet taste of Thai's coffee and tea. EatPlayLove Cafe do serves espressos such as Flat White ($4.50), Cappuccino ($4.20) and Latte ($4.50). They also served a drink called Miloffee ($5.50) which is a blend of coffee, Milo and milk. Topping up an additional of $1 will get you the iced version of the beverages you love. The Thai Iced Milk Tea and Thai Iced Coffee served in EatPlayLove Cafe tasted authentic but it doesn't give me the "wow" factor.
With Kayden around, I have ordered a plate of Pineapple Rice ($7.50) with a cup of iced Milo for him under the Kids' meal. This plate of fragrance rice is stirred fried with sweet dices of pineapples and chicken, followed by topping the rice with chicken floss. It also comes with 3 pieces of fried chicken wings' mid-joints.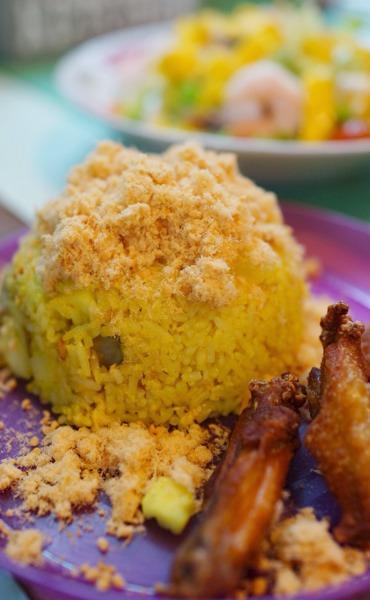 For those that love desserts, EatPlayLove Cafe serves waffles, grass jellies, ice-creams and mango specialty desserts. Their desserts price range from $4.50 to $12. In order to enjoy the best of triple worlds which are the Mango Sticky Rice ($6), Mango Pudding ($4.50) and Mango Sticky Delight ($8.50), I have ordered the Mango Love ($12). This is a worth it dessert for mango lovers!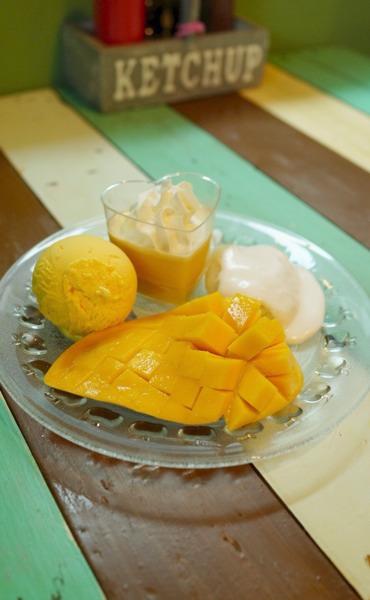 EatPlayLove Cafe is a family-friendly cafe with a nice spread of Thai and Western food. From Bugis MRT station or Nicoll Highway MRT station, walking to this cafe will take about 15 minutes. With just $5 per hour (2 hours for weekdays), unlimited art and craft materials are given to the children to get creative in their Craft Corner. As EatPlayLove Cafe often holds private functions and cafe might be closed for events, do check out their Facebook page for latest updates.
Here is a photograph of Kayden playing with his Snoopy school bus in EatPlayLove Cafe.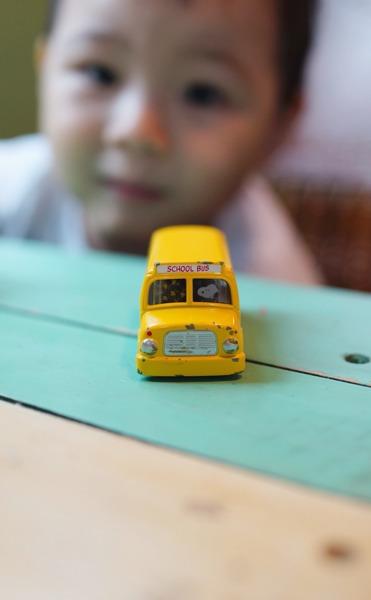 Address of my visit
EatPlayLove Cafe
Aliwal Arts Center
28 Aliwal Street #01-07
Singapore 199918
Opening Hours
Daily: 12:00pm to 10:00pm
Closed on Tuesdays
Kitchen closes from 3:00pm to 6:00pm, except for Weekends & Public Holidays
Telephone: (65) 6444 6400
Website: http://www.eatplaylove.com.sg