Children loves to take up role playing personalities which is crucial during their growing up process because this allows them to imagine and train their social skills. They can be a pirate, a princess, a scientist or anything in this world.
For the past three years, Kayden has taken up three different personalities, or I would say his childhood careers. He started of as a chef, followed by a doctor and now, a cashier.
In his first career, Kayden started off being fascinated by the wonder hands of his grandmothers. Watching them cook was like his favorite reality cooking shows. Shortly, we got him a toy stove with pots, pans, utensils and food. Kayden enjoyed his cooking playtime very much and his favorite culinary dish was the corn soup. He never seems to get bored with cooking the same dish everyday because corn kernels are his favorite.
Kayden's second career was a doctor. So how did he got interested in this role? In the past when Kayden got sick, we brought him to visit our family doctor. Ever since then, Kayden is obsessed with the doctor's stethoscope. He threw his stove into his tub of toys, gave up his career as an awesome corn soup chef and decided to embark on his focus on hearing people's heartbeat. Whenever I called for him, "Doctor Doctor, knee pain." Kayden will ran to his tub of toys, looked for his stethoscope toy, wore it around his neck and listened to my knee for any abnormalities.
The doctor's career did not last as long as being a chef. Due to his Christmas present this year, he is now obsessed with counting money and swiping credit cards. Thanks to the IKEA's Duktig cash register toy, Kayden is now a busy cashier. Made out of wood with curved edges, this cash register is a fully functional calculator powered by solar. Those paper notes, coins and credit cards makes it even more interesting for the role playing process.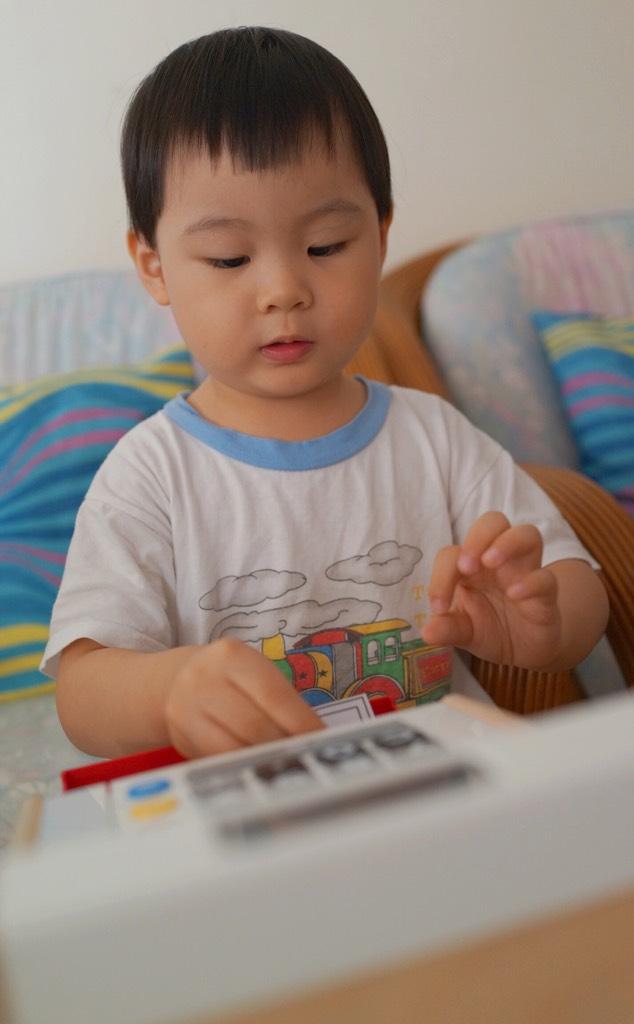 This is a nice simple toy with a price tag of $19.90. I am wondering what will be his next career change?