In a quiet morning of 56 Kandahar Street, there is a small air-conditioned cafe called Dong Po Colonial Cafe. "Nostalgic, classic and memoir" are the words to describe the furnishing of this cafe when I first entered into it. The old-fashioned grandfather clock, empty glass bottles of soft drinks and posters of the stars in the early years reminds me of my childhood days.
Internally of every wooden tables, antique collectables are displayed and then, they are covered by a layer of glass like a mini exhibition. Although those wooden chairs are quite uncomfortable to sit for a long period of time due to it's solid surface, putting those wooden chairs complete up the old fashion coffeehouse of the 1960s in Singapore. To touch up on the ambience, Dong Po Colonial Cafe plays old records from the 1960s to 1970s. This cafe really does a great job to reminisce the past of Singapore.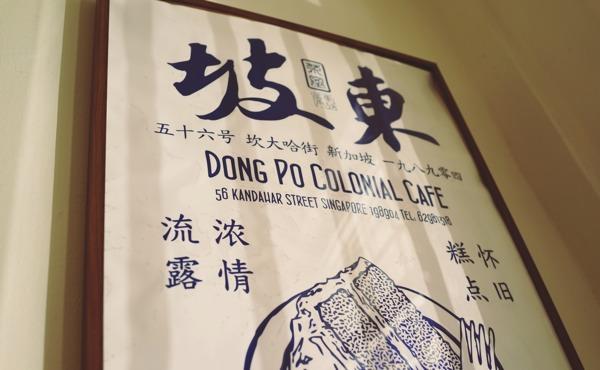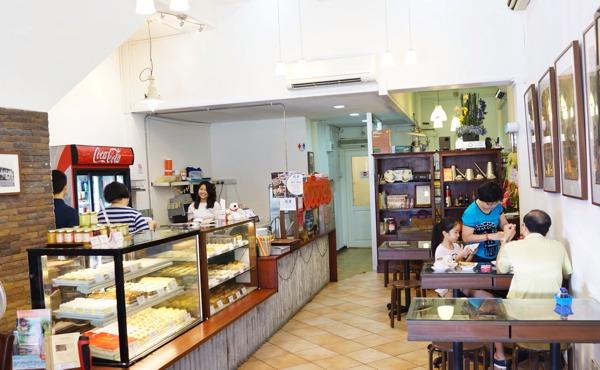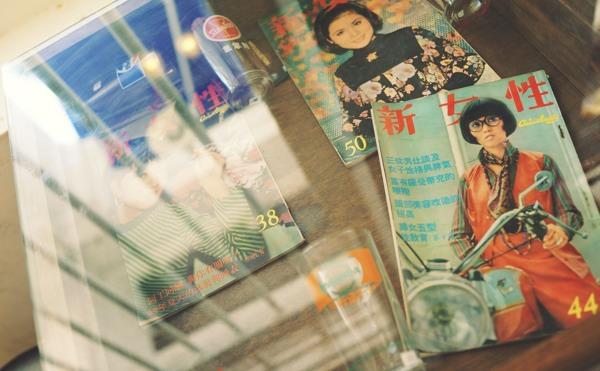 Cakes are definitely my love at the first sight in Dong Po Colonial Cafe. There are quite a selection of these colourful nostalgic cakes to choose from. Those handmade chocolate truffle cakes, cupcakes and tarts will make people of all ages and all walks of life to love them.
To start brightening my breakfast in the morning, I have ordered Dong Po Colonial Cafe's Chocolate Truffles Slice Cake ($2.20) and their Butterfly Cupcake ($2.00). By purchasing any two pastries below $3.00, I can order their value meal at $5.00 with a cup of hot coffee or hot tea. Here comes my "teh siew dai".
My wife went "yummy" with the Butterfly Cupcake while my son went nuts with the Chocolate Truffles Sliced Cake. Like those whipped creams on cakes, Butterfly Cupcake's cream is not just smooth and creamy, but also rich in the taste of milk. That milky taste make this cupcake uniquely special. That spongy texture for the Chocolate Truffles Sliced Cake was excellent. For those who has a sweet tooth, you sure definitely love this chocolate cake.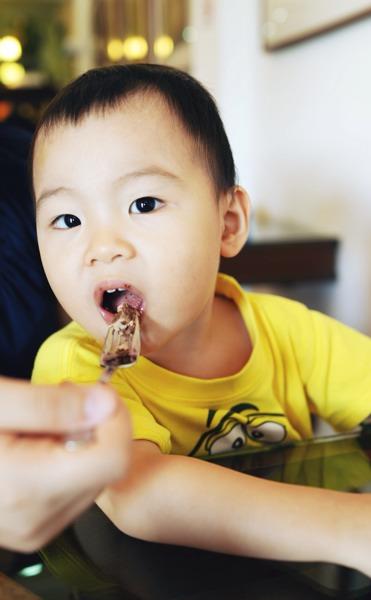 Who can let go toasted bread with your favorite bread spread. I choose my favorite peanut butter toast meal set that comes with a cup of coffee or tea and 2 eggs at a price of $4.50. The toasted breads are actually quite thin, making the sides of these breads really crispy and flakey. While the breads are still hot, spreading the peanut butter onto the breads makes it melt.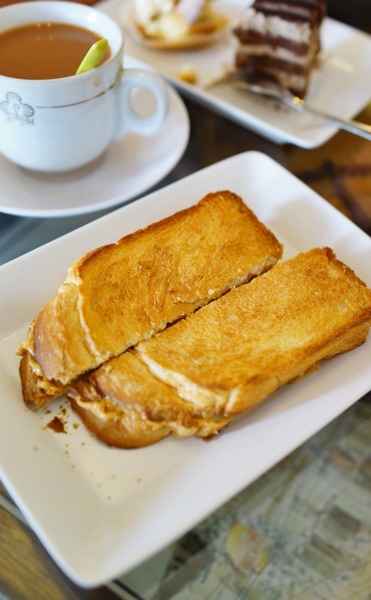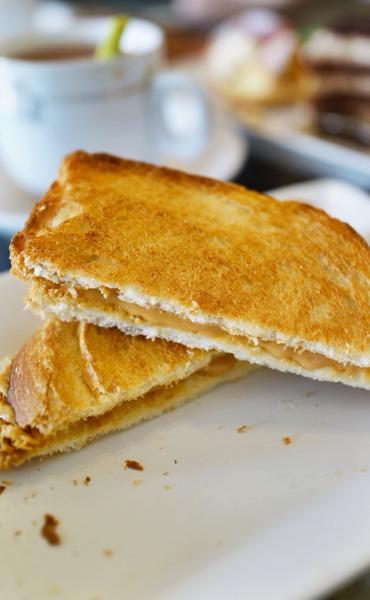 As we can't get enough of their food, we decided to try a 3 Hole Cookies ($1.90). This traffic lights cookie is made up of 2 slices of butter cookies and stuck them together. This cookie taste buttery and those bright yellow, green and red colours are really sweet.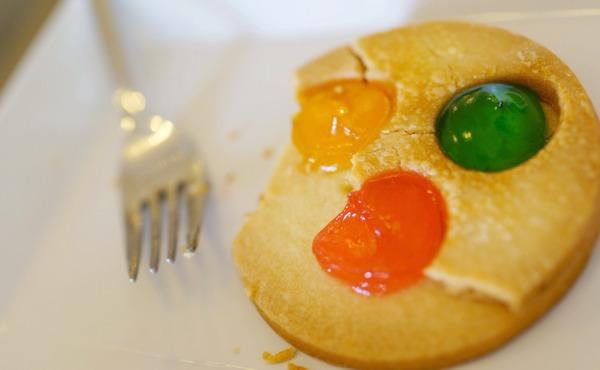 Besides having Dong Po Colonial Cafe's pastries, toasts and beverages in their shop, you can even purchase their homemade bread spread to enjoy at home. As there is no preservatives in their jams and kaya, keeping them refrigerated once open can last up to 1 month. I bought their Kaya and Lemon Curd.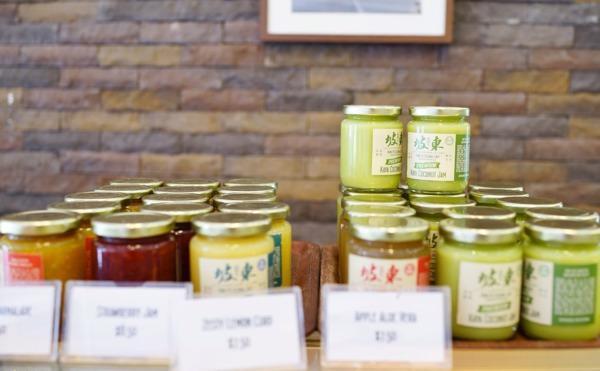 If you want to look for a nice quiet corner in the morning to enjoy your breakfast, I would recommend Dong Po Colonial Cafe. From Bugis MRT station to this cafe will take about 15 minutes of walk. With such good tasty pastries and ambience, I believe that their pastries will be sold out very fast. So, why not wake up early and reach this cafe by 8:00am for a great morning breakfast with freshly brewed coffee?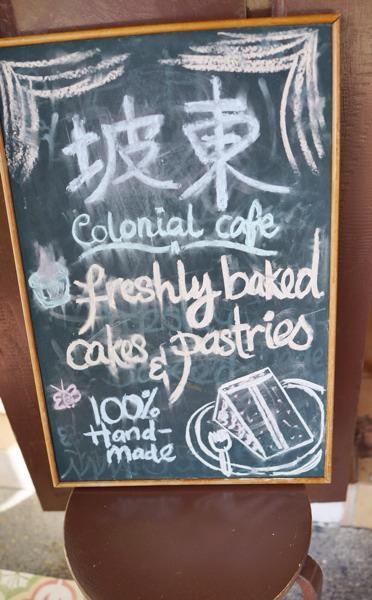 Address of my visit
Dong Po Colonial Cafe
56 Kandahar Street
Opening Hours
Tuesday to Thursday: 8:00am to 9:00pm
Friday: 8:00am to 10:00pm
Saturday: 10:00am to 10:00pm
Sunday: 8:00am to 9:00pm
Monday: Closed
Telephone: (65) 62981318
Website: https://www.facebook.com/DongPoColonialCafe