Right on Father's Day, my wife decided to give me a lunch treat in The Marmalade Pantry located on the ground floor of Oasia Hotel. Serving meals at 10:30am, this restaurant's ambience looks like a nice spot to chill out after a hard day's work. Standing at the entrance, the staffs attended to us promptly and made us feel welcome to this dimly lighted modern bistro restaurant.
At a glance of The Marmalade Pantry's food menu, it has quite a large spread of choices. They served pastas, sandwiches and other meat related mains. Well, it seems to me that this restaurant is very much focused on their pastries like tarts, cupcakes and cookies because of the wide varieties of selection. On the price tags of the food, a decent main of carbonara is priced at $25 and a Mexican Chicken Salad is priced at $22. Their cupcakes are all priced at $4.90 while a slice of cake is priced at $9. As for the taste, wait till I have ordered my Father Day's lunch.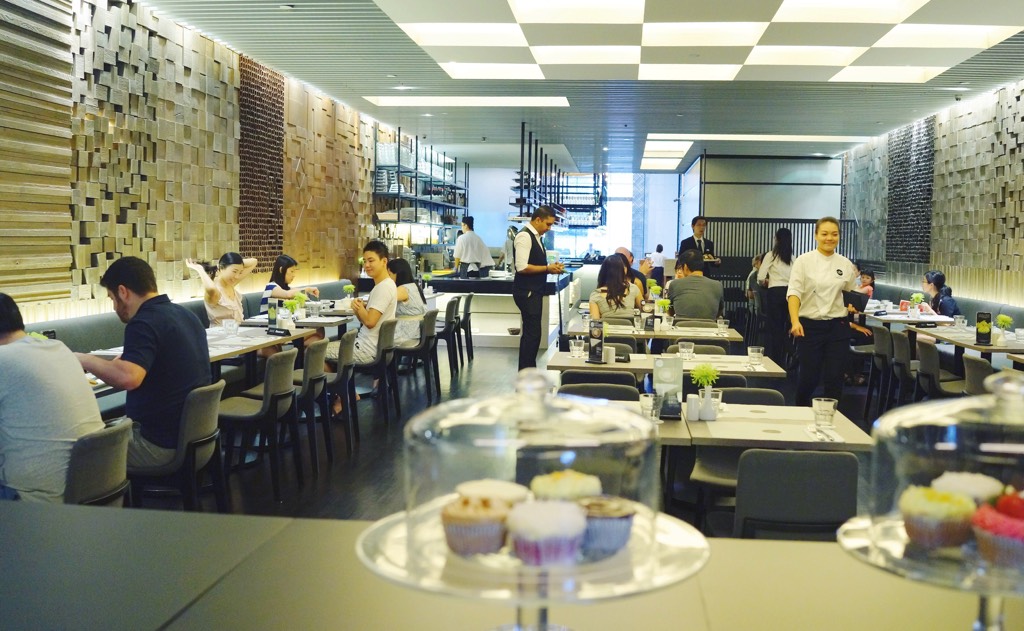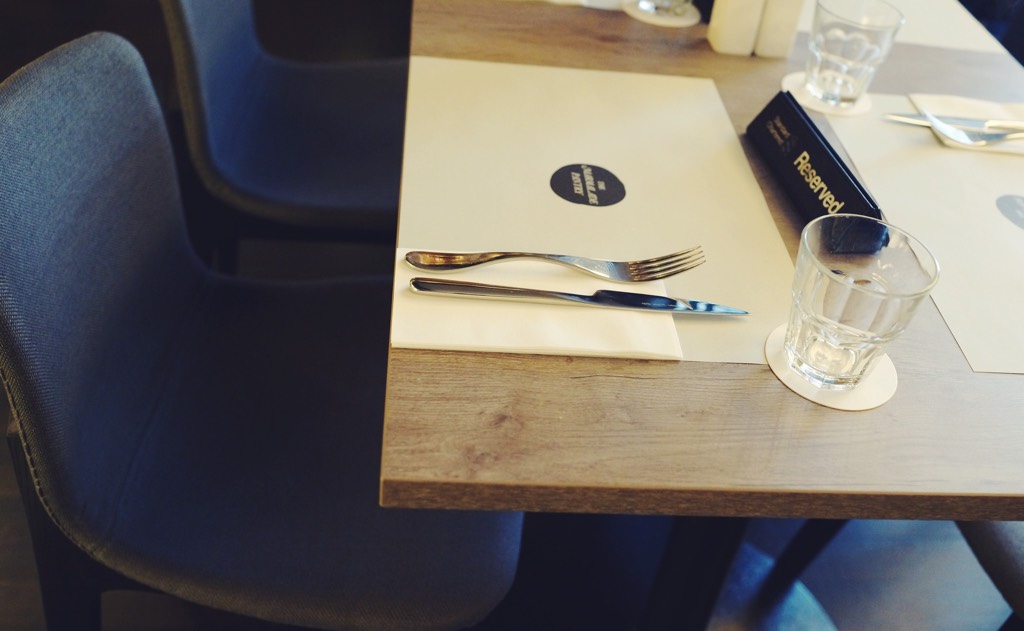 Instead of going for my usual coffee treat, I am having something healthier this time round. With the power to heal and detox, the Vitamin Booster ($9.50) is an iced cold glass of freshly squeezed apples, beetroots and carrots. This refreshing drink tasted very much earthly with a sweet aftertaste.
The purplish coloured drink is my Berries Smoothie ($10.50). Combined with strawberries and raspberries, having this drink was like tasting a fruity yoghurt ice-cream. I almost forgot, bananas are added too. Totally yummy!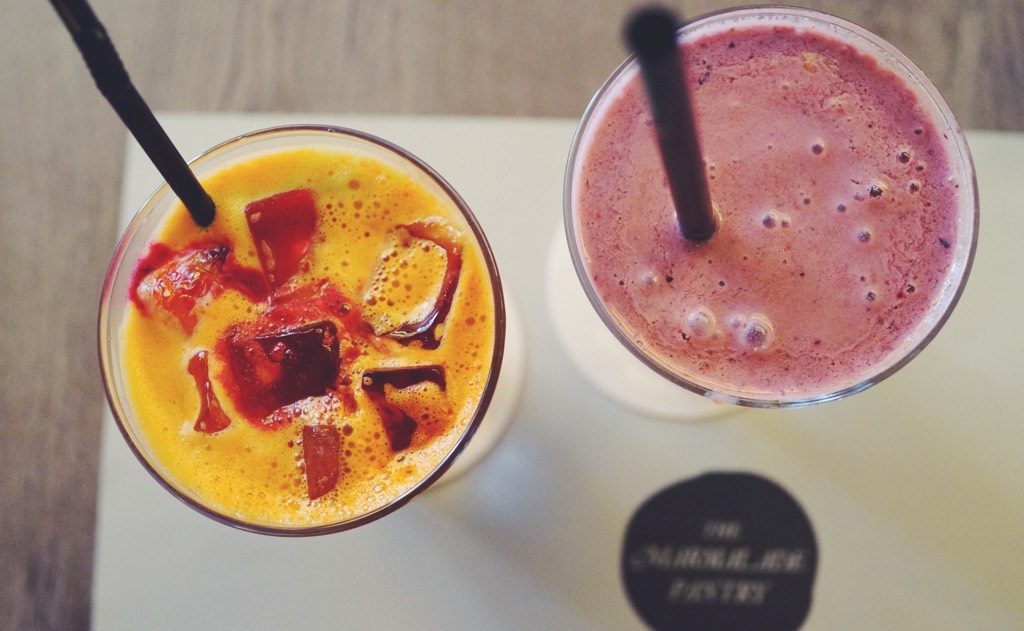 Served with chucks of lobster meat marinated with mayo and tobiko, the Miso Lobster ($34) is actually a burger style meal. The overall taste of this burger was good, just that the lobster meat was slightly saltish. This sesame burger sat well above my shoestring fries and having it with your hands could get messy.
The caramelised apple sauce was a perfect sweet companion for the Pork Chop ($38). Finely grinded, the mashed potatoes spread across my plate was creamy smooth. The first slice of the pork chop in my mouth was tender and juicy, but the inner portion of the pork chop looked undercooked due to the pinkish colour of the meat. Despite one of the staff told me it is normal, I decided to skip it.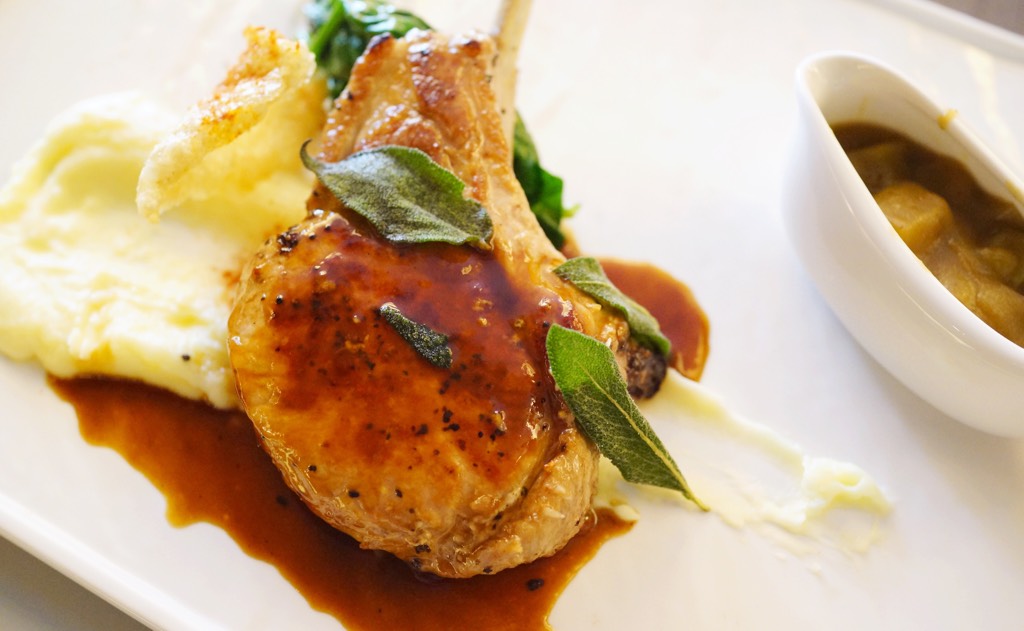 The food prices are quite steep as the food portion wasn't generous. When I have asked the staff regarding the pinkish look of my pork chop, she wasn't confident with her answer. On the bright side, the Miso Lobsters and my beverages were still good.
Address of my visit
The Marmalade Pantry
Oasia Hotel
8 Sinaran Drive
#01-02/04
Singapore 307470
Opening Hours
Monday to Friday: 10:00 am to 10:00 pm
Saturday to Sunday: 9:00 am to 10:00 pm
Telephone: 6664 0348
Website: http://www.themarmaladepantry.com.sg