After my post on the baking attempt of the almond cookies (click here), my friend dropped me a Facebook message that he would prefer the almond cookies to be baked with butter, rather than cooking oil. The initial thought of using cooking oil is because healthy cooking oils are generally trans-fat free and low in saturated fats. This is a great choice of ingredient for health conscious people.
In this post, my wife and myself decided to use butter as an ingredient for baking of almond cookies. Thanks to Honey Bee Sweets recipe, we decided to try this recipe. Not much of ingredient differences comparing with the previous almond cookies recipe in this post. This time round, unsalted butter and cooking oil will be used together, followed by topping each almond cookie dough with a slice of almond. Lovely!
During the 20 minutes of baking the almond cookies using butter, the nice creamy aroma flowed out of our hot oven. A food tasting comparison was made between the butter and cooking oil version. I feel that using butter gives a lighter and fluffier texture while cooking oil gives a denser texture and less oily to my tastebuds. Comparing the crumb size of the almond cookies, using butter tends to have smaller crumbs.
Remember to use an air tight food container for storing these almond cookies and have a great baking time!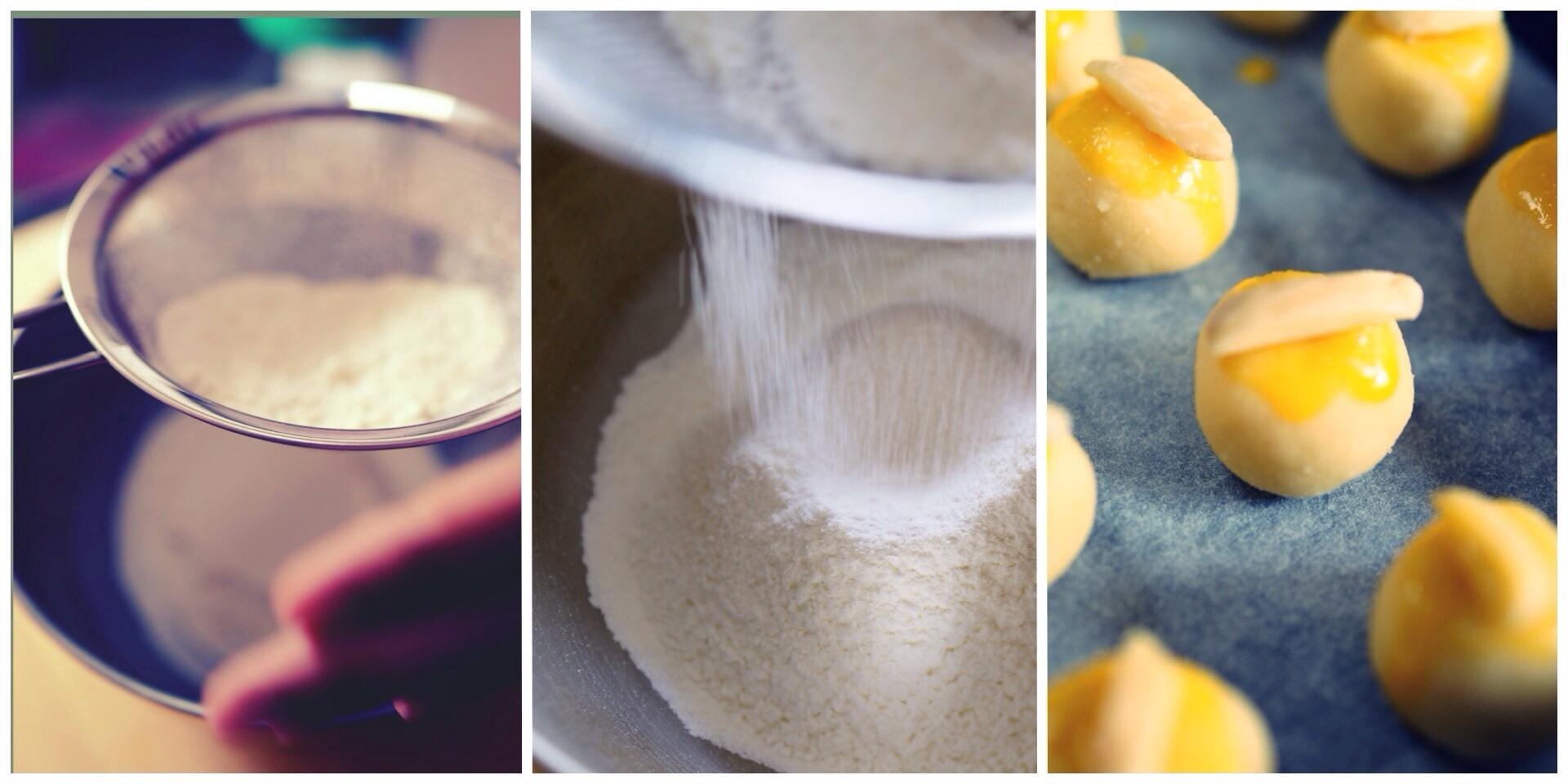 Serving size: 60 pieces
Preparation time: 15 minutes
Cooking time: 20 minutes
Ingredients:
1. 250g of almond power
2. 100g of plain flour
3. 120g cake flour
4. 1 tsp baking powder
5. 95g icing sugar
6. 1/2 teaspoon fine salt
7. 70grams of cooking oil
8. 75g of melted unsalted butter
9. 1 beaten egg yolk
Directions:
1. Sift the plain flour, cake flour, icing sugar and baking powder together in a large bowl.
2. Add the almond powder and salt into the large bowl and mix them well.
3. Add the cooking oil and butter into the large bowl and stir them using using a spatula until the mixture becomes soft dough.
4. Get ready the baking oven by preheating at 180 degree Celsius.
5. Laying the baking sheet onto the baking tray, press the almond cookie dough into small scallop size, or bite size, and arrange them onto the tray.
6. Gently brushed the almond cookies with the beaten egg yolk and topped each of them with a slice of almond.
7. Bake the almond cookies for 16 to 20 minutes until the cookies turns golden brown in colour.
8. Remove the tray of almond cookies from oven and let them cool before serving.