The last time I visited the Underwater World Singapore in Sentosa was probably back in 1995 during my primary school excursion. Back then, this attraction was as popular as the Haw Par Villa and was often represented as one of the icons of Singapore. If I were to recap back my memories during my last visit, all I could remember was the tunnel, where I stood beneath all those swimming sea creatures under the curved glass panels. It was a totally out of this world experience.
During this November school holiday, my family and myself visited the Underwater World Singapore, or UWS. As I have not been visiting this attraction for more than two decades, my emotions toward this visit was filled with excitement and curiosity. The questions pondering in my mind before the visit were, "How does the Underworld World Singapore look like now?" and "Will I get to enjoy this place like when I was young?". Likewise, my wife had such questions too.
After my visit on a Friday afternoon, I believe that the Underwater World Singapore still hasn't lost it's shine. Despite it may still look nostalgic, this water attraction rekindles my childhood memories. So, I am going to summarize down the 7 things to expect in the Underwater World Singapore before you plan a trip down to this hidden gem of Singapore in Sentosa.
Greeting By The Peacocks
Sentosa has many nature landscapes and we are nowhere near to Jurong Bird Park. I might shock you but peacocks are the most interesting sightings at the entrance of the Underwater World Singapore which you will get to see. There were about 10 or more graceful peacocks roaming at the entrance or resting on the roof of this water attraction. You will be amazed to catch these big birds fly!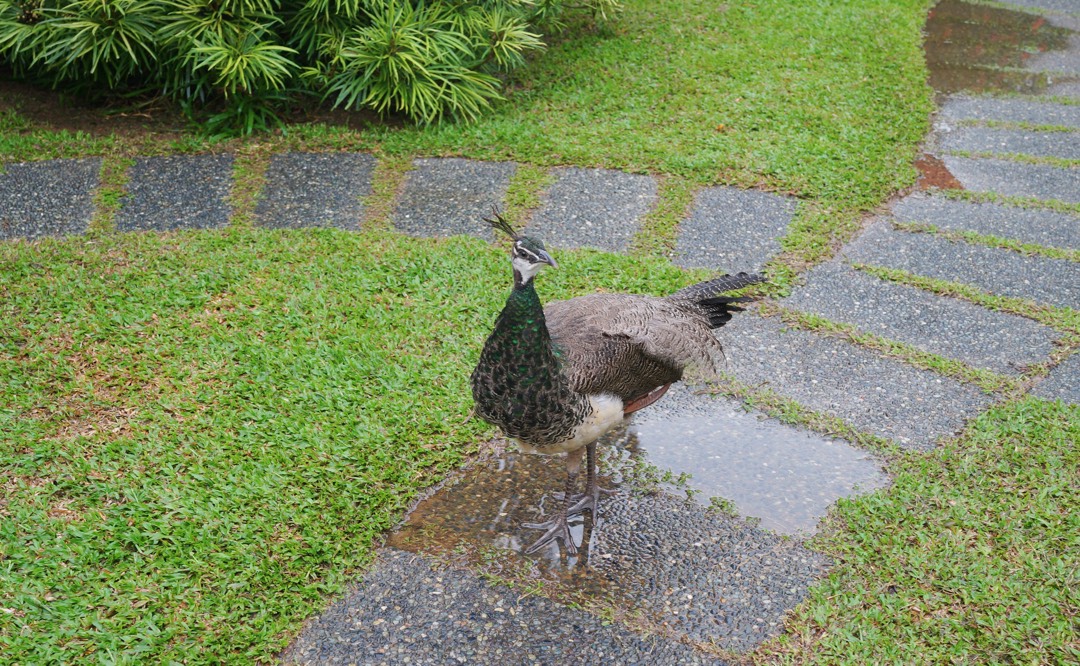 Touch Pools And Magic T
Upon entering the Underwater World Singapore, you will definitely notice the Touch Pools. Created for visitors to have a personal touch of the marine creatures, these large pools has creatures such as the bamboo sharks, starfish, archerfish and porcupine fish. Remember when touching them, be gentle.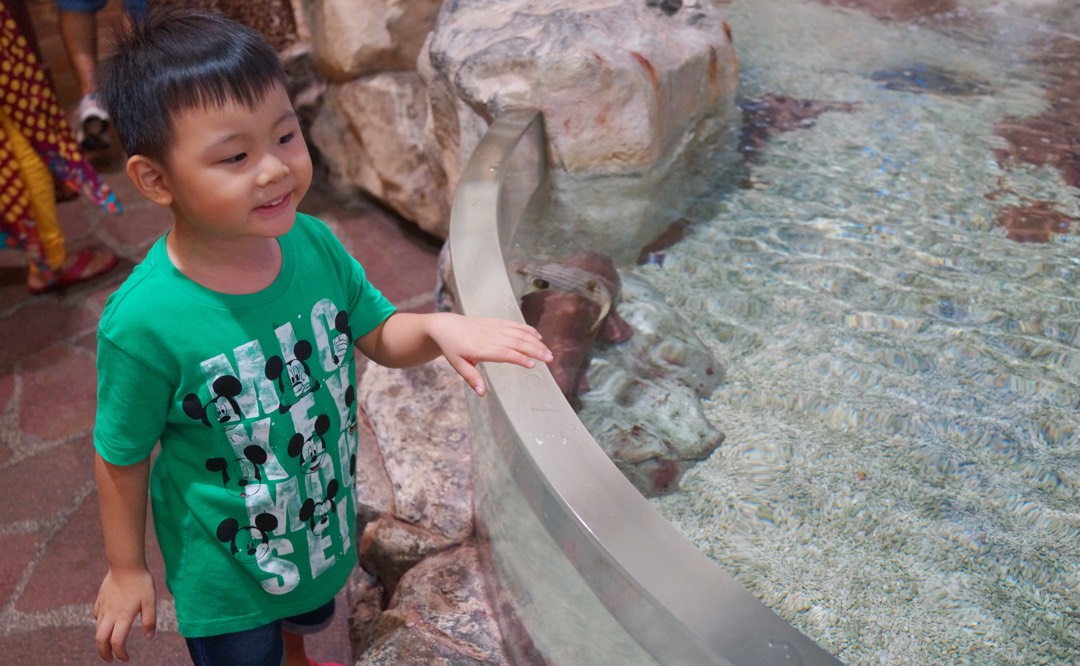 With small openings located in the middle of water-filled tanks with marine creatures, visitors are able to feed the fishes in these new concept tanks called "Mystical Anti Gravity Interactive Concept Tank", or MAGIC-T in short. Rest assured, there will be no splashing of waters or even jumping out of fishes from these tank openings.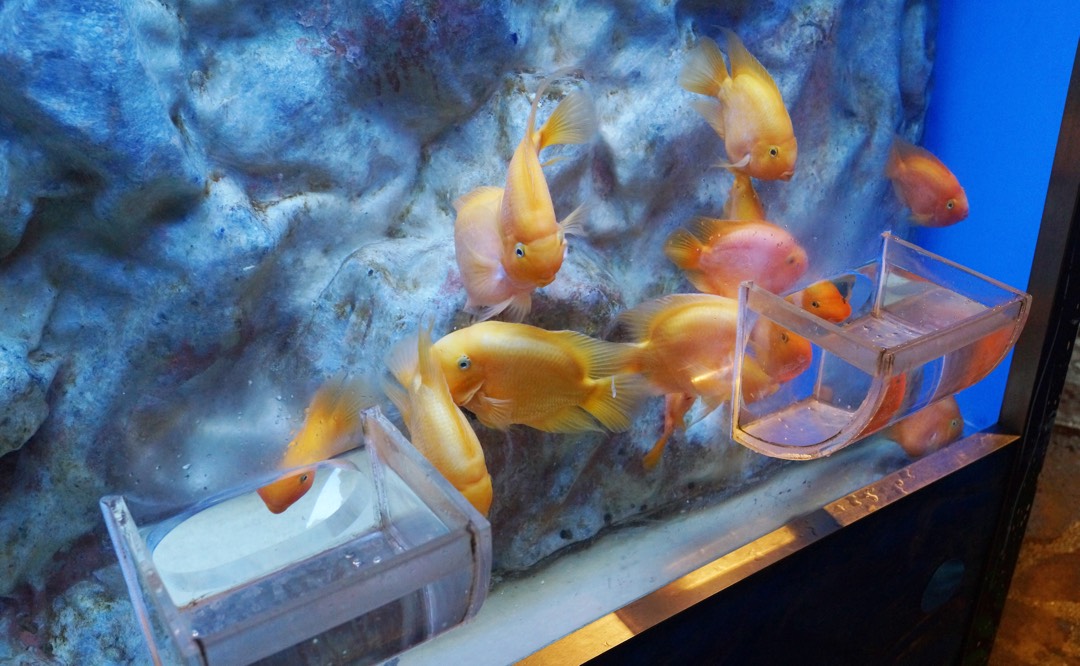 The Iconic Underwater Tunnel
Experience the view from bottom up in the iconic tunnel in UWS. With a travel distance of about 300 meters, this tunnel has a walkway pavement and a moving travelator for the visitors. Divided into two sections, the first section is the Reef Colony while the second section is the Ocean Colony.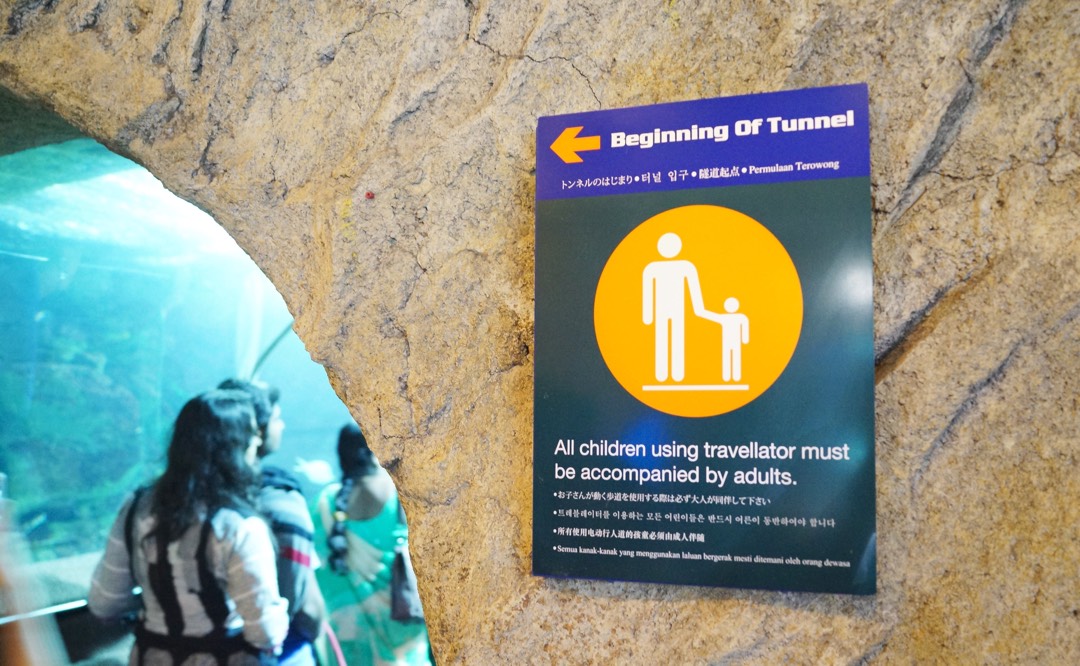 The Reef Colony includes the strikingly coloured surgeonfish, golden trevallies, flapping eagle rays, slender-bodied leopard sharks and many other ocean creatures that occupies the coral reefs. The Ocean Colony includes many prey crushing and aggressive ocean creatures like the bull sharks, saw fish and nurse sharks. Sharing together with them are the less threatening residents such as the giant groupers and shovelnose rays. Do enjoy this viewing experience under the deep waters.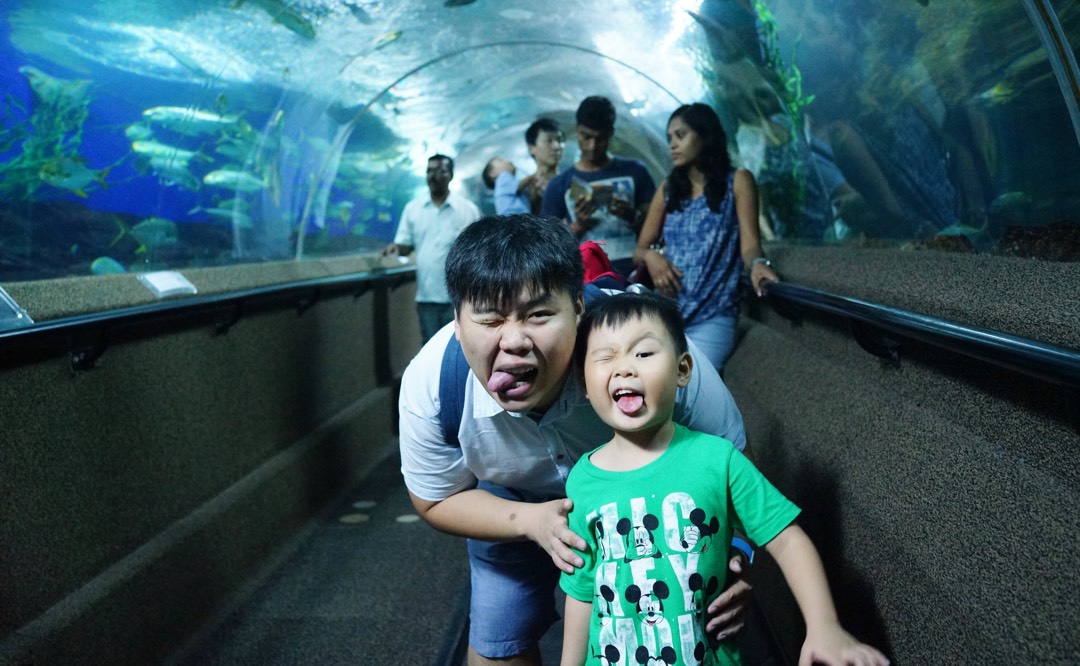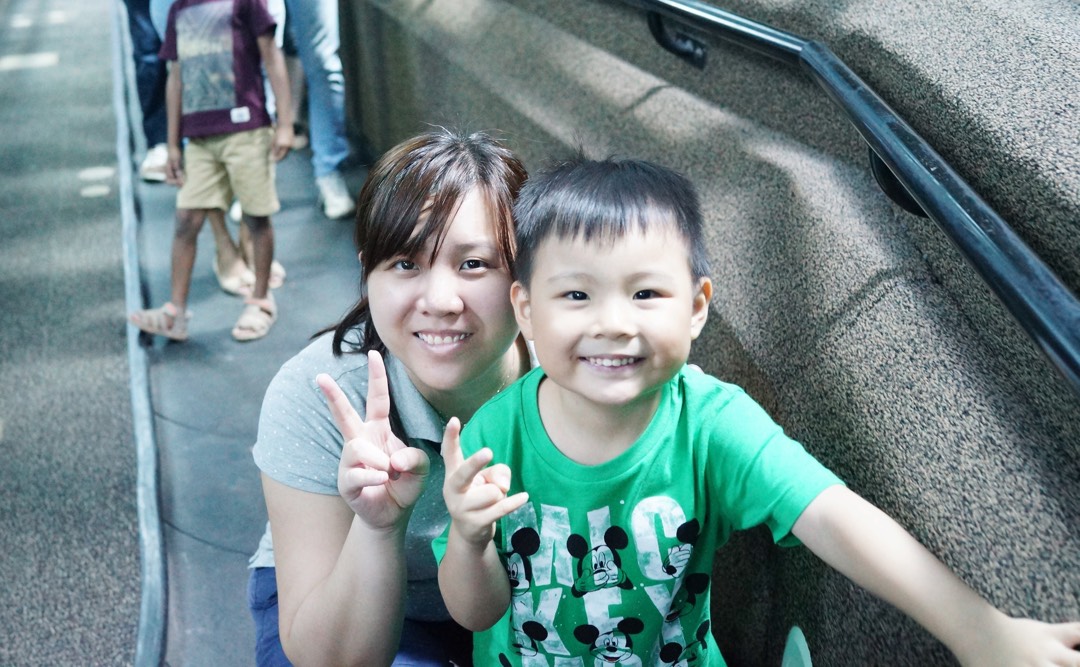 Meet The Dolphins and Fur Seal Show
Hosted in the Dolphin Lagoons, sit back and enjoy the 20 minutes laughter show by the Pink Dolphins and Fur Seals. These friendly sea mammals will perform incredible stuns with their cheeky attitude. Here is a short video of the Fur Seal performance.
Educating The Young
From anatomies to stories, there are interactive learning stations where children can press the buttons on the booth to understand these sea animals better. Besides this, Underwater World Singapore also emphasizes a lot on the importance of reducing water pollution, how water pollution affects our waters and harmed the sea animals. This is an important education for our future generations.
Nostalgic Feeding Capsules
Using the toy capsule vending machine, everybody can now put coins, turn the knob and retrieve a capsule which has fish food packed in it. This is nostalgic and everyone will love it. Now, you can get to enjoy feeding the fishes!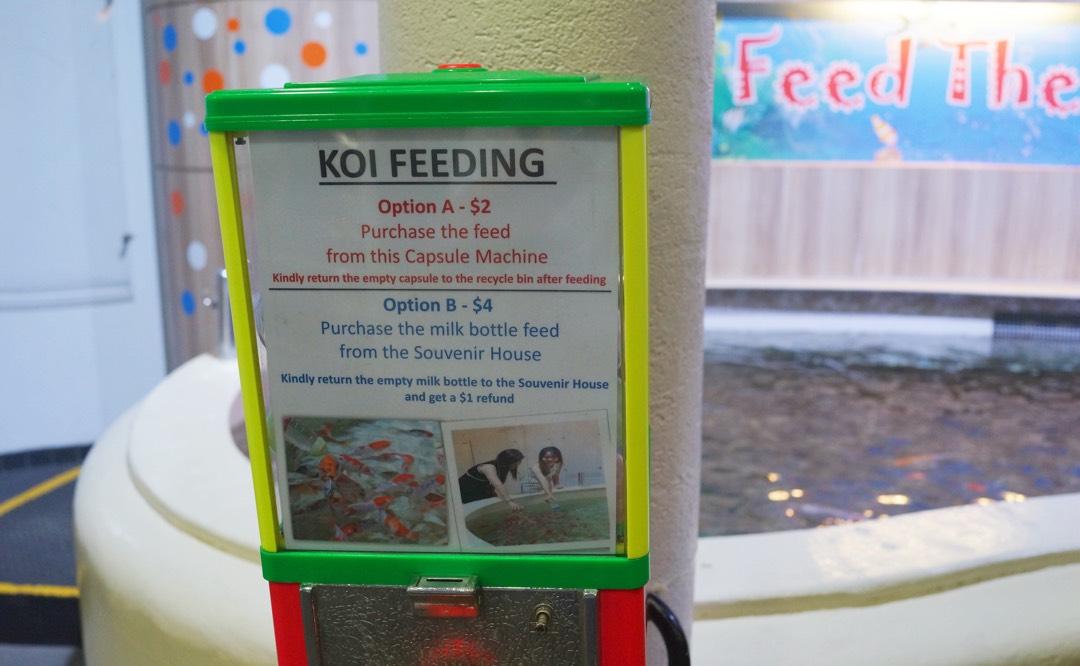 Meet The Breathtaking Living Fossils
Hold your breath and be amazed by the following living fossils which are found in Underwater World Singapore. Why are these sea creatures called Living Fossils? Well, the reason is because they retain some structural features such as internal organs or external structures of their earliest ancestors. Like a theatre screen, you will get to see the Australian Lungfish, African Lungfish, Arapaima and Alligator Gar.
The Australian Lungfish has been around for 400 million years. Beside gills, they also have lungs. The African Lungfish hibernates itself during the drought season and can survive out of water for many months. Able to breath in air and can grow as long as 3 meters, the Arapaima is believe to have been in our planet for 140 million years. Fossil records have trace back the Alligator Gar to have existed more than a hundred million years ago and able to breathe both air and water. These four sea creatures are just amazing!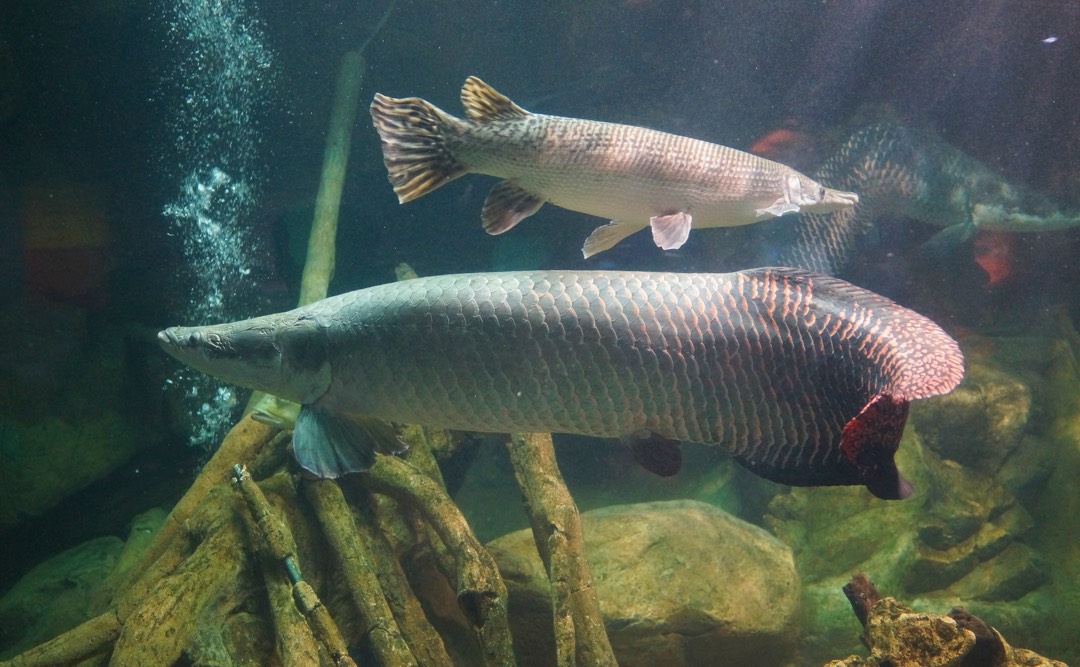 We spend more than 2 hours in the Underwater World Singapore. It was fun for the whole family especially the performance show. If it has been many years since your last visit to UWS, or you are planning to visit this attraction after reading this post, do check out their website link I provided below. Have fun under the waters!
Address of my visit
Underwater World Singapore
80 Siloso Road
Sentosa
Singapore 098969
Telephone: 6275 0030
Website: http://www.underwaterworld.com.sg