With it's building design in a circular shape, the Tampines Round Market & Food Centre, or also known as 137, has been serving the residents in Tampines for decades with fresh ingredients from the wet market stalls and delicacies from our local hawkers. Located at Tampines Street 11, this food centre can be reach by taking bus number 292 from the Tampines Interchange.
With my $10 bill, I am going to explore some good and affordable food in this iconic hawker food centre in Tampines. Here we go …
Xiong Ji Fried Carrot Cake 雄记红茂桥菜头粿 (#01-17)
At a glance on the tables, many people were having Xiong Ji's Ang Mo Kio Fried Carrot Cake, or "chai tow kway". Using chucks of steamed radish cake made up of grated radish and rice flour, they are stir-fried together with minced garlic and preserved radish ("chai poh"). Beaten eggs are then poured over those pan-fried radish cake, giving that beautiful yellow color texture. Dark soy sauce can be added to give a much sweeter taste, while chili paste are added to give that spicy taste.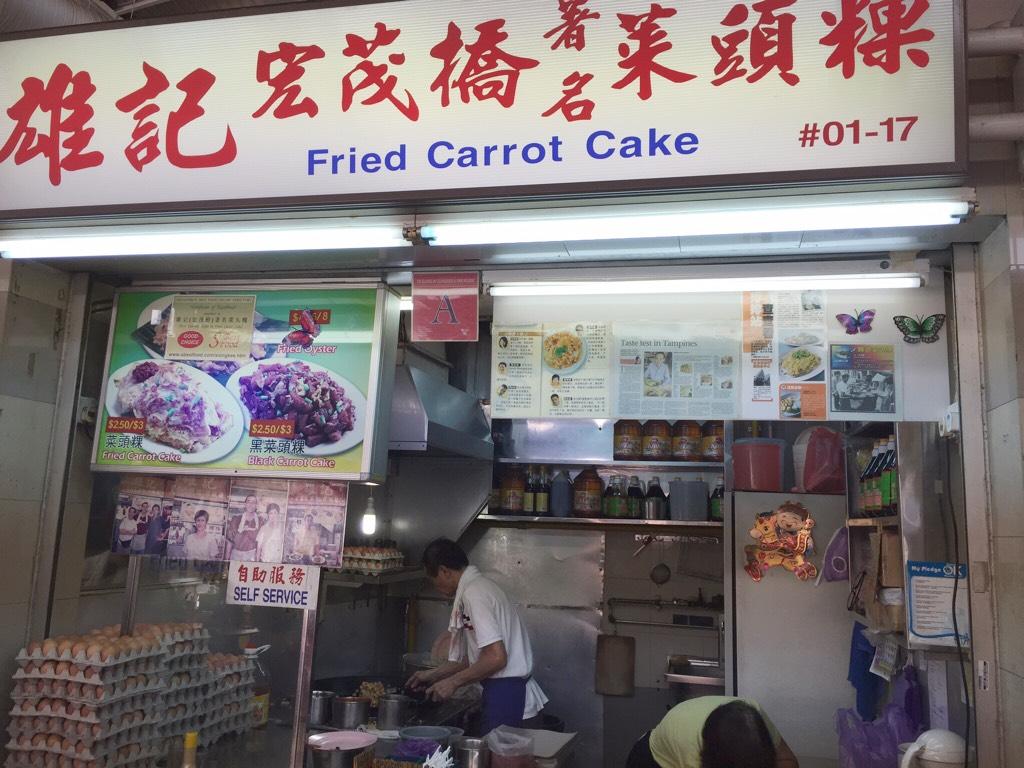 Served hot, my $2.50 fried carrot cake was generously coated with golden-colored fried eggs. You can also opt for a larger serving for $3.00. From the bottom of my heart, this hawker stall's serving portion is definitely reasonable. Garnished with some spring onions, my plate of fried carrot cake was not oily at all.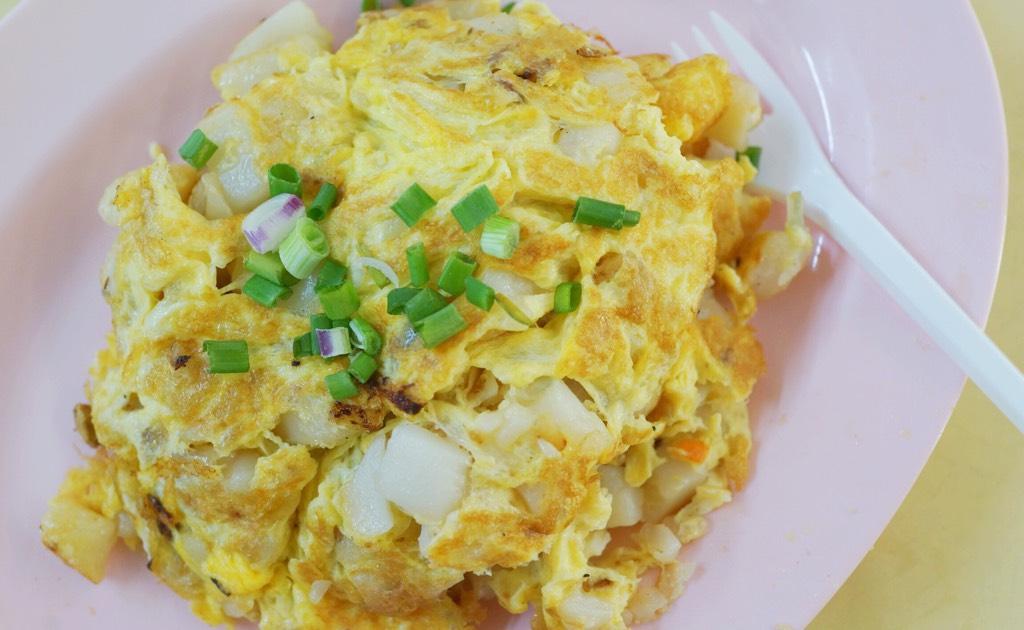 Delicious Hong Kong Noodle Shop 好味香港面家 (#01-21)
When a piece of thin flour dough sheet wrapped up a small filling of marinated minced meat inside and sealed it up, this little food bag becomes a wanton. You can simply boiled them in soup, or fried these wantons to truly enjoy them. It is common to find wanton noodles in Singapore but my plate of dried wanton noodles from Delicious Hong Kong Noodle Shop really "wows" me.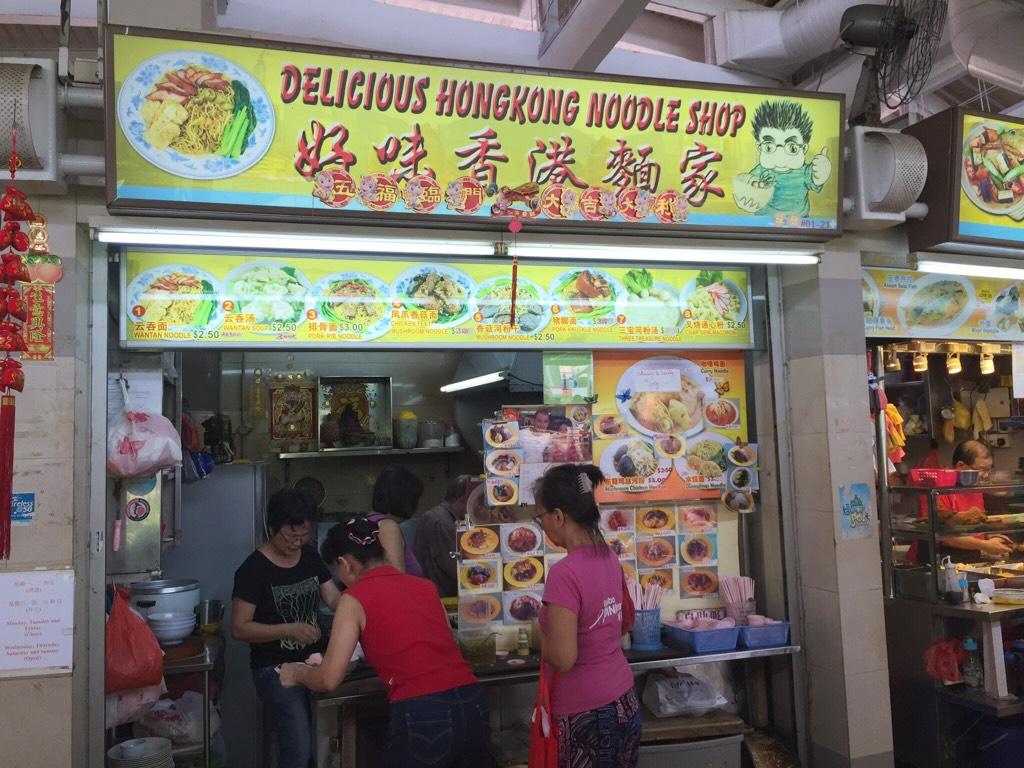 Those thin egg noodles were dried, tossed with sauces and topped with slices of char siew (barbecue sweet pork), boiled vegetables and boiled wantons. Taking my first taste of the noodles, it was really really chewy without the taste of alkaline. The wantons and char siew were both pretty decent. Great to enjoy my plate of tasty wanton noodles with some chops of tangy green chilies.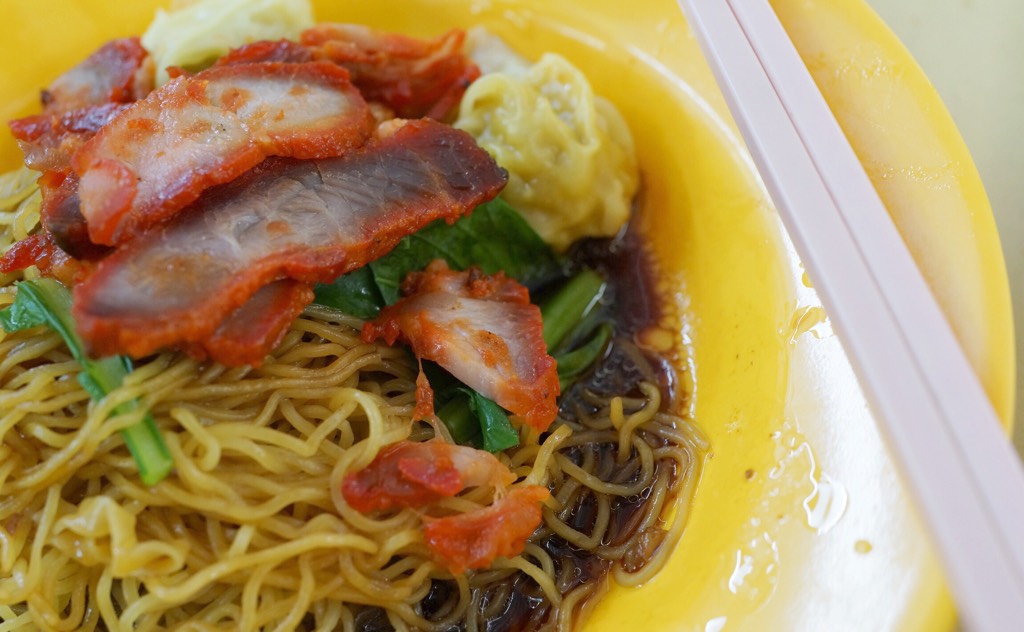 Besides serving wanton noodles, this food stall also serves pork rib noodles and pork knuckle noodles at a priced of $3.50 each.
137 Lor Mee Prawn Noodles 137 鹵麵蝦麵 (#01-09)
Additional charges for that extra gravy? Yes, it is true and I have seen many people asking for it. Lor Mee is actually a bowl of flat yellow noodles covered with gravy which it's level of viscosity is made up of corn flour and eggs. Commonly served with finely chops of garlic and chili paste, this local noodle bowl is also served with black vinegar to give that sour taste lingering on our tastebuds.
Queuing time for my bowl of Lor Mee from this food stall is about five minutes. While waiting for my turn, I get to enjoy watching the deep frying process of the chucks of fish meats. After mixing my bowl of Lor Mee with it's condiments of black vinegar and garlic, I had my first taste of the fried fish and I love it. The flour batter coated onto the fish meats was not thick and the crispiness remains even after soaking them in my bowl of gravy. The price of the Lor Mee from this hawker stall is $3.00, while a larger portion is $4.00. Delicious treat!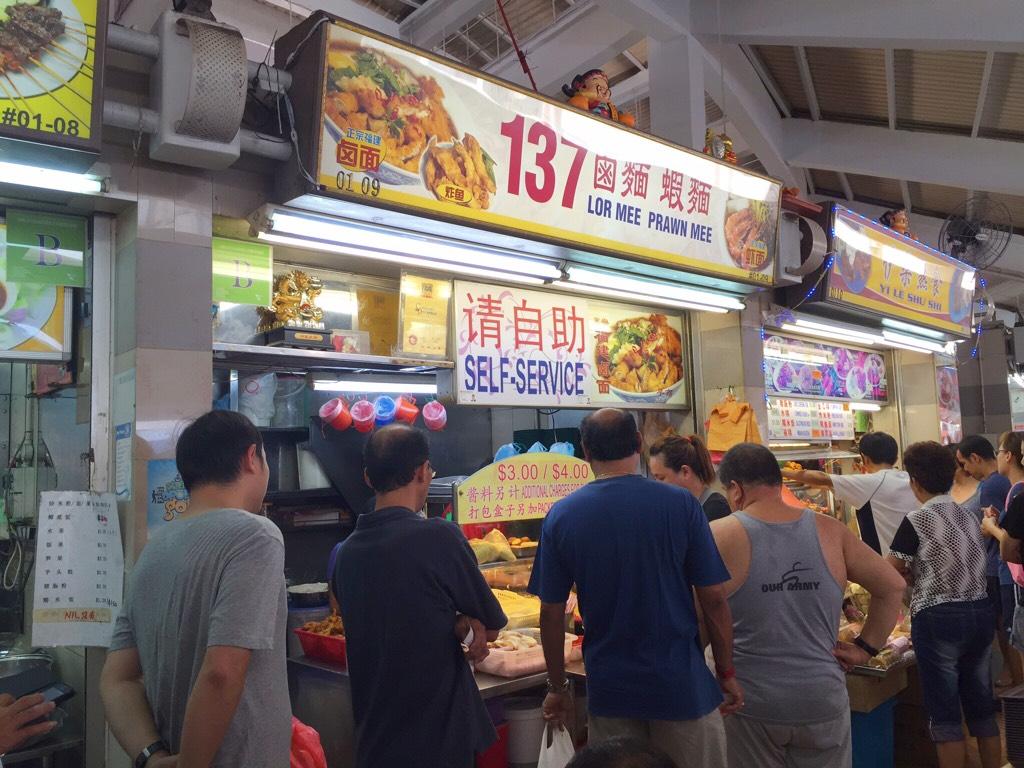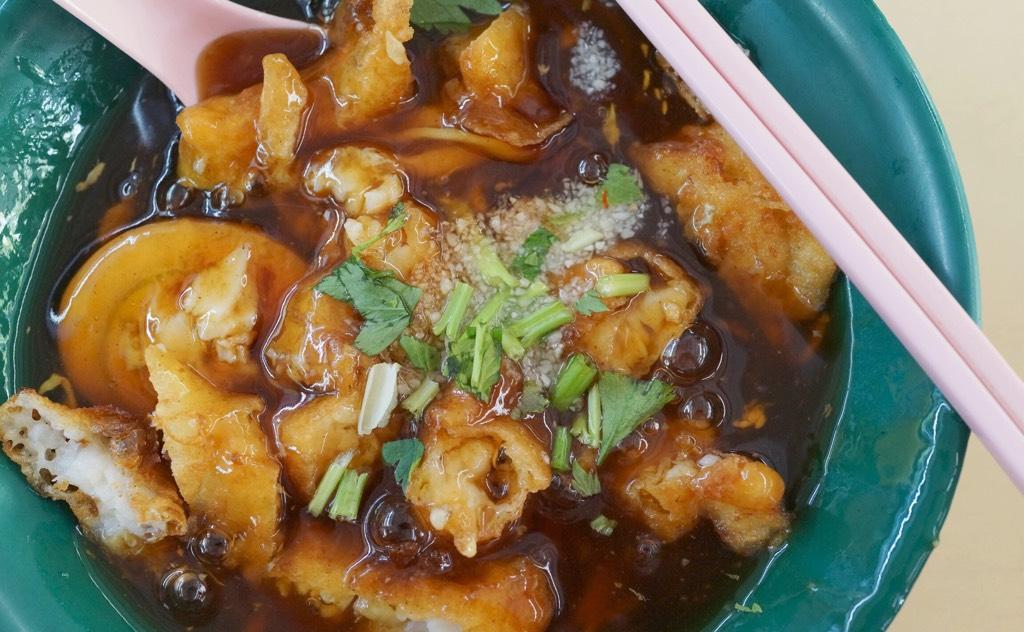 Quan Fang Coffee Stall 泉芳冷热茶室 (#01-34)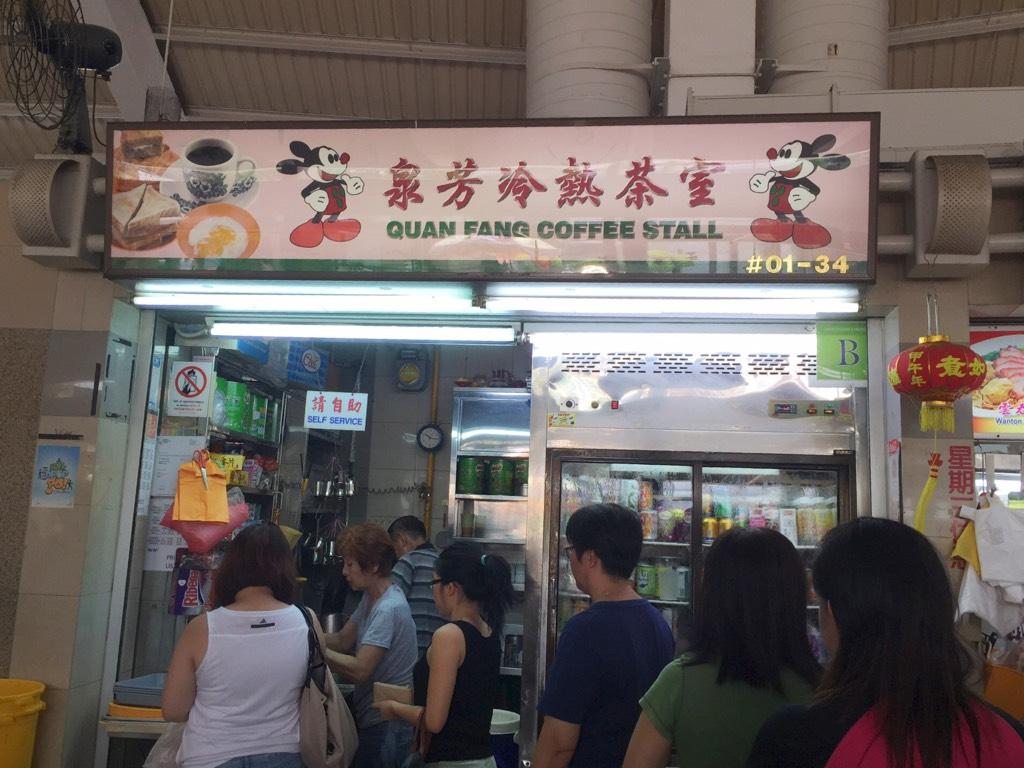 It was really comforting to enjoy a hot cup of milk coffee in the morning where it is buzzing with people. Traditionally, coffee cups are supposed to be porcelain because they kept the coffee warm longer as compared to typical glass cups. This coffee stall is rather iconic probably because of the "Mickey Mouse" cartoon characters printed on the signboard.
With a scoop of condense milk put right into my coffee using the plastic spoon, the sweetness and creaminess is just right. For a small cup of coffee, it is priced at 80 cents while a larger cup is priced at 90 cents.
So, if you happen to travel down to Tampines or plan to get some fresh cooking ingredients in this market, do drop by the hawkers stalls behind the wet market. There are still many other food stalls that are worth to be visited and tried.
Address of my review
Tampines Round Market
137A Tampines Street 11
Singapore 522137